Published 09-11-08
Submitted by Pearson Foundation
BOSTON, Sept. 11 /PRNewswire/ -- The Boston Business Journal (BBJ) has honored Pearson, the global leader in educational publishing and technology, as Education Partner of the Year for its partnership with Jumpstart, a Boston nonprofit specializing in early education. The award recognizes companies who demonstrate innovation and development of best practices in specific partnerships with nonprofits.
The Award was presented at the Boston Business Journal's 2008 Corporate Philanthropy & Citizenship Summit, which features an awards celebration honoring top corporate philanthropists and provides professional knowledge on how to begin or sustain a charitable mission. Bill Barke, CEO of Pearson's Higher Education Arts & Science Group, accepted the award on behalf of Pearson. Pearson was selected by an independent panel of judges from among hundreds of nominations in recognition of its sustained commitment to a Boston organization to support civic initiatives and social change.
Barke was also nominated for the BBJ's 2008 Social Leadership Award, given to a CEO from the Greater Boston Area. Barke was instrumental in developing the award-winning Pearson Jumpstart Partnership, a multi-million dollar collaboration initiated in 2001 with the creation of the Pearson Teacher Fellowship, a program that encourages high-achieving college students to pursue teaching careers in disadvantaged communities. Pearson is Founding Partner and National Partner for Jumpstart's Read for the Record 2008 Campaign (www.readfortherecord.org) -- the largest
shared-reading experience on record -- helping Jumpstart raise more than $2 million to date for young children and rallying together hundreds of thousands of individuals across the world to volunteer for literacy. Together Jumpstart and Pearson have worked to set a new standard for corporate-nonprofit partnerships which close the achievement gap in America.
According to Jumpstart President James Cleveland, Pearson's involvement with his organization is distinguished by the extent of its devotion to the educational organization's mission.
"By dedicating staff and resources as well as money, Pearson is integral to Jumpstart's strategic development, working from the ground up to support Jumpstart's commitment to early childhood education," said Cleveland. "Through donations of free or heavily discounted books and access to authors and curriculum, Pearson regularly exceeds its annual commitment of $1 million and has established itself as an indispensable and ardent sponsor."
"Pearson and Jumpstart are grateful for the recognition of the business community," said Barke. "Social responsibility is at the core of Pearson's business, and we recognize that effective collaboration is crucial to successfully addressing the educational issues we face today. Whether we're helping to enhance student performance or encouraging business leaders to make socially responsible decisions, Pearson strives to combine a commitment to commercial goals with a commitment to society."
"As we approach Jumpstart's Read for the Record Campaign on October 2, 2008, the Education Partner of the Year award motivates us to work even harder to advance early literacy and support Jumpstart's mission to equip every child with the skills he or she needs to enter school prepared to succeed," Barke added.
An international education leader, Pearson has helped Jumpstart grow by nearly 20 percent annually. Jumpstart recruits and trains achievement-oriented adults to deliver an innovative early education program that inspires children to learn, adults to teach, families to get involved, and communities to progress together. Through the Pearson Foundation and service programs that include its 32,000 U.S. employees, Pearson supports and promotes Jumpstart, provides leaders for Jumpstart's national and regional boards, and acts as the exclusive sponsor of Jumpstart's Pearson Teacher Fellowship program. In addition, Pearson people volunteer to work with Jumpstart students and learning centers through programs like the Pearson Foundation's own Family Book Night. They also support schools affiliated with Jumpstart by reading to children and by taking on projects such as building reading libraries, clearing playgrounds, and painting classrooms.
About Pearson
Pearson (NYSE: PSO) is an international media company with market-leading businesses in education, business information, and consumer publishing. We lead our markets in quality, innovation, and in profitability, and bring together some of the most valuable brands in publishing: the Financial Times, Penguin, Dorling Kindersley, Pearson Scott Foresman, Pearson Prentice Hall, Pearson Addison Wesley, and Pearson Longman. From our roots as the world's largest book publisher, we've grown to provide a range of related services: testing and learning software for students of all ages; data for financial institutions; and public information systems for government departments. We draw on common assets, capital, processes, and culture. With more than 32,000 employees based in 60 countries, we are a large family of businesses that are alike in sharing the same aim: a focus on making the reading and learning experience as enjoyable and as beneficial as it can possibly be.
About the Pearson Foundation
The Pearson Foundation extends Pearson's commitment to education by partnering with leading nonprofit, civic, and business organizations to provide financial, organizational, and publishing assistance across the globe. The Foundation aims to make a difference by sponsoring innovative educational programs and extending its educational expertise to help in classrooms and in local communities. More information on the Pearson Foundation can be found at www.pearsonfoundation.org.
About Jumpstart
Jumpstart is a national early education organization that works toward the day every child in America enters school prepared to succeed. Through extraordinary attention in yearlong one-to-one relationships, Jumpstart inspires children to learn, adults to teach, families to get involved, and communities to progress together. Headquartered in Boston, Jumpstart pairs 4,000 trained adults one-to-one with preschool children in need of assistance. During the 2008-2009 program year, Jumpstart is serving 15,000 children across 20 states, in partnership with 300 early learning centers and nearly 74 universities and colleges throughout the country.
Jumpstart's national sponsors include American Eagle Outfitters, AmeriCorps, Pearson, Sodexo and Starbucks. Jumpstart is the recipient of the Fast Company/Monitor Social Capitalist Award (2004, 2005, 2006, 2007 and 2008) and the Committee to Encourage Corporate Philanthropy's Directors Award. For more information, visit the Jumpstart Web site at www.jstart.org.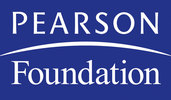 Pearson Foundation
Pearson Foundation
Pearson (NYSE: PSO) is the global leader in educational publishing, assessment, information and services, helping people of all ages to learn at their own pace, in their own way. For students preK-12, Pearson provides effective and innovative curriculum products in all available media, educational assessment and measurement for students and teachers, student information systems, and teacher professional development and certification programs. Our respected brands include Scott Foresman, Prentice Hall, SuccessMaker, Waterford, AGS, PowerSchool, Chancery SMS, SASI, Pearson Inform, Teachervision.com and many others. Our comprehensive offerings help inform targeted instruction and intervention so that success is within reach of every student. Pearson's other primary businesses include the Financial Times Group and the Penguin Group.
More from Pearson Foundation