Published 09-20-07
Submitted by Pearson Foundation
NEW YORK, NY - September 20, 2007 - Jumpstart's Read for the Record campaign made history today by breaking a world record for the second year in a row with an early morning kick-off on Rockefeller Plaza with NBC's TODAY Show hosts Matt Lauer and Meredith Vieira participating. Hundreds of thousands of children and adults read the same book today and raised more than $1 million for early education programs in low-income communities, while shining a spotlight on the growing disparities in early childhood literacy.
Jumpstart's Read for the Record campaign included major events in Atlanta, Boston, Chicago, Washington, D.C., Los Angeles, New York, and San Francisco. Among the hundreds of thousands reading across the nation were First Lady Laura Bush, Secretary of Education Margaret Spellings, Mayor Michael Bloomberg, actresses Mariska Hargitay and Gabrielle Union, Grammy Award-winners LL Cool J and Wyclef Jean, best-selling author Frank McCourt, and several Members of Congress. Each read with a group of children today, joining the thousands around the country demonstrating their support for Jumpstart and early education.
The campaign created the world's largest "shared reading experience" as children and adults read this year's official campaign book, The Story of Ferdinand, written by Munro Leaf and illustrated by Robert Lawson, published by Penguin Young Readers Group. More than 1,900 reading events took place across the country. Along with today's record-breaking shared reading experience, the campaign raised more than $1 million through donations and sales of a special-edition campaign book, with proceeds going directly to Jumpstart to support its early education programs for at-risk children in communities across the nation. Additionally, more than 100,000 copies of the official campaign book were donated to children in low-income communities.
As one-third of American children enter kindergarten developmentally behind their peers and without the skills necessary to succeed at grade level, Jumpstart, the nation's premier early education nonprofit organization, and its campaign sponsor The Pearson Foundation, joined together again for the campaign's second year to raise awareness of the national early education crisis that is rapidly reaching epidemic proportions.
The Pearson Foundation matched each online book donation/purchase with its own donation of another children's book and will deliver those to children in at-risk communities. Pearson also underwrote all publishing costs, making it possible for Jumpstart to receive 100% of the proceeds raised through the sale of the special edition books. The campaign was also supported by American Eagle Outfitters, Sodexho, Hanna Andersson, Hyatt Hotels & Resorts, NBC, Penguin Young Readers Group, Toys "R" Us, and XM Satellite Radio.
Jumpstart President James Cleveland discussed the crucial commitment of Pearson and other partners to Jumpstart's Read for the Record campaign: "Our joint efforts are an important step to eliminating the early education gap that exists between income levels. When children begin behind their peers, catching up, especially without additional assistance, is difficult and unlikely," said Cleveland. "Children who miss out on key cognitive, social and emotional experiences are more apt to repeat grades, drop out of school, and even engage in criminal activity."
Pearson Foundation President Mark Nieker added, "Pearson people and businesses - and each of Jumpstart's public and private partners - know the importance of Jumpstart's work with young children. A child's reading level in the first grade is one of the best predictors of performance in later grades. We know that Jumpstart is working to ensure that by first grade, a child from a low-income family will no longer have only one-fourth the vocabulary of his mid-income peer."
Cleveland added: "Statistics show that middle-income homes average roughly 13 books per child. In low-income neighborhoods the ratio is 1 age-appropriate book for every 300 children. In addition, it's important to note the visible relationship between family income and the amount of one-to-one, adult-child interaction that takes place in the home - interaction that is crucial to children's cerebral and emotional development," he said. "Studies show that children from low-income communities engage in one-to-one reading far less often than those from more affluent situations." Jumpstart, and its annual record-breaking campaign, seeks to bring increased visibility to these sobering statistics.
Last year's inaugural event also made history when 150,000 people read the same book on a single day at more than 1,500 local events across 47 states and raised $500,000 through book sales and additional donations. Shared reading experiences ranged from a quiet reading period for one adult and one child in their home to big group events with hundreds of people gathered at public facilities for large community reading sessions.
This year, group reading events were held across the country in elementary schools and high-schools, in colleges and universities, in community organizations and libraries, and at Toys "R" Us stores, Hyatt hotels, playgrounds, offices, and homes. Readers registered through the campaign's homepage at www.readfortherecord.org and also took part in the campaign online through a digital copy of the book and featured audio readings by XM on-air personalities Dr. Maya Angelou, Danica Patrick, and Bob Edwards, as well as Mandy Moore.
Jumpstart's longstanding relationships with its national multi-year partners are a key component of its ongoing efforts to help at-risk children develop language, literacy, and social skills in preparation for kindergarten.
ABOUT JUMPSTART:
Jumpstart is a national nonprofit organization that engages preschool children from low-income communities in an intensive early education program to improve their cognitive and emotional development, ensuring they enter kindergarten prepared to succeed at grade level. Jumpstart's foundation is its research-backed curriculum, active learning approach, and one-to-one adult-child interaction. Jumpstart trains adult mentors, primarily college students, to work in exclusive yearlong relationships with the children. By providing the children with undivided attention, reading with them, and working with them on academic and social skills, Jumpstart mentors increase children's vocabularies, enhance their ability to read and learn, and improve the quality of their social interactions by the time they enter kindergarten. In 2005-2006, children who participated in Jumpstart programs increased their literacy, language, and social skills by 26 percent. Since 1993, thousands of Jumpstart mentors have helped more than 50,000 children from low-income communities around the country enter school ready to learn at grade level. Jumpstart has earned a four-star rating from Charity Navigator and is the recipient of the Fast Company/Monitor Group Social Capitalist Award (2004, 2005, 2006, 2007) and the Committee to Encourage Corporate Philanthropy's Directors Award. For more information about Jumpstart, visit www.jstart.org.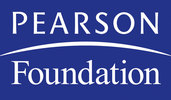 Pearson Foundation
Pearson Foundation
Pearson (NYSE: PSO) is the global leader in educational publishing, assessment, information and services, helping people of all ages to learn at their own pace, in their own way. For students preK-12, Pearson provides effective and innovative curriculum products in all available media, educational assessment and measurement for students and teachers, student information systems, and teacher professional development and certification programs. Our respected brands include Scott Foresman, Prentice Hall, SuccessMaker, Waterford, AGS, PowerSchool, Chancery SMS, SASI, Pearson Inform, Teachervision.com and many others. Our comprehensive offerings help inform targeted instruction and intervention so that success is within reach of every student. Pearson's other primary businesses include the Financial Times Group and the Penguin Group.
More from Pearson Foundation