Published 05-15-07
Submitted by Pearson Foundation
TORONTO, ONTARIO- MAY 15, 2006 - One-third of American children enter kindergarten developmentally behind their peers and without the skills necessary to succeed at grade level. This isn't just a problem for these children and their families; according to education experts, it is an issue of national concern.
To help solve this problem, Jumpstart - a national non-profit organization focused on intervening early in the lives of at-risk children through intensive early education programs - has created a way for every adult and every child across the country to raise public awareness about the early education gap that exists between income levels.
Today, the organization announced Jumpstart's Read for the Record 2007 Campaign at a reception hosted by Pearson Education and the Pearson Foundation during the International Reading Association's annual convention. The Campaign will create the largest "shared reading experience" ever by breaking the record set on a single day in August 2006, when 150,000 people read the same book across the country as part of Jumpstart's Read for the Record inaugural Campaign.

The one-day reading event will take place on Thursday, September 20, 2007. The official Campaign book is a limited, custom edition of the Penguin Young Readers Group classic The Story of Ferdinand. People of all ages across America will join Jumpstart's Read for the Record Campaign to address the current early education crisis.
"We are happy that again this year we're able to launch this important Campaign at the International Reading Association annual convention," said Jumpstart's CEO, George Askew. "Reading is one crucial component of early education, and when children begin behind their peers, catching up, especially without additional assistance, is difficult and unlikely. In addition to awareness, Jumpstart's Campaign will raise funds to support the organization's programs, which serve preschool children from more than 60 low-income communities across 20 states."
Last year, Jumpstart's Read for the Record raised more than $1,000,000 to support the organization's early education work in low-income communities. Most of these funds came directly from sales of the limited, custom edition of the official Campaign book, which was underwritten by Pearson, with 100 percent of proceeds benefiting Jumpstart. Jumpstart's Read for the Record participants will be able to purchase this year's official Campaign book, The Story of Ferdinand, later this year at Toys "R" Us and American Eagle Outfitters stores, as well as through the Hanna Andersson Website and retail stores. Again, this year, Pearson funded the publishing of the Campaign's custom edition.
In addition, beginning today, the Pearson Foundation will match online donations made during Jumpstart's Read for the Record Campaign, now through September 20, 2007, by giving copies of The Story of Ferdinand to donors as a free gift.
"Today's announcement is the beginning of another record-breaking year," said Pearson Foundation President, Mark Nieker. "Pearson people were thrilled last year to join local record-setting events, and proud to help Jumpstart raise funds during Jumpstart's Read for the Record Campaign. We're hoping to increase the total amount raised this year by making the book available online beginning today." He added, "Pearson's partnership with Jumpstart is one additional step to ensure that our country's at-risk children are not forgotten, and that we provide them with the resources they need to be successful when they get to kindergarten."
The Campaign's Website, www.readfortherecord.org, provides information about donating books to Jumpstart children, as well as hosting and joining shared reading events across the nation. Beginning today, official custom-edition copies of The Story of Ferdinand can be ordered there, and at Pearson's official support site for Jumpstart's Read for the Record Campaign, at www.pearsonfoundation.org.
Jumpstart's longstanding relationships with its national multi-year partners - American Eagle Outfitters, Pearson, and Sodexho - are key components of its ongoing efforts to help at-risk children, and support of the 2007 Campaign is just one of many ways in which these corporations make Jumpstart's work possible. Jumpstart's Read for the Record is further supported by its Campaign sponsors: Hanna Andersson, Hyatt Hotels & Resorts, NBC, Penguin Young Readers Group (publisher of the limited custom edition of The Story of Ferdinand), and Toys "R" Us.
For more information about getting involved, visit www.readfortherecord.org.
About Jumpstart

Jumpstart is a national non-profit organization that engages preschool children from low-income communities in an intensive early education program to improve their cognitive and emotional development, ensuring they enter kindergarten prepared to succeed at grade level. Jumpstart's foundation is its research-backed curriculum, active learning approach, and one-to-one adult-child interaction. Jumpstart trains adult mentors, primarily college students, to work in exclusive yearlong relationships with the children. By providing the children with undivided attention, reading with them, and working with them on academic and social skills, Jumpstart mentors increase children's vocabularies, enhance their ability to read and learn, and improve the quality of their social interactions by the time they enter kindergarten. In 2005-2006, children who participated in Jumpstart programs increased their literacy, language, and social skills by 26 percent. Since 1993, thousands of Jumpstart mentors have helped more than 50,000 children from low-income communities around the country enter school ready to learn at grade level. Jumpstart has earned a four-star rating from Charity Navigator and is the recipient of the Fast Company/Monitor Group Social Capitalist Award (2004, 2005, 2006, 2007) and the Committee to Encourage Corporate Philanthropy's Directors Award. For more information about Jumpstart, visit www.jstart.org.
About Pearson
Pearson plc (NYSE: PSO) is an international media company. Its major business operations are: The Financial Times Group, which has an international network of business and financial newspapers and online services that are read by millions of business executives and investors every day; Pearson Education, the world's leading education business, which helps teachers teach and students learn at every stage and in every part of the world; and Penguin Group, which is one of the pre-eminent names in consumer publishing, with an unrivalled range of fiction and non-fiction, bestsellers, and classic titles.
Jumpstart and the Pearson businesses share a passion for education and inspiring people to reach their full potential. These shared goals and values led Jumpstart and Pearson to create the Pearson Teacher Fellowship in 2001. Each year, the Pearson Teacher Fellowship provides the opportunity for a select group of achievement-oriented college graduates to enter the early education field by becoming preschool teachers in Head Start and other early learning centers serving at-risk children. For more information go to www.pearsonfoundation.org.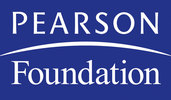 Pearson Foundation
Pearson Foundation
Pearson (NYSE: PSO) is the global leader in educational publishing, assessment, information and services, helping people of all ages to learn at their own pace, in their own way. For students preK-12, Pearson provides effective and innovative curriculum products in all available media, educational assessment and measurement for students and teachers, student information systems, and teacher professional development and certification programs. Our respected brands include Scott Foresman, Prentice Hall, SuccessMaker, Waterford, AGS, PowerSchool, Chancery SMS, SASI, Pearson Inform, Teachervision.com and many others. Our comprehensive offerings help inform targeted instruction and intervention so that success is within reach of every student. Pearson's other primary businesses include the Financial Times Group and the Penguin Group.
More from Pearson Foundation