Published 09-06-06
Submitted by Pearson Foundation
The international media company, Pearson (NYSE: PSO) announced today that Pearson people and businesses helped to raise more than $1,000,000 to support Jumpstart in the course of Jumpstart's Read for the Record Campaign. In addition to underwriting and publishing a custom limited edition of The Little Engine That Could sold at U.S. Starbucks Coffee Company stores, people volunteered from Pearson's 40 businesses and enterprises across America on August 24th helping to set the Guinness World Record for the number of children reading a single book on the same day.
Bill Barke, a member of the Jumpstart Board of Directors and CEO of Pearson's Addison Wesley Higher Education Group, said the success of the Jumpstart's Read for the Record Campaign has been two-fold. "On one hand, this national event helped raise awareness of the importance of early literacy and the role Jumpstart plays everyday in the lives of young children across the United States. On the other hand, Jumpstart and its corporate partners--Pearson, Starbucks Coffee Company and American Eagle Outfitters--worked together to generate significant funds that will immediately support Jumpstart's efforts to help children in low-income communities with their early literacy skills."
"Jumpstart's Read for the Record couldn't have happened without the efforts of thousands of people across the country--people like those from across Pearson who worked for months to organize events in their local communities," affirmed Jumpstart Vice President Rob Zeaske. "With more than 20,000 U.S. staff across virtually every state, the Pearson businesses really helped mobilize people all across the nation to participate in this Campaign."
Jumpstart's Read for the Record was created to address the striking disparity in early education resources for children in America. While many preschoolers benefit from nearly 2,000 hours of one-to-one reading with an adult by kindergarten, others are exposed to as few as 25 hours (in total). Research shows that such early deficits lead to a performance gap that persists throughout school and into adulthood, contributing to additional social issues, such as dropping out of school, unemployment and crime.
Mrs. Laura Bush is Honorary Chairperson of Jumpstart's Read for the Record. NBC's "Today" Show host Matt Lauer wrote a foreword to the custom limited edition of The Little Engine That Could and featured Jumpstart's Read for the Record live on "Today."
Mark Nieker, President of the Pearson Foundation said, "Reading is at the core of everything we do at Pearson, so we are thrilled with the response to this initiative to bring awareness to early literacy. He added, "Jumpstart's Read for the Record is the first time we have had a company-wide effort of this magnitude. Pearson people everywhere have been eager to do all we can to bring national attention to the importance of early literacy. Getting folks involved across the country is big stride toward remedying this entirely solvable problem."
Nearly two weeks after the August 24 precedent-setting reading of The Little Engine That Could to children, officials at Jumpstart are still collecting registrations for Guinness World Records to officially certify the final number of participants. To date, more than 138,000 participants have been documented, representing individuals reading in their own homes and those who took part in approximately 800 events.
"We can't wait to see the final number," said Stuart Claxton of Guinness World Records.
"The response to Jumpstart's Read for the Record has been truly incredible. We support Jumpstart and congratulate all the participants in this great endeavor to promote literacy."
About JUMPSTART
Jumpstart is a national early education organization that works toward the day every child in America enters school prepared to succeed. Through extraordinary attention in yearlong one-to-one relationships, Jumpstart inspires children to learn, adults to teach, families to get involved, and communities to progress together. Headquartered in Boston, in the 2006-2007 program year Jumpstart will engage more than 3,000 college students in service to 12,000 children; the organization operates in 64 communities in 19 states and serves more than 225 Head Start and other early learning centers across the country. Jumpstart's national sponsors include American Eagle Outfitters, AmeriCorps, Pearson, and Starbucks. Jumpstart is the recipient of the Fast Company/Monitor Social Capitalist Award (2004, 2005 and 2006) and the Committee to Encourage Corporate Philanthropy's Directors Award. For more information, visit the Jumpstart Web site at www.jstart.org. For more information about Jumpstart's Read for the Record Campaign, visit www.readfortherecord.org.
About PEARSON
Pearson plc (NYSE: PSO) is an international media company. Its major business operations are: The Financial Times Group, which has an international network of business and financial newspapers and online services that are read by millions of business executives and investors every day; Pearson Education, the world's leading education business, which helps teachers teach and students learn at every stage and in every part of the world; and Penguin Group, which is one of the pre-eminent names in consumer publishing, with an unrivalled range of fiction and non-fiction, bestsellers, and classic titles.
Jumpstart and the Pearson businesses share a passion for education and inspiring people to reach their full potential. These shared goals and values led Jumpstart and Pearson to create the Pearson Teacher Fellowship in 2001. Each year, the Pearson Teacher Fellowship provides the opportunity for a select group of achievement-oriented college graduates to enter the early education field by becoming preschool teachers in Head Start and other early learning centers serving at-risk children. The Fellowship provides these talented individuals a stipend, intensive training, assistance earning teaching certification, mentoring from a Pearson professional, and additional support and resources during the first two years of their teaching careers. For more information go to www.pearsonfoundation.org.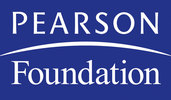 Pearson Foundation
Pearson Foundation
Pearson (NYSE: PSO) is the global leader in educational publishing, assessment, information and services, helping people of all ages to learn at their own pace, in their own way. For students preK-12, Pearson provides effective and innovative curriculum products in all available media, educational assessment and measurement for students and teachers, student information systems, and teacher professional development and certification programs. Our respected brands include Scott Foresman, Prentice Hall, SuccessMaker, Waterford, AGS, PowerSchool, Chancery SMS, SASI, Pearson Inform, Teachervision.com and many others. Our comprehensive offerings help inform targeted instruction and intervention so that success is within reach of every student. Pearson's other primary businesses include the Financial Times Group and the Penguin Group.
More from Pearson Foundation