Published 02-20-08
Submitted by The CRO
EDISON, N.J. - February 20, 2008 - Intel achieved top honors in placing No. 1 in CRO's 100 Best Corporate Citizens 2008, the ninth annual ranking of top corporate citizens among U.S.-headquartered public companies. CRO's 100 Best Corporate Citizens list debuted online today on The CRO's website at http://www.thecro.com/node/615, and is delivered in its paper version to CRO Magazine's 20,000 subscribers starting later this week.
Rounding out the top 10 were Eaton Corp. (No. 2), Nike Inc. (No. 3), Deere & Co. (No. 4), Genentech Inc. (No. 5), Corning Inc. (No. 6), Humana Inc. (No. 7), Bank of America Corp. (No. 8), ITT Corp. (No. 9) and PG&E Corp. (No. 10).
"For 9 straight years, the 100 Best Corporate Citizens has stirred controversy and spurred companies to improve their governance, compliance and sustainability performance," says CRO Publisher Jay Whitehead. "The 2008 list, focused on the Russell 1000, shows that contrary to the adage about elephants dancing, big companies can act quickly when their competitive position is at stake."
In compiling 100 Best, CRO -- in partnership with IW Financial "" a Portland, Maine, research and consulting firm in environment, social and governance issues "" ranked the corporate responsibility efforts of large-cap companies from the Russell 1000 index in eight categories: Climate Change, Employee Relations, Environment, Financial, Governance, Human Rights, Lobbying and Philanthropy. CRO determined the final ranking as a weighted average of these eight categories.
With transparency being such an important component of corporate responsibility, IW Financial relies on publicly-available data from company financial disclosures, sustainability/environment/citizenship reports, websites, EPA databases, and a number of other sources as part of its standardized research processes.
In its rise to the top, Intel ranked in the top 100 (out of 1000 companies considered) in five of the eight categories, scoring its best mark in Environment (which measures environmental disclosures, policies and performance) and in the top 200 in another category, Philanthropy.
"Some companies have good environmental policies," says Mark Bateman, IW Financial's Director of Research. "Some companies have great employee relations. Some companies have exemplary human rights records. CRO's 100 Best Corporate Citizens list answers the question: Which companies do best across a wide variety of citizenship issues? Companies can't make it onto the list if they do poorly in too many categories."
The 2008 list marks the 100Best Corporate Citizens' ninth year in publication. Business Ethics magazine, which CRO acquired in 2006, published the list for the first seven years and CRO continued the tradition in 2007 and 2008. The list's methodology for 2008 includes two significant updates. First, CRO changed rating agencies, switching from KLD Analytics to IW Financial. In contrast with KLD's interview-and-questionnaire-based method, IW Financial bases rankings solely on publicly-available data and uses its set of patented technologies to do the analysis. Second, the 2008 100 Best Corporate Citizens rankings are limited to the Russell 1000-companies that represent the largest impact on B2B and consumer markets. In previous years, the rankings also included the Domini 400 companies, which include many mid-cap and small-cap firms, and resulted in a perceived bias in favor of the lower-cap enterprises.
Three companies "" Intel, Cisco and Starbucks "" have been on the list for all nine years, despite changes in the lists' methodology.
The 100 Best companies will be honored in a special reception at the conclusion of the Spring CRO Conference March 27, 2008 at the Union League Club in NYC. For more information on the CRO Conferences, please go to www.TheCRO.com/conferences.
For more details about CRO's 100 best corporate citizens 2008, the methodology and CRO magazine, visit www.TheCRO.com".
About The CRO
CRO is the only membership media platform for Corporate Responsibility practitioners, and the professional service providers and non-profit influencers that serve them. The CRO publishes the 20,000-subscriber 'CRO' Magazine and 200,000+ subscriber TheCRO.com, bi-weekly e-newsletters, webinars, and produces the four-time-annual CRO Conferences. With over 100 members including leading companies Sara Lee, Amtrak, IBM, Citigroup, Chubb Insurance, Mattel, Intel, Dell, Pepsi, Home Depot, Starbucks, Avon, Gap, State Street, Xerox, leading providers such as Deloitte, Baker & McKenzie, SAP, Hogan & Hartson, Edelman, Manning Selvage & Lee, Grant Thornton, Golin Harris, Ketchum, Cone, LRN, Integrity Interactive, and non-profits including Stanford University, Boston College, UCLA, and Harvard. Corporate membership information can be found at TheCRO.com, or by calling 732-476-6160.
About IW Financial
IW Financial is a leading provider of objective research and technology solutions that help financial professionals evaluate the environmental, social, and governance performance of companies. IW Financial's solutions help organizations identify risks, enhance productivity, provide higher levels of service, increase revenues, and retain productive advisors. IW Financial's clients include investment firms, banks, endowments, religious organizations, universities, and advisors. Portfolio managers, research analysts, marketing and customer service professionals, compliance professionals, and investment committees at these organizations rely on IW Financial for in-depth and actionable information. More information at IWFinancial.com.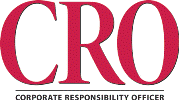 The CRO
The CRO
Launched August 1, 2006 by business media veterans Jay Whitehead, CEO and Michael Connor, Editor and Publisher, The CRO is the leading corporate membership media platform in corporate responsibility. The CRO's media products include CRO Magazine, TheCRO.com, CRO Conference and webinars. The CRO covers governance, compliance, ethics, corporate social responsibility, investor relations, citizenship, socially responsible investing, sustainability, philanthropy and related topics. Members include 100+ corporations including IBM, Pepsi, Citigroup, Avon, Mattel, Washington Mutual, Stanford, Harvard, UCLA, Columbia, OCEG, LRN, OPI, and others. Headquartered in New York City and Roseland, NJ. More information at www.The CRO.com.
More from The CRO