Published 12-13-07
Submitted by The CRO
EDISON, N.J. - December 13, 2007 "" CRO Magazine published a cover story today, available at www.thecro.com, analyzing the ex-NFL players' disability issue in the context of other major organizations and companies that have faced similar days of Corporate Responsibility reckoning.
In the cover story, Mike Ditka, the Hall of Famer and ESPN analyst, takes on the NFL; Players Association Executive Director Gene Upshaw; and union spokesman Lanny Davis, a former White House Special Counsel, demanding that the world's richest professional sports league and union "do the right thing" and give former players "a chance to get their disability respectfully without jumping through hoops."
"In the retired players' dispute, the NFL and NFLPA are experiencing their Corporate Responsibility Moment, which all companies eventually face. Editor Dennis Schaal's unique angle in the cover story is showing how everyone is handling their Moment. That's where the real business lessons lie," said CRO Magazine Publisher Jay Whitehead.
In the piece, written by CRO Editor-In-Chief Dennis Schaal for the magazine's Nov.-Dec. issue, Davis chastises Ditka and his Gridiron Greats Assistance Fund for attacking Upshaw and the union one-sidedly when the players association and league share responsibility for retirement and disability programs.
Ditka responds that both entities are to blame for the disability quagmire, but he chides the players association for turning its back on former union cardholders who are "not capable of being contributors anymore."
The NFL and Players Association yesterday revealed several steps they've taken to streamline the disability process. However, the CRO Magazine story shows reforms still are needed. In the article, for example, attorney Cyril Smith, who represented plaintiffs in the disability case of deceased former player Mike Webster, questions the governance structure of the Retirement Board. And CRO Magazine estimated that the union funds its disability program at a paltry level -- less than one-half of one percent of the players' share of NFL revenues.
The article appears as Ditka's Gridiron Greats was slated to conduct a press conference today in Phoenix, site of upcoming Super Bowl XLII on Feb. 3, with former players Gale Sayers, Randy White, Seth Joyner, Jerry Kramer and Roy Green, outlining plans for the Gridiron Greats Assistance Fund Super Bowl Week. The group is expected to detail plans for a gathering of former NFL stars, who would put more heat on the league and union in Phoenix as the ex-players attempt to raise monies for disabled players in the run-up to the NFL's premier, high-profile event.
The Gridiron Greats said 100 percent of the funds raised in Phoenix would go to players in need. The nonprofit group stated it is separate from another Ditka-affiliated charity, the Mike Ditka Hall of Fame Assistance Trust Fund. Ditka dissolved the latter fund this week after a USA Today article questioned its financial practices.
About The CRO: The CRO is the only membership media platform for Corporate Responsibility Officers, and the professional service providers and non-profit influencers that serve them. The CRO publishes the 20,000-subscriber CRO Magazine and TheCRO.com, a biweekly e-letter, and produces quarterly CRO Conferences, as well as webinars and video events. The CRO's more than 120 corporate and university members include GE, Sara Lee, Amtrak, IBM, Citigroup, Chubb Insurance, Mattel, Intel, Dell, Pepsi, Home Depot, Starbucks, Avon, Gap, State Street, Xerox, Deloitte, Baker & McKenzie, SAP, Hogan & Hartson, Grant Thornton, Golin Harris, Ketchum, Cone, LRN, Integrity Interactive, Stanford University, Columbia, Boston College, UCLA and Harvard. Corporate membership information can be found at TheCRO.com, or by calling 646-213-0067 ext 107. Subscription and Advertising correspondence should be directed to: CRO, 343 Thornall Street, Suite 515, Edison, N.J., 08837-2206, (646) 213-0067 ext. 107, subscription@thecro.com or advertising@thecro.com.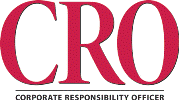 The CRO
The CRO
Launched August 1, 2006 by business media veterans Jay Whitehead, CEO and Michael Connor, Editor and Publisher, The CRO is the leading corporate membership media platform in corporate responsibility. The CRO's media products include CRO Magazine, TheCRO.com, CRO Conference and webinars. The CRO covers governance, compliance, ethics, corporate social responsibility, investor relations, citizenship, socially responsible investing, sustainability, philanthropy and related topics. Members include 100+ corporations including IBM, Pepsi, Citigroup, Avon, Mattel, Washington Mutual, Stanford, Harvard, UCLA, Columbia, OCEG, LRN, OPI, and others. Headquartered in New York City and Roseland, NJ. More information at www.The CRO.com.
More from The CRO