Published 08-05-08
Submitted by USA Cares, Inc.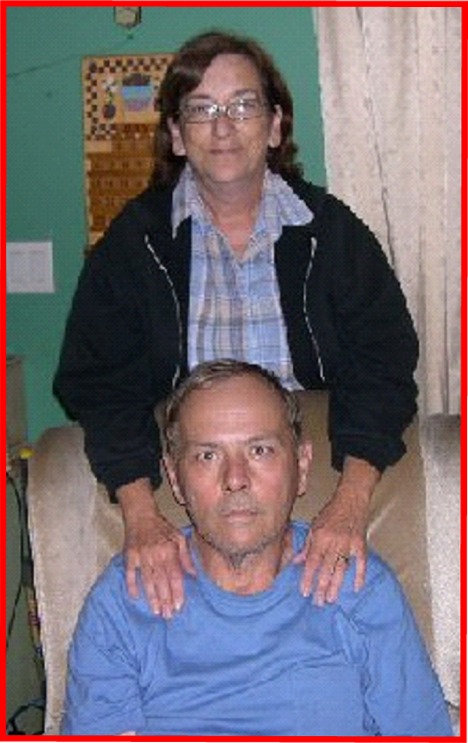 RADCLIFF, KY. - August 5, 2008 - Vermont National Guard Solder, Stephen Larkin of Brookfield, VT was deployed with his unit, HHC 2nd Battalion, part of Task Force Green Mountain to Iraq in 2006. During that time he received back injuries while guarding the Iraq/Kuwait border at camp Navistar. Stephen has also been diagnosed with post traumatic stress syndrome (PTSD).
Upon medical release from Iraq, Stephen was sent to Ft. Gordon, Georgia for his first round of surgery. He remained there on medical hold for 6 months until released to Veterans Administration care in White River Junction, Vermont. Stephen had one of his vertebra replaced with titanium plate and he has lost feeling in his left side. He was unable to return to work as a result of these injuries. Prior to deployment, Stephen worked as an information specialist and maintenance technician at the Randolph Rest area off I-89.
The Larkin's financial situation has deteriorated as they struggle to live on his VA disability check. His wife, Susan, is also unable to work due to her own health issues. While they struggle to keep their bills paid, they hit rock bottom when the septic system on their property failed completely earlier this year.
Fearing that the state could condemn their home, they discussed their situation with Vermont National Guard Family Assistance Center Specialist, Joyce Cloutier. Joyce immediately brought in Amy-Jayne McCabe, Northeast Regional Manager for USA Cares: A leading non-profit organization providing post-9/11 veterans and military families with financial support and other critical resources.
The Larkin's need was greater than USA Cares could tackle on its own. Part of what USA Cares does very well is to find additional resources for military families when a need is to too great. So Joyce and Amy-Jayne partnered with other organizations such as Rebuilding Together, The Veterans of Foreign Wars (VFW), Unmet Needs, and Operation Homefront. The Ethan Allen Chapter of AUSA, Veteran Love and Appreciation, Weed Concrete out of Newport, New Hampshire, Dimmick Septic out of Randolph and the Vermont State Veteran's Assistance office are others who also stepped up for this family. They all came together sharing their money and resources; each offering a portion of the total of nearly $15,000 needed to make a difference in the life of a Soldier who has given so much and asked for so little in return.
"One of the reasons I believe that the Army Community Covenant, a part of the Army's Soldier Family Action Plan, recognized USA Cares as a source of military family financial assistance is because we partner with other organizations and have dedicated personnel who don't stop working for veterans until the job gets done' said Bill Nelson, Executive Director of USA Cares.
About USA Cares and Share A Minute
USA Cares is a nonprofit 501(c)(3) organization that helps military families bear the burdens of service with financial and advocacy support. Its mission: to assist wounded warriors and their families, to prevent home foreclosures and evictions and to help with basic needs during financial crisis. Share A Minute asks Americans to donate $25 to represent one minute of a Soldier, Sailor, Airman or Marine's full 525,000 minute tour of duty. In its five and one-half years of operation, USA Cares has responded to over 11,000 requests for assistance, saved 465 military family homes from foreclosure or eviction thus sparing over 1,000 children from uncertainty. Families anywhere in America can apply for assistance through the USA Cares web site, http://www.usacares.org/, or by calling 1-800-773-0387. For more information on USA Cares contact jrevell@usacares.org.

USA Cares, Inc.
USA Cares, Inc.
USA Cares exists to help service members and their families across America and around the globe. USA Cares provides support with relevant and direct assistance that improves challenging situations and betters the life and well-being of America's service members who ask so little, yet give so very much. Helping service members and their families with quality of life issues using grants, counseling and mentorship.
More from USA Cares, Inc.