Published 06-23-08
Submitted by USA Cares, Inc.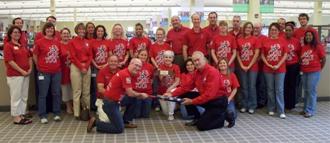 Paul Rogers of Cardinal Health and some of his staff along with the Board of Directors of USA Cares
RADCLIFF, KY,. - June 23, 2008 - USA Cares, a Kentucky-based nonprofit organization that provides financial assistance to military families in need, today announced that Cardinal Health is the latest corporate supporter of its "Red Shirt Friday "" I Care Too!" campaign.
USA Cares' Red Shirt Friday "" I Care Too! campaign seeks to increase awareness and funds to support Army, Navy, Marine, Air Force and Coast Guard service members by selling more than 165,000 t-shirts "" one for every service member in Iraq and Afghanistan. Corporate and other campaign participants are encouraged to wear the red t-shirts every Friday to demonstrate their support for U.S. troops. Cardinal Health purchased nearly 600 shirts for employees in its Radcliff, Kentucky customer service center, which provides essential support to the company's hospital and retail pharmacy customers, nationwide.
"Our involvement in USA Cares' Red Shirt Friday- I Care Too! campaign was very positively received by everyone you see here today," said Paul Rogers, vice president of Customer Service at Cardinal Health, as he stood before an assemblage of the company's red-shirt-clad customer service center employees. "Cardinal Health has always had a policy of supporting the community and it's our sincere pleasure to share this tangible expression of our support for local military families, particularly those in the Radcliff and Fort Knox area."
Joining the Cardinal Health team was the USA Cares' Board of Directors, who wanted to share a moment with this valued supporter.
"Cardinal Health has been a kind of guardian angel to our organization for quite some time. The continued growth of our Military Family Assistance Center was assisted by a grant from Cardinal Health. Our 'Cardinal Room,' which houses additional staff, was renovated and furnished by a grant from Cardinal Health less than one year ago," said Major General John Tindall, US Army (Retired); president of USA Cares.
Kim Moorman, USA Cares director of business development, leads the Red Shirt Friday "" I Care Too! campaign and said, "This is the first Fortune 100 company to participate in our Red Shirt Friday "" I Care Too! campaign, and it is inspiring to see what a global leader can do when their employees embrace a grassroots effort such as this." She continued, "We hope that Cardinal Health's participation will inspire other companies of all sizes to get involved in supporting this campaign to demonstrate their respect for the sacrifices that military families make while their loved ones are away in Iraq or Afghanistan."
A portion of the Red Shirt Friday "" I Care Too! Campaign's proceeds are used to fund administration of the Military Family Assistance Center, which responds to more than 100 new requests per week. To date more than 10,000 shirts have been purchased. A list of participating companies can be found at www.icarefriday.org, where the shirts can be purchased in lots of 25 or more and can be customized with group, organization or company name.

About Cardinal Health
Cardinal Health is an $87 billion, global company serving the health care industry with products and services that help hospitals, physician offices and pharmacies reduce costs, improve safety, productivity and profitability, and deliver better care to patients. Ranked No. 19 on the Fortune 500, Cardinal Health employs more than 40,000 people on five continents.

About USA Cares
USA Cares is a worldwide non-profit 501 (c)(3) organization serving US Military Service Members of all ranks and branches and their families with direction and advice along with grant assistance for quality of life issues caused by military service. Continuing into their sixth year of accomplishment, USA Cares has received requests from over 10,000 Service Members and families with millions of dollars in organizational and found resources. In partnership with The Homeowners Preservation Foundation, USA Cares has also saved hundreds of military homes from foreclosure across the Nation. Funding for the organization is provided through the generous contributions of corporations, organizations and individuals. For more information on USA Cares contact John Revell at jrevell@usacares.org and visit www.usacares.org.

USA Cares, Inc.
USA Cares, Inc.
USA Cares exists to help service members and their families across America and around the globe. USA Cares provides support with relevant and direct assistance that improves challenging situations and betters the life and well-being of America's service members who ask so little, yet give so very much. Helping service members and their families with quality of life issues using grants, counseling and mentorship.
More from USA Cares, Inc.