Published 05-08-08
Submitted by USA Cares, Inc.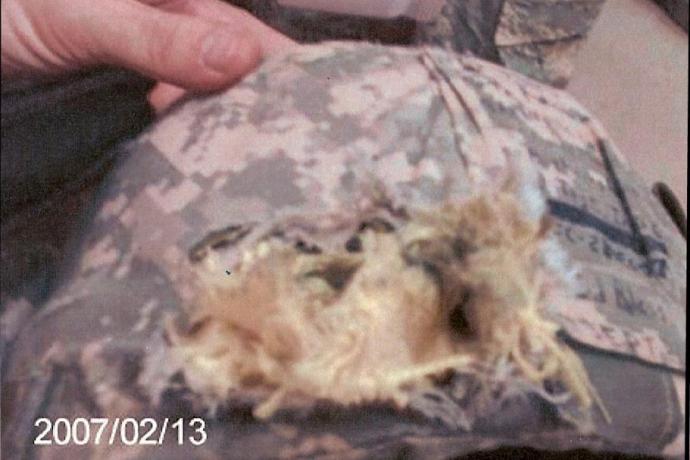 Kevlar helmet shown from rear
RADCLIFF, KY - May 8, 2008 - Kentucky National Guardsman, Sergeant Mark A. Kinslow took a sniper bullet to the head on February 13th, 2007 and lived to tell about it. What he and his family did not anticipate were the lingering after-effects of Post Traumatic Stress Disorder and possibly Traumatic Brain Injury and the difficulties they would pose in life after service.
An enemy sniper shot him while he was on watch tower guard duty. He actually saw the muzzle flash from his assailant's weapon and went down instantly as the bullet struck his Kevlar helmet from the left temple front and exited out the back creasing his scalp as it went by (photo of helmet from rear shown). Sgt. Kinslow immediately returned fire and only after the situation was under control did he realize how close it was. However he now suffers from Post Traumatic-Stress Disorder (PTSD) and perhaps Traumatic Brain Injury (TBI). Ironically he was not awarded a Purple Heart but paperwork is in process to investigate and remedy this if possible. He and his wife have three children ages seven, eight and nine.
After becoming aware of the difficulties that this Service Member and his family was enduring, a social worker at the Lexington, Kentucky VA Hospital picked up the phone and called E. Russ Marlowe; a Senior Veterans Advisor with USA Cares. According to Marlowe "Two adjectives on the medical reports I saw just jumped off the page at me. I have never seen doctors use both acute and chronic together on any of the PTSD or TBI cases I've investigated."
The results of either PTSD or TBI (or both) have confronted this soldier and his family with difficulties that are hard for many to imagine unless they have seen the familiar patterns from a medical vantage point. Even after seven months of PTSD medical treatment in Iraq, his hearing loss and tinnitus actually worsened. Upon his return home, he could not hold a job and consequently his family's financial situation deteriorated rapidly. They fell behind in their mortgage payment by over $10,000 and were very close to losing their home.
USA Cares in association with the Homeownership Preservation Foundation provided help along with The American Legion's Department of Kentucky and the Kentucky Military Family Assistance Trust Fund. Working in unison, this group acquired a combined total of $10,494.94 to bring this Military Family's mortgage up-to-date.
Sergeant Kinslow and his wife Jennifer were also doing their part. His disability is being reviewed and is expected to go from 60% at present to 100%. Jennifer is now working for Trim Masters, Inc. This will help them and their three children remain in their home.
About the Kentucky Military Family Assistance Trust Fund
The Kentucky Military Family Assistance Trust Fund provides financial assistance to any member of the United States Armed Forces deployed outside of the United States who has a Kentucky home of record when necessary expenses create an undue hardship directly related to that deployment.
Qualified members are eligible for assistance while deployed and for ninety days following the end of deployment or deactivation. The trust fund is intended to be utilized as a last resort for assistance when the applicant does not have (or has exhausted) reasonable access to any other funding source. A maximum of $2,500 may be approved for a single application and a maximum of $5,000 per fiscal year. More information is available at www.dma.ky.gov/Military+Family+Assistance+Trust+Fund.htm.
About The American Legion
Congress chartered the American Legion in 1919 as a patriotic, wartime veteran's organization devoted to mutual helpfulness. It is a not-for-profit, community-service organization which now numbers nearly 3 million members: Men and women, in nearly 15,000 American Legion posts worldwide. More information can be obtained at www.legion.org.
"Heroes to Hometowns" is a Legion transition program for severely injured service members returning home from Operation Enduring Freedom in Afghanistan and Operation Iraqi Freedom. The program establishes a support network and coordinates resources to assist these Veterans' and their families. To learn more visit www.legion.org/veterans/h2h/about.
About USA Cares
USA Cares is a worldwide non-profit 501 (c)(3) organization serving military service members of all ranks and branches and their families with direction and advice along with grant assistance for quality of life issues caused by military service. Continuing into their sixth year, USA Cares has received requests from thousands of Service Members and families with millions of dollars in organizational and found resources. In partnership with The Homeowners Preservation Foundation, USA Cares has also saved hundreds of military homes from foreclosure across the Nation. Funding for the organization is provided through the generous contributions of corporations, organizations and individuals. USA Cares continues to operate at a 90 percent ratio of contributed mission dollars. For more information on USA Cares contact us at jrevell@usacares.org and visit www.usacares.org.

USA Cares, Inc.
USA Cares, Inc.
USA Cares exists to help service members and their families across America and around the globe. USA Cares provides support with relevant and direct assistance that improves challenging situations and betters the life and well-being of America's service members who ask so little, yet give so very much. Helping service members and their families with quality of life issues using grants, counseling and mentorship.
More from USA Cares, Inc.