Published 11-27-07
Submitted by Green America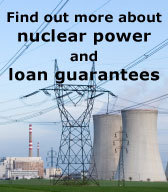 The energy bill that passed this summer includes massive loan guarantees to new nuclear power and coal to liquid plants. That bill will soon be given final approval by the House and Senate. We have very little time to encourage leadership in Washington to eliminate these new loan guarantees in the final bill and we need you to take action today.
Without these subsidies, the new wave of nuclear plants will not be built; nor will coal to liquid fuel projects that take the dirtiest of energy sources and turn it into transportation fuels. The large energy companies that are proposing these new nuclear and coal to liquid plants earn billions of dollars in profits, but want to transfer any financial risks onto taxpayers.
Billions in taxpayer dollars will also be spent for years to come to store the hazardous waste from these new nuclear plants and to address the climate change emissions from coal-to-liquids plants.
In order to stop these unsustainable budget-busting provisions, we need both individual consumers and businesses to take action today to let the congressional leadership know we are opposed.
1. Please send a message to your elected officials and let them know you do not support budget busting loan guarantees for nuclear power and coal-to-liquids projects.
2. Then, call House Speaker Nancy Pelosi and Senate Majority Leader Harry Reid and tell them you are opposed to these loan guarantees. They will be responsible for reconciling the House and Senate Versions of the Energy Bill. Call Nancy Pelosi at (202) 225-0100 and Harry Reid at (202) 224-3542.
Click here to Send the Message Now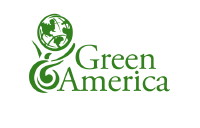 Green America
Green America
Green America is United States' leading green economy organization. Founded in 1982, Green America provides the economic strategies, organizing power and practical tools for businesses and individuals to solve today's social and environmental problems. Green America's green economy programs encourage corporate responsibility, tackle climate change, build fair trading systems, advance healthy, local communities, and provide green purchasing and investing information for families and businesses. To receive Green America's popular publications, including the Green American and the National Green Pages™, participate in Green Festivals, or to get its free e-newsletter, providing the latest green news, green discounts, and opportunities to take action for a green economy, visit http://www.GreenAmerica.org, email info@GreenAmericaToday.org, or call at 800-58-GREEN.
More from Green America