Published 06-06-07
Submitted by Governance & Accountability Institute, Inc.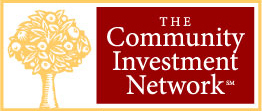 Introducing: The www.communityinvestmentnetwork.org (sm)
Washington, DC- June 6, 2007 "" The National Community Reinvestment Coalition (NCRC) today announced the formal launch of "The Community Investment Network(SM)" (www.communityinvestmentnetwork.org ), a comprehensive Web-accessed news and information resource, designed for use by America's policymakers, news media, lenders, regulators, government, faith-based institutions and community groups. Originally designed for NCRC's nearly 600 member organizations as well as other community-based advocates, the site has grown to become a valuable resource for any entity engaged in neighborhood and wealth-building activities. Already the site is visited by a broad array of professionals, including appointed and elected officials, banking regulators, bankers and lenders, journalists, academics, civil rights advocates, social and economic justice advocates, and others interested in increasing reinvestment in America's traditionally underserved communities.
The "CIN" is designed to deliver timely news, commentary, research findings, and networking information focused on key aspects of community revitalization, job creation, affordable housing, improving consumer financial literacy, banking and financial services regulation, rural development, and available funding sources. After announcing the launch of this site at NCRC's annual conference in the Spring of this year, the CIN has received 100,000 "hits" from across the country. Site visits are increasing everyday as more stakeholders become aware of CIN.
"From Main Street to Wall Street, in rural and urban America alike, every citizen concerned with understanding and promoting opportunities to access capital and credit in a fair and equal way should be using this Web resource" said John Taylor. He added: "The CIN is robust and comprehensive, and most importantly, it helps democratize access to information about capital and credit flows, and promotes new partnerships between the financial services industry and underserved communities."
"The Community Investment Network is provided as a public interest service by NCRC," noted NCRC President John Taylor. "The CIN helps bridge information gaps by making high quality information from thousands of sources in the media, federal and state governments, think-tanks, foundations and non-profits widely available in a user-friendly format."
Hundreds of community organizations, including NCRC member organizations, are profiled in the CIN and encouraged to provide news of their activities for publication. The CIN also provides Web space for community organizations which otherwise would not have an online presence and the site also contains valuable information about media outlets, funding sources and networking opportunities.
NCRC President Taylor noted the support of the founding sponsors, six major banking institutions whose financial support helps make the Community Investment Network available to all public users. "We are encouraged by the financial support of Bank of America, Washington Mutual, US Bank, HSBC, CitiGroup, and JPMorgan Chase." Each of these institutions created special content and customized Web page portals (Web entry points) for the users of the CIN.
Content Focal Points: The Community Investment Network has several dozen separate "Focus Points" for Users, which are in-depth "silos" of information; these include: affordable housing, job development, mortgage lending and the sub-prime market, community revitalization, federal and state banking regulation, rebuilding the Gulf coast, Community Reinvestment Act (CRA) activities, rural America, financial literacy, state profiles, profiles of advocates and stakeholders, federal-state preemption issues, and financing sources. Each of these sections is rich with information, research, analysis and commentary that is useful and actionable.
About NCRC: The National Community Reinvestment Coalition was formed in 1990 to harness the collective energies of community reinvestment organizations from across the country and increase the flow of private capital into traditionally underserved communities. NCRC has worked to make community reinvestment activism a common local occurrence and to promote increased community-lender partnerships. NCRC's nearly 600 organizational members represent and protect traditionally underserved and vulnerable populations. Members include community development corporations, civil rights groups, community reinvestment advocates, local and state government agencies, and churches. For additional information about NCRC please visit www.ncrc.org.

CIN Daily Editors: About the Governance and Accountability Institute: The CIN is edited and the Web site technology is managed by the staff of Governance & Accountability Institute, Inc. (G&A), a member organization of NCRC. G&A Institute is a research, publishing and information advisory organization.

Governance & Accountability Institute, Inc.
Governance & Accountability Institute, Inc.
Governance & Accountability Institute, Inc. - Navigating the way to sustainability...
Governance & Accountability Institute provides critical information, knowledge management, strategic counsel and advisory services to corporate leaders and investors related to Sustainability, ESG, Corporate Responsibility (CR), and Responsible and Sustainable Investment (SRI).