Published 03-17-09
Submitted by Net Impact
SAN FRANCISCO, CA. - March 17, 2009 - International nonprofit Net Impact and FedEx Corp. (NYSE: FDX) announced today the finalists of the Access student essay contest designed to engage the next generation of business leaders on the issue of access. The goal of the contest was for students to consider where access will take our world next, expanding the ability of people, organizations, and nations to connect and interact rapidly and widely around the globe, accessing the goods, information, and ideas they want, when they want them. Three winning essays will be selected based on the originality of ideas, engagement with the theme, voice, and creativity, and published in Access Review, an annual business magazine published by FedEx.
Submissions for the Access: Voice of the Next Generation Student Essay Contest poured in from around the globe, including entries from Canada, Puerto Rico, Germany, China, and Nigeria. Participants were encouraged to generate and share original content and ideas on the future direction of access and how they believe it will impact business, technology, medicine, the environment, and the economy.
"It was inspiring to witness the creativity and diversity of entries for this exciting student essay contest," said Liz Maw, Executive Director of Net Impact. "Not only did each submission demonstrate a thoughtful approach to access, but we received many essays that created a personal connection to the issue. We look forward to working with FedEx and our panel of judges to determine the contest winners."

After careful consideration, 11 finalists were selected:
Nicholle Bittlingmeyer "" Queens College, New York


Edgar L. Bounds IV "" University of Mississippi


Yiyi Chen "" Shanghai University of Finance and Economics, China


Ariel Linda Gonzalez "" University of Southern California


Kari Niedfeldt-Thomas "" Carlson School of Management, University of Minnesota


Luke Moschgat "" The Arts Design College, Arizona


Adepoju Paul Olusegun "" Imo State University, Nigeria


Balakrishnan Srinivasa Rangan "" University of Notre Dame, Mendoza College of Business


Ashley Anne Shaunak "" Mississippi State University


Amy Shaw "" University of Central Florida


Cyndee Yamamoto "" Fordham University Graduate School of Business, New York
"FedEx introduced overnight delivery to the world, making goods, services, markets, and opportunities accessible to almost anyone, anywhere, anytime," said Jill Brannon, Senior Vice President, International Sales, FedEx Services. "Today, we continue to work toward increasing global connectivity because it can help drive growth and development for nations, businesses, and people.  Through this essay contest, we learned that the next generation of leaders also believes in the power of access "" and we congratulate the finalists for their diverse and thought-provoking ideas on how the expansion of access could impact the future."
"¨
FedEx and Net Impact assembled a team of business experts to judge the finalist essays and determine the top three winners for the contest. Judges include:

Tony Ammeter, Associate Dean for Undergraduate Programs and Associate Professor of Management Information Systems at the University of Mississippi, who will bring a technology perspective to the contest


Bill Margaritis, Corporate Vice President of Global Communications and Investor Relations, FedEx Corporation, who will help determine the application of each essay idea to FedEx's business model


Aisha Saad, Student and Rhodes Scholar, University of North Carolina, who will provide an international and academic perspective to the contest


Andrea Bennett, Editorial Director, Access Review Magazine, who will apply her expertise in publishing and journalism to the final round


Ben Powell, Managing Partner, Agora Partnerships, who will share his perspectives in social entrepreneurship in the developing world for the contest


Kellie McElhaney, Faculty Director of the Center for Responsible Business at the Haas School of Business, University of California, Berkeley, and John C. Whitehead Distinguished Faculty Fellow in Corporate Responsibility, who will bring her expertise in corporate social responsibility to the contest
Winners will be announced in April 2009. In addition to publication in Access Review, each winner will receive full registration to the 2009 Net Impact Conference, which will be held at the Johnson School at Cornell University November 13-14, and cash prizes of $2,000, $1,000, and $500 for the first, second, and third prizes, respectively."¨"¨For more information on contest rules, please visit www.netimpact.org/access

About Net Impact
Net Impact is a global organization of students and professionals using business to improve the world. The organization offers a portfolio of programs and initiatives to educate, equip, and inspire more than 10,000 members to make a positive impact through business. Spanning six continents, Net Impact's membership is one of the most influential networks of students and professionals in existence today and includes current and emerging leaders in corporate social responsibility, social entrepreneurship, nonprofit management, international development, and environmental sustainability. The Net Impact network includes over 200 chapters in cities throughout the world and a small central office in San Francisco. Learn more at www.netimpact.org


About FedEx
FedEx Corp. (NYSE: FDX) provides customers and businesses worldwide with a broad portfolio of transportation, e-commerce and business services. With annual revenues of $39 billion, the company offers integrated business applications through operating companies competing collectively and managed collaboratively, under the respected FedEx brand.

Consistently ranked among the world's most admired and trusted employers, FedEx inspires its more than 290,000 employees and contractors to remain "absolutely, positively" focused on safety, the highest ethical and professional standards and the needs of their customers and communities. For more information, visit news.fedex.com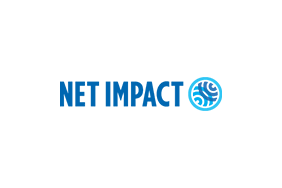 Net Impact
Net Impact
Net Impact is a global nonprofit inspiring a new generation to use their careers to tackle the world's toughest social and environmental problems. We empower student and professional leaders to act locally through our vibrant chapter network and connect globally online and through our flagship conference. By 2020, we will mobilize a million new leaders to drive positive change in the workplace and the world. For more information, please visit netimpact.org.
More from Net Impact