Published 08-27-08
Submitted by Net Impact
SAN FRANCISCO,CA. "" August 27, 2008 - This November, Net Impact, a global network of students and leaders using business to improve the world, will present its 16th annual North America Conference in Philadelphia, PA. Hosted by the Wharton School of the University of Pennsylvania, the 2008 Net Impact North America Conference is expected to draw nearly 2,000 graduate business students, professionals, academics, and leaders in corporate responsibility to address the issue of The Sustainable Advantage: Creating Social and Environmental Value.

The 2008 Net Impact North America Conference is an important forum for student and business leaders to discuss how business can effectively address the social and environmental challenges of the 21st century. This year's event will feature a world class roster of keynote and featured speakers:
John F. Brock, Chairman and Chief Executive Officer of Coca-Cola Enterprises Inc., and Carter Roberts, President and Chief Executive Officer of World Wildlife Fund (WWF), will discuss the power of partnerships in corporate responsibility and sustainability

Matt Kistler, Senior Vice President of Sustainability at Wal-Mart Stores, Inc. will discuss Wal-Mart's approach to sustainability

Other featured speakers include John Perkins, Author of Confessions of an Economic Hitman and The Secret History of the American Empire, and Tamsin Smith, President of Product (RED)
Over the course of two days of keynotes, panel discussions, and networking opportunities, participants will learn how revolutionary business ideas can disrupt the status quo, improve our world, and create a sustainable future.

"Net Impact has worked hard to establish this event as the premier conference of its kind and we are thrilled to be working with the Wharton School to host the 2008 Net Impact North America Conference,"
said Net Impact Executive Director, Liz Maw. "The speakers and sessions planned for this year's agenda promise to make this conference our largest to date and we look forward to engaging participants around these important issues of business sustainability."

Anjani Jain, Vice Dean of the Wharton School of the University of Pennsylvania, stated, "We are proud to host the 2008 Net Impact North America Conference this fall at the Wharton School. There is a strong interest among our faculty and students in studying and engaging with questions related to the social impact and responsibilities of business. The conference is a wonderful opportunity for us to assemble prominent thinkers in this field all at one time."

Conference attendees can expect to meet industry leaders and explore panels across several different topic areas such as energy and environment, corporate social responsibility, international and community development, social entrepreneurship and innovation, and social impact finance.

All attendees will benefit from timely, thoughtful, and engaging sessions, as well as ample opportunities for networking and dialogue. Additional conference features include a Career Expo, networking receptions and lunches, and in-depth workshops for those wishing to start their own Net Impact chapters.

A comprehensive overview of the 2008 Net Impact North America Conference is available at www.netimpact.org/conference

Sponsors for this year's event include
Global Title Sponsor
Coca-Cola

Leadership Sponsors
American International Group, Inc. (AIG)
Imaginatik

Executive Sponsors
Advanta
America's Credit Unions
FedEx
Herman Miller
Microsoft Corporation
Shell Oil Company
Sun Microsystems
Starbucks Coffee Company

Associate Sponsors
Accenture
Altria
Brown-Forman Corporation
Citigroup
Credit Suisse
Dell Inc.
Exxon Mobil Corporation
Ford Motor Company Fund
Intel
Johnson & Johnson
The Boston Consulting Group
The Dow Chemical Company

Supporting Sponsors
Autodesk
Booz Allen Hamilton
Calvert Group
Gap, Inc.
GE
McDonald's Corporation
Opportunity Finance Network
Pacific Gas and Electric Company (PG&E)
SAP AG
Smithfield Foods
The Walt Disney Company
Unisource

Media
Fast Company
Plenty
CSRWire
GreenBiz.com
TriplePundit
CRO
Sustainable Industries
Sustainable Life Media
SustainCommWorld
Women's International Networking (W.I.N.)

About Net Impact
Net Impact is a global organization of students and professionals using business to improve the world. The organization offers a portfolio of programs and initiatives to educate, equip and inspire over 10,000 members to make a positive impact through business. Spanning six continents, Net Impact's membership is one of the most influential networks of students and professionals in existence today and includes current and emerging leaders in corporate social responsibility, social entrepreneurship, nonprofit management, international development, and environmental sustainability. The Net Impact network includes over 200 chapters in cities throughout the world and a small central office in San Francisco. Learn more at www.netimpact.org

The annual Net Impact North America Conference is the world's largest event of its kind and has established itself as an important forum for student, business, academic and nonprofit leaders to network and learn from each other. The energy of the conference mobilizes attendees with an exciting array of keynotes, panels, case studies, simulations, and special events. Participants leave with fresh perspectives on the role of business in society, a new appreciation for their individual impact as an emerging business leader and a strong connection with a network of like-minded colleagues. Past speakers have included the CEOs of Starbucks, DuPont, Timberland and Patagonia; leaders of nonprofit organizations like ACCIÓN, Children's Defense Fund, Acumen Fund and Teach for America; as well as civic leaders such as Al Gore. For more information, please visit www.netimpact.org/conference

About the Wharton School
The Wharton School of the University of Pennsylvania -- founded in 1881 as the first collegiate business school -- is recognized globally for intellectual leadership and ongoing innovation across every major discipline of business education. The most comprehensive source of business knowledge in the world, Wharton bridges research and practice through its broad engagement with the global business community. The school has more than 4,700 undergraduate, MBA, executive MBA and doctoral students; more than 10,000 annual participants in executive education programs; and an alumni network of more than 82,000 graduates.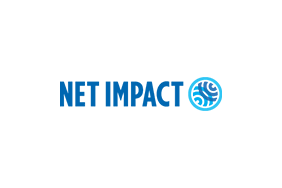 Net Impact
Net Impact
Net Impact is a global nonprofit inspiring a new generation to use their careers to tackle the world's toughest social and environmental problems. We empower student and professional leaders to act locally through our vibrant chapter network and connect globally online and through our flagship conference. By 2020, we will mobilize a million new leaders to drive positive change in the workplace and the world. For more information, please visit netimpact.org.
More from Net Impact