Published 12-11-07
Submitted by Net Impact
GENEVA, SWITZERLAND and SAN FRANCISCO, CA - December 11, 2007 - Net Impact announces its first ever European Conference as it continues to expand its reach and message across the globe. Net Impact has chosen Geneva to stage the conference June 12-14 2008, hosted by the International Organizations MBA HEC Geneve, in partnership with INSEAD and Nottingham University Business School.
Under the theme "Sustainable Prosperity - Taking on the Global Challenge" this conference will bring together hundreds of MBAs, business leaders and NGO leaders, providing a unique forum for learning and discussing ways to use business to improve the world. A career expo of responsible businesses and NGO's will also take place during the conference, as well as many other networking opportunities.
"European Net Impact members want to learn from one another so they can impact their communities and businesses in the best way possible," says Catarina Soares, Net Impact's newly hired European Director. "We now have 17 school chapters in Europe and we're growing fast."

"We see our International growth a vital aspect of our development and commitment," says Liz Maw, Net Impact Executive Director. "With business responsibility flourishing internationally, this is an exciting time to spread our impact across the globe."
About Net Impact
Net Impact is an international nonprofit membership organization comprised of new leaders who are committed to using the power of business to improve the world. Its network spans the globe with more than 10,000 members in six continents, including 150 student and professional chapters.

Net Impact membership makes up one of the most influential networks of MBAs, graduate students, and professionals in existence today. Net Impact members are current and emerging leaders in corporate social responsibility, social entrepreneurship, nonprofit management, international development, and environmental sustainability who believe that business can both earn a profit and create a positive social change. For more information visit Net Impact's website at www.netimpact.org.

About International Organizations MBA HEC Geneve
The International Organizations MBA (IOMBA) at HEC Genève-University of Geneva, prepares professionals for careers in the increasingly interconnected fields of international government, non-governmental institutions, and business. As a unique program located in the heart of Geneva, Switzerland, the IOMBA draws together internationally renowned scholars , business executives and top officials from international organizations, non-governmental organizations to explore the core managerial and leadership issues in these various communities.
Through partnerships with Bocconi University, Georgetown University, Indian Institute of Management (IIMA), TDPWaseda University and Yonsei University, the IOMBA has a worldwide network that exposes students to a diverse range of experiences, dual degree programs and exchange opportunities. See www.iomba.ch for more information.
About INSEAD, The Business School for the World
As one of the world's leading and largest graduate business schools, INSEAD brings together people, cultures and ideas from around the world to change lives and transform organisations. The unique global perspective and multicultural diversity of INSEAD are reflected in all aspects of its research and teaching.
Currently, at the school's two comprehensive and fully connected campuses in Asia (Singapore) and Europe (France), 143 renowned faculty members from 32 countries inspire more than 880 MBA participants, 59 Executive MBAs, over 8,000 Executives and 59 PhD candidates. On both campuses, faculty conduct leading edge research projects with the support of 16 Centres of Excellence. The INSEAD-Wharton Alliance extends the reach of INSEAD business education and research across three continents. More information on INSEAD can be found at www.insead.edu.
About Nottingham University Business School
Nottingham University Business School offers undergraduate, MA/MSc, MBA, Executive MBA, Executive Development, and PhD programmes in business and management, including the UK's first and only MBA in Corporate Social Responsibility.
Nottingham University Business School ranked 1st in the UK and 4th in Europe in the Aspen Institute's 2007 'Beyond Grey Pinstripes' ranking of global leaders in CSR, business ethics, and sustainability research and how these issues are integrated into innovative MBA programmes. Research ranks 2nd in the world in these areas." Nottingham University Business School is also home to the world renowned International Centre for Corporate Social Responsibility.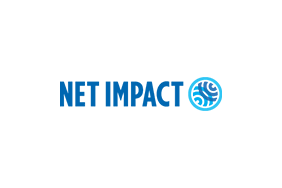 Net Impact
Net Impact
Net Impact is a global nonprofit inspiring a new generation to use their careers to tackle the world's toughest social and environmental problems. We empower student and professional leaders to act locally through our vibrant chapter network and connect globally online and through our flagship conference. By 2020, we will mobilize a million new leaders to drive positive change in the workplace and the world. For more information, please visit netimpact.org.
More from Net Impact