Published 10-31-07
Submitted by Net Impact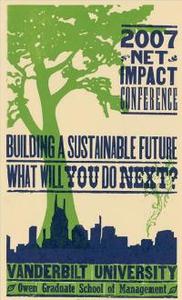 NASHVILLE and SAN FRANCISCO - October 31, 2007 - As demand for corporate social responsibility grows, the stage is set for an unprecedented gathering of students and professionals committed to those ideals at this year's Net Impact Conference in Nashville. Hosted by the Vanderbilt Owen Graduate School of Management, this leading forum will welcome participants from around the globe to the Vanderbilt campus November 1-3.
The 2007 conference - entitled "Building a Sustainable Future: What Will You Do Next?" - will bring together over 1,800 participants who will focus on corporate social responsibility, social entrepreneurship, international development, and nonprofit and environmental management. There will be over 300 speakers and 90 panels, with keynote speeches from Yvon Chouinard, Founder of Patagonia; Charles O. Holliday, Chairman and CEO, DuPont; and Tensie Whelan, Executive Director of the Rainforest Alliance. In addition, more than 30 major organizations have signed on as sponsors and over 70 companies will be on-site as part of this year's career fair.
"The Net Impact conference provides an unparalleled opportunity for business school students and professionals to engage in the issues and jumpstart their own ideas on sustainability and responsible business practice," said Liz Maw, executive director of Net Impact.
This year's conference is shaping up to be the most dynamic ever through:
Up-to-the-minute reporting of conference events, developments and news by student bloggers from OwenBloggers.com - an uncensored and student-run site visited by readers in over 90 countries - that will include in-depth audio and video interviews with event speakers, conference participants, and other leading executives and educators from around the globe.
A truly green experience for conference participants through extensive recycling and composting options, and organic meals.
An overall carbon neutral event, as International Paper is retiring credits in its account on The Chicago Climate Exchange (CCX) to offset the travel of all conference participants.
An exclusive screening of "Kilowatt Ours," a new 65-minute documentary that follows filmmaker Jeff Barrie on an 18-month journey across the Southeast United States and reveals the underreported side effects resulting from America's voracious appetite for coal-generated electricity.
A series of specially created conference posters by Hatch Show Prints, one of the oldest working letterpress print shops in America whose posters have featured stars ranging from Johnny Cash and Hank Williams to Garth Brooks and Shania Twain.
Individual students and professionals presenting their own unique ideas and presentations through member-led sessions, and pledge cards where participants will submit information about what they plan to do next after the Conference to make the world a better place.
Competitions to develop solutions to global poverty challenges
This year's conference also presents two new opportunities for students and other participants to put their abilities and ideas to the test in the area of social responsibility. The entire 10,000-member Net Impact community was engaged in the Network Challenge to identify how the membership might help address one of four major global issues: the spread of malaria; the impact of climate change; the effectiveness of education; or the dangers of nuclear weapons. The winning idea will be marketed extensively to the Net Impact community to encourage participation and adoption after the conference.
In addition, twelve teams from 10 of the world's leading business schools were selected as finalists for the first-ever Project Pyramid Case Competition, designed to produce tangible solutions to poverty-related conditions in society. Over the course of the conference, teams of students will be competing for more than $15,000 in prize money, donated by Cal Turner, Jr., chairman of the Cal Turner Family Foundation and retired Chairman and CEO of Dollar General Corporation. Finalists include teams from the University of North Carolina, York University, University of California-Davis, University of Michigan, University of Pennsylvania, University of Minnesota, University of Chicago, Georgia Institute of Technology, Duke University and the University of Virginia.
Emerging business leaders poised to effect change
In the midst of ever-increasing interest among current and future business leaders in the principles and potential of corporate social responsibility, the time is right for these individuals to take bold steps forward in their own lives and workplaces. "Companies worldwide are paying attention to the demand for social responsibility in business today, and this generation of business leaders is poised to use their skills and ideas to effect tremendous change," said Owen Dean Jim Bradford.
Information about this year's conference - including details on the curriculum and last-minute registration options - is available at www.netimpact.org/conference.
The Annual Net Impact Conference is designed to help attendees expand their vision of what is possible as they set their course through the world of business. It mobilizes students and professionals through an exciting array of keynotes, panels, case studies, simulations, and special events. Participants leave with a fresh perspective on the role of business in society, a new appreciation for their individual role as an emerging business leader, and a strong connection with a network of like-minded colleagues.
Net Impact, headquartered in San Francisco, CA, is an international nonprofit membership organization comprised of new leaders who are committed to using the power of business to improve the world. Its network spans the globe with more than 10,000 members in 99 countries on 6 continents including 150 student and professional chapters in 90 cities and 116 of the world's leading graduate schools. Members believe that business can both earn a profit and create positive social change. Net Impact offers a portfolio of programs to help members transform this ideal into measurable results. For more information, visit Net Impact's web site at www.netimpact.org.
Vanderbilt Owen School of Management is ranked as a top institution by BusinessWeek, The Wall Street Journal, U.S. News & World Report, Financial Times and Forbes. For more information about Owen, visit www.owen.vanderbilt.edu.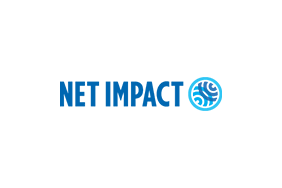 Net Impact
Net Impact
Net Impact is a global nonprofit inspiring a new generation to use their careers to tackle the world's toughest social and environmental problems. We empower student and professional leaders to act locally through our vibrant chapter network and connect globally online and through our flagship conference. By 2020, we will mobilize a million new leaders to drive positive change in the workplace and the world. For more information, please visit netimpact.org.
More from Net Impact