Published 09-06-07
Submitted by Net Impact
SAN FRANCISCO, CA (September 6, 2007) - Following up on research of MBA and graduate students regarding corporate social responsibility and sustainable management practices, Net Impact today released "New Leaders, New Perspectives II: A Net Impact Survey of Undergraduate opinions on the Relationship Between Business and Social/Environmental Issues."
The responses of 2,418 students in 53 undergraduate programs in the U.S. and Canada revealed over 70% believed corporate social responsibility is a topic that should be integrated into required courses in college business and management programs.
"The results of this sample provide exciting insights regarding over a million current business students in the U.S.," noted Liz Maw, Executive Director of Net Impact, an international nonprofit (NGO) with over 10,000 network members dedicated to leveraging business for socially responsible action. "The level of passion and conviction among undergraduate students is palpable, and we hope Net Impact's research helps colleges, universities and potential employers appreciate the values of these students."
Net Impact conducted a similar study in October 2006 among 2,112 graduate students at 87 institutions including 37% who identified themselves as members of Net Impact. Both studies focused on curriculum, career, and business and social responsibility. Net Impact's membership and programs are focused on current MBA students and business professionals with two or more years of experience, and the undergraduate responses highlighted the need for similar services for this larger population. "The results were so compelling that we launched a pilot program, Net Impact Undergrad, that will help us develop programs and services that meet the unique needs of undergraduate students," Maw added.
With regard to curriculum, over half of the respondents said they would like to learn more about corporate social responsibility, environmental sustainability, social entrepreneurship, renewable energy and international development. "These are topics that have been of interest for the 15 years that Net Impact has worked with business schools, yet the students do not feel these topics are represented adequately in undergraduate curricula," added Maw. "In fact, 74% of the respondents stated that universities and colleges should place more emphasis on training socially and environmentally responsible individuals than they currently do."
In addition to the potential impact on undergraduate curriculum, undergraduate students also expressed similar hopes for potential employers. "Students demonstrated their values by indicating a desire to land the right job rather than any job upon graduation,"added Alejandra Villalobos, the Net Impact analyst that coordinated the research and aggregated the results. "77% indicated they would seek employment that is socially responsible during their career, while 60% said they will seek such work immediately after graduating from college."
An overwhelming number of students, 84%, believe that corporations should work toward the betterment of society, while only 19% think most corporations are currently pursuing that goal. Additionally, 87% believe business professionals should consider social and environmental impacts when making business decisions and 82% believe the for-profit sector should play a role in addressing social and environmental issues.
"This demonstrates that undergraduates have high expectations for social responsibility to be included in their education, and expect these principles to remain a priority as they become the next generation of business leaders," said Kellie McElhaney, Ph.D., Executive Director of the Center for Responsible Business at the University of California Berkeley's Haas School of Business. "These are principles that require a fair level of sophistication to appreciate the advantages of implementing synergistic practices that are both good for society and good for your company. The responses support the premise that corporate social responsibility is reaching critical mass at all levels."
The study provides insights that are valuable to faculty and administrators responsible for developing and delivering courses that meet the expectations of undergraduate business students. According to the National Center for Education Statistics, over 307,000 of the 1.4 million undergraduate degrees awarded in 2003-2004, were in the field of business.
In addition, the Net Impact study indicates that corporations that intend to attract the best candidates need to demonstrate their commitment to social and environmental responsibility. As one participant summarized, "I think that businesses have to consider the triple bottom line. Their concern should be people, planet, and profit. Because society allows it to exist, businesses should consider all stakeholders."
As the study demonstrates, there is demand for tools and services to support business as a means for social change among undergraduate students who want their work to have greater meaning. Maw explains, "To meet this demand, Net Impact is launching a pilot undergraduate program at select colleges and universities across the United States and Canada. The overall goals of the chapters will be to educate and inspire undergraduates around themes of corporate social responsibility, social entrepreneurship, green business, and other topics related to how business can be used to make a positive impact on the world."
Results of the study are available on the Net Impact Web site, www.netimpact.org/publications.
About Net Impact
Headquartered in San Francisco, CA, Net Impact is an international nonprofit (NGO) organization comprised of a network of over 10,000 people in 99 countries spread across six continents. Members are primarily committed to using the power of business to improve the world. This network spans the globe with more than 150 student and professional chapters including chapters at 116 graduate schools. Members believe that business can both earn a profit and create positive social change. Net Impact offers a portfolio of programs to help members transform this ideal into measurable results. For more information, visit Net Impact's Web site at www.netimpact.org.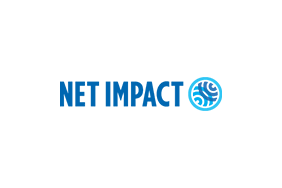 Net Impact
Net Impact
Net Impact is a global nonprofit inspiring a new generation to use their careers to tackle the world's toughest social and environmental problems. We empower student and professional leaders to act locally through our vibrant chapter network and connect globally online and through our flagship conference. By 2020, we will mobilize a million new leaders to drive positive change in the workplace and the world. For more information, please visit netimpact.org.
More from Net Impact