Published 08-16-07
Submitted by Net Impact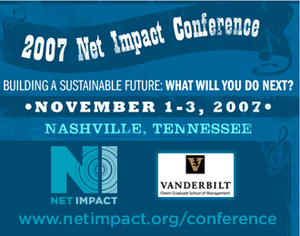 The 2007 Net Impact Conference features over 100 presenters with keynote speakers including Yvon Chouinard, Founder of Patagonia; Chad Holliday, CEO of DuPont; and Magatte Wade-Marchand, Co-founder of Adina Beverages.
NASHVILLE and SAN FRANCISCO - August 16, 2007 "" This November, graduate business students, faculty and administrators from B-schools around the globe will join with corporate and nonprofit professionals for the 2007 Net Impact Conference, the world's largest such gathering focused on corporate social responsibility, social entrepreneurship, international development, and nonprofit and environmental management.
Entitled "Building a Sustainable Future: What Will You Do Next?" the event will be hosted by the Vanderbilt Owen Graduate School of Management on November 1-3, 2007.
With an enhanced curriculum and plans for an enriched participant experience, the forum promises to be among the most successful in the organization's history and a sell-out for the fourth year running. In addition, Net Impact will demonstrate its own commitment to environmental responsibility through a "green" experience for participants that will include organic meals, extensive recycling options and an overall carbon-neutral event.
"The next generation of business leaders is poised to use their skills and ideas to effect tremendous change in the world today," said Elizabeth Maw, executive director of Net Impact, the San Francisco-based international nonprofit organization now entering its 15th year. "The Net Impact conference provides an unparalleled opportunity for business school students and professionals to engage in the issues and jumpstart their own ideas on sustainability and responsible business practice."
Keynote speakers, enhanced curriculum and new opportunities
The 2007 conference will be the most dynamic yet, with keynote speakers including Yvon Chouinard, Founder of Patagonia; Chad Holliday, CEO of DuPont; and Magatte Wade-Marchand, Co-founder of Adina Beverages. Overall, the conference will include more than 300 speakers and 90 panels, all geared to challenge participants to think about how to make the world more sustainable through business practice. Other highlights of the conference include:
A new curricular track focused on the "business of health" tackling both domestic and international health care issues, capitalizing on Vanderbilt's strength and leadership in health care management education and Nashville's reputation as a leading health care industry center.
A network-wide challenge to the entire 10,000-member Net Impact community, with proposals currently being solicited for how the Net Impact network might help address one of four major global issues: the spread of malaria; the impact of climate change; the effectiveness of education; or the dangers of nuclear weapons. The winning idea will be selected following finalist presentations at the November conference, and be marketed extensively to the Net Impact membership to encourage participation.
The inaugural Project Pyramid Case Competition, organized by students and faculty from Vanderbilt University's Project Pyramid initiative with the goal of alleviating poverty through the application of business principles. Founded by a group of Vanderbilt MBA students in 2005, Project Pyramid now involves scores of students, faculty and administrators from across the university.


A Career Expo featuring leading companies and nonprofits.
Continued growth of interest in social responsibility
This year's Net Impact conference takes place amid ever-increasing interest among current and future business leaders in the principles and potential of corporate social responsibility. In a recent Net Impact survey of more than 2,100 students worldwide, 81 percent believe companies should try to work toward the betterment of society and nine out of ten respondents said that business leaders should factor social and environmental effects into their business decisions. Even more telling, 79 percent of the students said they will seek socially responsible employment at some point during their careers and more than half will do so immediately after graduation.
"The role of business in society continues to mature, and there is significant interest in these issues among students and businesses alike," said Jim Bradford, dean of the Owen School and former industry CEO. "This year's event will provide a valuable opportunity for these groups to come together to realize the goal of truly changing how the world does business."
Additional information about this year's conference - including details about the curriculum and registration information - is available at www.netimpact.org/conference.
The Annual Net Impact Conference is designed to help attendees expand their vision of the possible as they set their course through the world of business. It mobilizes students and professionals through an exciting array of keynotes, panels, case studies, simulations, and special events. Participants leave with a fresh perspective on the role of business in society, a new appreciation for their individual role as an emerging business leader, and a strong connection with a network of like-minded colleagues.
Net Impact, headquartered in San Francisco, CA, is an international nonprofit membership organization comprised of new leaders who are committed to using the power of business to improve the world. Its network spans the globe with more than 140 student and professional chapters on 6 continents in over 80 cities and 110 graduate schools. Members believe that business can both earn a profit and create positive social change. Net Impact offers a portfolio of programs to help members transform this ideal into measurable results. For more information, visit Net Impact's web site at www.netimpact.org.
Vanderbilt Owen School of Management is ranked as a top institution by BusinessWeek, The Wall Street Journal, U.S. News & World Report, Financial Times and Forbes. For more information about Owen, visit www.owen.vanderbilt.edu.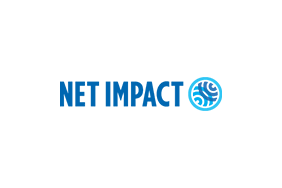 Net Impact
Net Impact
Net Impact is a global nonprofit inspiring a new generation to use their careers to tackle the world's toughest social and environmental problems. We empower student and professional leaders to act locally through our vibrant chapter network and connect globally online and through our flagship conference. By 2020, we will mobilize a million new leaders to drive positive change in the workplace and the world. For more information, please visit netimpact.org.
More from Net Impact