Published 08-01-07
Submitted by Net Impact
SAN FRANCISCO, CA - August 1, 2007 - The inaugural Net Impact Green Challenge, sponsored by Seventh Generation and Office Depot (NYSE: ODP), is recognizing six individuals for their developing effective environmental programs in their college or school. Net Impact, an international nonprofit organization committed to improving the world by growing and strengthening a network of business leaders, hosted the challenge, with the support of Office Depot, a leading global provider of office products and services, and Seventh Generation, the nation's leading brand of non-toxic and environmentally safe household products.
"We were thrilled with the impact our Green Challenge winners had on their institutions," said Liz Maw, Executive Director of Net Impact. "What is also promising is that everyone involved in Impact at Work and Campus Greening Initiative has solid plans to help their companies or schools become more environmentally responsible."
Challenge participants were actively involved in one of two Net Impact change programs: Impact at Work for professional members and Campus Greening Initiative for student members. The Green Challenge measured participants' actions and impacts from January 1, 2007 to June 1, 2007. All projects were evaluated by a group of judges based on the measurable difference of environmental impact, their strategic plan, the creativity of the approach, and the stakeholder engagement process. More details about the projects can be found at http://www.netimpact.org/greenchallenge.
The judges rated the relative impact of each individual's efforts; the scope and scale of each project varied widely. They took into account the level of institutional support for and number of people supporting each project in their final scoring. The judges were Joel Makower of Greenbiz.com, Julian Dautremont-Smith of AASHE, Paul Herman of HIPInvestor, Stacy Aaron of Change Guides LLC, Chrystie Heimert of Seventh Generation, and Yalmaz Siddiqui, Environmental Strategy Advisor, and Shela Fletcher, Environmental Analyst, for Office Depot.
Net Impact Green Challenge Student Winners:
1. Jeff Crystal - Kellogg School of Management, Northwestern University. Jeff and his team created a 25% reduction in paper usage and increased recycling rates by 20% through awareness and policy changes.
2. Tatsunori Sasaki - Weatherhead School of Management, CASE Western Reserve University. Tatsunori and other Weatherhead students proposed a strategic plan for Case's sustainability initiative, they saw a 3% decrease in energy use from their many comprehensive awareness campaigns, and they launched a campaign to promote car-sharing partnership with CityWheels.
3. Austin Whitman - Yale School of Management. Along with a group of four other students, Austin helped raise over $7,000 to finance energy- and forestry-based projects to offset the roughly 1,000 tons of CO2 generated from students' study abroad trips.
Net Impact Green Challenge Professional Winners:
1. Lisa Neuberger - Accenture. Inspired by the company's commitment to respect and support our communities and the environment, Lisa formed a volunteer group that included approximately 75 Accenture employees from 15 cities across the United States. Accenture is a global management consulting, technology services and outsourcing company with more than 152,000 employees worldwide. This volunteer group came together to start a dialogue aimed at better understanding sustainability in the context of Accenture's US operations and is viewed internally as an advisory group to generate recommendations for Accenture's US environmental initiatives.
2. Jeremy Litchfield - RedPeg Marketing. Jeremy and his colleagues at RedPeg, a marketing firm with around 50 employees, focused their efforts on spreading environmental awareness, but also created tangible positive impact: including switching all incandescent bulbs (60 total bulbs) to CFLs (compact fluorescent light bulbs), all computers were set to default to double sided printing, all B&W Printers and copy machines use minimum 30% recycled paper, recycling bins were placed by every trash can, and just recently switched to a more responsible telecom provider
3. Chris Reitz - Brown-Forman. Chris' awareness campaign had significant success, showing increases in the number of fellow employees who "often consider" and are "acutely aware" of their impact on the environment in daily decisions (increases of 11.4% and 27.5%, respectively), the number of employees who recycle (10.4% increase), and those who only print materials when absolutely necessary (476% increase).
While not listed here, other participants in Net Impact's CGI and Impact at Work engaged in a variety of greening projects that contributed to the collective positive impact and the longevity and influence of the programs.
"The winners of Net Impact's Green Challenge have shown that environmental initiatives can quickly deliver multiple benefits - from saving costs, to engaging people, to reducing waste and energy. Office Depot's own environmental vision is to increasingly 'buy green,' 'be green,' and 'sell green.' We congratulate all of the winners for their well structured programs that are driving measurable environmental improvement."
-Yalmaz Siddiqui, Environmental Strategy Advisor, Office Depot
"It's an honor to sponsor Net Impact's Green Challenge. At Seventh Generation, we truly believe that we all have the power to change the world. Even the smallest changes we make can have a large effect on our environment and global community. From the products we buy to the foods we eat to the activities we engage in, our actions create a ripple effect. And when enough people make enough ripples, a wave is born and a sea change occurs. It's inspiring to see Net Impact members making waves that are certain to motivate other campuses and workplaces."
-Jeffrey Hollender, President and Chief Inspired Protagonist, Seventh Generation
About Net Impact
Net Impact, headquartered in San Francisco, CA, is an international nonprofit membership organization comprised of new leaders who are committed to using the power of business to improve the world. Its network spans the globe with more than 130 student and professional chapters on 5 continents in 80 cities and 100 graduate schools. Members believe that business can both earn a profit and create positive social change. Net Impact offers a portfolio of programs to help members transform this ideal into measurable results. For more information, visit Net Impact's web site at www.netimpact.org.
About Net Impact's Greening Initiative
Net Impact's Campus Greening Initiative (CGI) is a program designed to help Net Impact student members put their beliefs into action through campus environmental sustainability efforts. The goals of CGI are for students to use business skills to improve their universities' impact on the environment as well as to raise awareness of environmental problems and solutions among emerging business leaders.
Net Impact's Impact at Work Initiative was created for members not working in traditional CSR roles, but still wanting to make a difference in their company. This unique program empowers individuals to make a difference in the way their company does business.
About Seventh Generation
For 18 years, the closely held Burlington, Vermont company has been at the forefront of a cultural change in consumer behavior and business ethics. One of the country's first self-declared "socially responsible" companies, Seventh Generation is committed to becoming the world's most trusted brand of authentic, safe, and environmentally responsible products for a healthy home. Seventh Generation markets and distributes through natural food stores, supermarkets, on-line stores like Amazon.com and mail-order catalogs in the United States and Canada. For more information and to find store locations, visit , www.seventhgeneration.com or the company blog at www.inspiredprotagonist.com.
About Office Depot
Office Depot provides more office products and services to more customers in more countries than any other company.
Incorporated in 1986 and headquartered in Delray Beach, Fla., Office Depot has annual sales of over $15.4 billion, and employs approximately 52,000 associates around the world. Currently, the Company sells to customers directly or through affiliates in 43 countries.
Office Depot is a leader in every distribution channel -- from retail stores and contract delivery to catalogs and e-commerce. As of June 30, 2007, Office Depot had 1,186 retail stores in North America and another 369 stores, either company-owned, licensed or franchised, in other parts of the world. Office Depot serves a wide range of customers through a dedicated sales force, telephone account managers, direct mail offerings, and multiple web sites. With $4.7 billion in online sales during the last twelve months, the Company is also one of the world's largest e-commerce retailers.

Office Depot's common stock is listed on the New York Stock Exchange under the symbol ODP and is included in the S&P 500 Index. Additional press information can be found at: http://mediarelations.officedepot.com.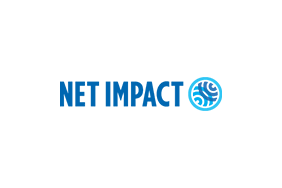 Net Impact
Net Impact
Net Impact is a global nonprofit inspiring a new generation to use their careers to tackle the world's toughest social and environmental problems. We empower student and professional leaders to act locally through our vibrant chapter network and connect globally online and through our flagship conference. By 2020, we will mobilize a million new leaders to drive positive change in the workplace and the world. For more information, please visit netimpact.org.
More from Net Impact