Published 02-20-00
Submitted by IKEA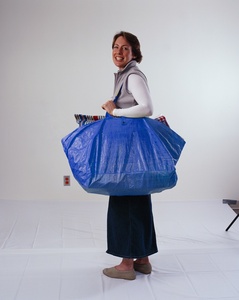 'Bag the Plastic Bag' and use an alternative, a reusable, multi-purpose bag.
It happens everyday. We make a few purchases and pop them into a plastic bag. Or a few bags. Actually, it's quite staggering when you think about it. The amount of plastic bags we use and toss is overwhelming. According to the Environmental Protection Agency, the U.S. consumes over 380 billion plastic bags, sacks and wraps each year. Each year, Americans throw away some 100 billion polyethylene plastic bags, and less than one percent of them are recycled. Single-use bags made of high-density polyethylene are the main culprit. Once brought into existence to tote purchases, they will accumulate and persist on our planet for up to a thousand years.
IKEA U.S. is taking a stand. With the goal of reducing plastic bag litter that is strangling our planet, IKEA will no longer be offering customers free plastic bags. Beginning March 15, every plastic bag at every IKEA U.S. store across the nation will cost five cents. All proceeds* from this 'program year' bag campaign will go to American Forests, the nation's oldest non-profit citizens conservation organization, to plant trees to restore forests and offset CO2 emissions. Also, to help alter customer behavior and endorse environmentally responsible habits, IKEA will be selling its iconic reusable 'Big Blue Bag' for 59 cents, a cost that has been reduced from 99 cents.
The blue bag, while also made of plastic, is durable, strong and roomy. Because one sturdy reusable bag will replace hundreds of single-use bags, IKEA hopes customers will bring it along to carry purchases when they shop at IKEA stores and elsewhere.
"We realize that our 'Bag the Plastic Bag Program' is a small step. But we know our customers want to help and support the sustainability of our planet - for today - and for the future of our children. IKEA believes home is the most important place in the world. And what more important home is there than our planet? This program lets our customers know we have our stake in the ground and are committed to continuing to be an environmentally responsible company," says Pernille Spiers-Lopez, president, IKEA North America. "IKEA has always been a home furnishings retailer for the many people. This program reaches out to everyone and embraces the idea that together we can do a lot!"
With the launch of this initiative, IKEA becomes one of the first major U.S. retailers to charge customers for plastic bags with the goal of completely eliminating their use in all IKEA stores. IKEA projects that the number of plastic bags used by their U.S. customers will be reduced by at least 50% from 70 million to 35 million in the first year. This program was launched in IKEA stores in the UK in late Spring 2006, and reduction has been a monumental 95 percent. Also, blue bag purchases were increased, since IKEA encouraged usage for a multitude of purposes.
"IKEA is a global environmental pace-setter, as I point out in my book Green to Gold," says author and IKEA advisor, Daniel C. Esty, Hillhouse Professor of Environmental Law and Policy at Yale University. "They have been a leader in their supply chain, responsible forest products sourcing, and recycling efforts. The plastic reduction program is another notable example of IKEA's ability to integrate their environmental and business strategies; engaging the customer to reduce pollution and litter while minimizing unnecessary materials."
Adds IKEA advisor and co-author of Green to Gold, Andrew Winston, "My work with leading companies tells me that IKEA is one of the global leaders in managing environmental responsibility. The plastic bag program is just one step in a long line of initiatives the company has undertaken. It also shows how broadly the company thinks about environmental challenges and how customers can help."
IKEA has been at the forefront in a number of environmental initiatives. IKEA specialists work diligently to promote healthy forestry practices. Wood used for IKEA products comes from well managed forests and not from intact, natural or old-growth forests.
Other notable programs include: IWAY audits, a code of conduct for partnership with suppliers around the world where suppliers are measured on health, safety, social and environmental concerns. When developing products, IKEA abides by the strictest requirements for chemicals and substances in the world, regardless of where the products are sold.
Plastic bags create litter, increase landfill, endanger wildlife and create ugly, unsafe clutter in our lives and in the environment. They end up in trash piles, or oceans…or trees…and they take forever to disappear. IKEA stands committed to stopping plastic bag waste.
"This program represents another solid step in environmental leadership for IKEA," says Deborah Gangloff, executive director, American Forests. "The benefits in terms of waste reduction alone will be enormous. And while this program phases out into 'no plastic bag usage', the millions of trees planted in environmental restoration projects will help clean our air, purify our water, provide wildlife habitat and improve the quality of life for all people."
About IKEA
IKEA places great value on life at home. A comforting spot where family and friends gather, where children learn and grow. A place where laughter is constant. And everyone is welcome to just hang out. An IKEA home is not about bricks and mortar. It's about beauty, joy and security. Since its 1943 founding in Sweden, IKEA has offered home furnishings and accessories of good design and functional living solutions at prices so low that the majority of the people can afford them. Currently there are more than 250 IKEA stores in 34 countries, including 29 in the U.S., where IKEA plans to open three - five stores a year. IKEA has been named to BusinessWeek's List of The Best Global Brands (August 7, 2006) and for four consecutive years, Working Mother magazine's annual list of the "100 Best Companies for Working Mothers." IKEA was listed in March 2007, on Fast Company's Fast 50, for its environmentally responsible products, as well as five consecutive years, Training magazine's annual list of top companies that excel at human capital development. Additionally, IKEA has been on FORTUNE's "100 Best Companies to Work For" list for three straight years. IKEA recently received the Foreign Policy Association Award for Global Corporate Social Responsibility. IKEA incorporates environmentally friendly efforts into day-to-day business and continuously supports initiatives that benefit causes such as children and the environment including UNICEF, Save the Children and American Forests. To visit the IKEA Web site, please go to http://www.IKEA-usa.com.
To learn more about IKEA environmental and social responsibility actions and programs, visit http://www.ikea-group.ikea.com/corporate/responsible/brochure.html.
AMERICAN FORESTS helps people improve the environment with trees and forests. We are a world leader in tree planting for environmental restoration and carbon sequestration. AMERICAN FORESTS helps people identify, recognize and preserve their special trees, and our community- based initiatives help people plan and implement local actions to restore and maintain healthy ecosystems and communities. American Forests is on the World Wide Web at www.americanforests.org.
* A maximum contribution of $1,750,000 within 12 months.
Footnotes:
- EPA stats: http://www.reusablebags.com/facts.php?id=4
- Plastic Bag thrown away: http://www.worldwatch.org/node/1499
- Bags on the planet for 1,000 years http://www.reusablebags.com/facts.php?id=4

IKEA
IKEA
IKEA strives to be 'The Life Improvement Store,' and since its 1943 founding in Sweden, has offered home furnishings of good design and function, at low prices so the majority of people can afford them. There are currently more than 320 IKEA stores in 39 countries, including 38 in the U.S. IKEA, the world's leading home furnishings company, incorporates sustainable efforts into day-to-day business and supports initiatives that benefit children and the environment. For more information, go to IKEA-USA.com.
More from IKEA