Published 10-22-07
Submitted by MAP International
October 22, 2007 - In Sudan's western region of Darfur, years of fighting have left hundreds of thousands of people dead and millions more without adequate living conditions or healthcare. Many acts of violence - and more than 250,000 refugees - have spilled across the border and into neighboring Chad, where they have joined 170,000 other men, women and children already huddled in crowded camps in the semi-desert region.
Chad, one of the world's poorest countries, offers little respite. Many of the camps are infested with disease, and people who do not die in the fighting often succumb to illnesses that could easily have been treated with proper medication.
But many refugees will soon be receiving essential medical care. Through a donation to the nonprofit relief agency Medical Assistance Programs (MAP) International, sanofi pasteur is providing 100,000 doses of diphtheria and tetanus vaccines to treat more than 30,000 people living in 12 camps along the border between Chad and Darfur.
The vaccination campaign will focus on immunizing women and older children who are most susceptible to these diseases.
"Sanofi pasteur's donation has come at a very critical time during the conflict," said Chris Palusky, relief director for MAP International. "The situation has become increasingly violent and conditions in the camps have grown progressively worse. Without the donations from sanofi pasteur, many people would die."
Michael Nyenhuis, president of MAP International, said sanofi pasteur's partnership with MAP has been instrumental.
"Sanofi pasteur has proven itself to be a frontrunner in the fight against disease," he said. "Their generosity will save the lives of the most vulnerable people in this conflict. They are literally alleviating suffering and death for thousands of women and children."
As a global relief and development agency, MAP International annually delivers more than $300 million in medicines and medical supplies to more than 110 countries. MAP also operates health clinics and healthcare programs in many of the world's areas affected by war and natural disaster.
Sanofi pasteur is the largest company in the world devoted entirely to human vaccines. Sanofi pasteur envisions a world in which no one suffers or dies from a vaccine-preventable disease.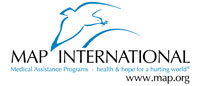 MAP International
MAP International
Founded in 1954 as Medical Assistance Programs, today MAP International, a top 50 non-profit, promotes the total health - physical, economic, social, emotional and spiritual health - of impoverished people in over 115 countries through the:
Provision of essential medicines
Promotion of community health
Prevention and eradication of disease
MAP offers its services to all people, regardless of their religion, gender, race, nationality or ethic background. MAP's international programs help eliminate the causes of sickness and disease by providing free medicines, improving water supplies and knowledge about health threats like HIV/AIDS and establishing community directed health education and training. To maximize the number of lives we reach, MAP International works in partnership programs with over 300 organizations, agencies and medical missions around the world.
More from MAP International