Published 03-17-09
Submitted by Mentor Capital Network
- March 16, 2009 - The William James Foundation (WJF) will be holding our 6th annual final presentation round and awards ceremony on Friday, March 20th at the offices of the World Resources Institute in Washington, DC.

This event will feature four presentations:
A panel of venture capitalists perspectives on working with mission-driven start-ups

A discussion with leaders of local Socially Responsible Business Networks


An entrepreneurs' perspective on keeping your values while taking a startup idea to the point of scale or sale


The finalist presentations -- the centerpiece of the event will be the top three teams who will give presentations and take questions from a panel of judges and the audience to determine how $60,000 in cash and in-kind prizes are distributed.
The event is free and open to the public, but attendees must RSVP at www.williamjamesfoundation.org/032009.

The finalists are:
PowerMundo provides products to the Peruvian market that offer savings in long-term energy and resource costs. This business will improve people's lives and conserve nature by connecting millions of people in developing countries to market driven, affordable, appropriate technology. Product examples include: solar flashlights, wind-up radios, and efficient biomass cook stoves.

Black Oak Capital Partners provides a return on investment through acquiring California agricultural land, timberlands and rural real estate for conservation and then produce and sell environmental credits gained from rehabilitating these properties.

First Earth Indigenous Foods will specialize in the import, branding, and marketing of teas and dried foods from indigenous communities in the developing world, starting with South Africa.

The WJF's primary prize is detailed feedback to the entrants, an average of 10 pages per entrant per each of the three rounds. There are also cash and in-kind awards worth more than $60,000. These awards are described at: www.williamjamesfoundation.org/prizes.

The Honorable Mention teams are:

LabourNet is a mobile and internet enabled service sector market place in India for a million micro-entrepreneurs and workers that creates jobs and enhances incomes while providing access to financial and social services

mPedigree Logistics provides the opportunity for anyone in a developing nation to validate their drugs before use with a simple text message, curbing the growing global problem of counterfeit medication estimated to reach $75 billion by 2010.

ArtIsAn Art connects Indian artists with purchasers of art. A flagship store in a major Indian city will retail the products to the general public.

GoCars is a mobile based service in Hyderabad, India that facilitates utilization of excess seating capacity in private vehicles by connecting people in real time.

Forest Wealth seeks to develop employment opportunities to the Village Forest Communities in the Andhra Pradesh State, India by involving them in the manufacture of eco-friendly paper from forest grass, an economically insignificant but an abundant natural resource.

Smart Build will develop a home energy retrofit business, combining job training for people facing barriers to employment with a focus on retrofitting low-income homes in the South Bronx.

U4U "¢Fitness"¢Kindness"¢Culture"¢Environment is a U.K.-based positive development program for girls aged 11-18 focusing on fitness, kindness, culture and environment through meetings, activities, professional coaching and small business projects.

SouperGirl involves the preparation of soup made primarily from ingredients from farms local to Washington, DC that practice sustainable farming methods.

It was a great accomplishment for these teams to have made it this far in the competition. More than one hundred plans entered the competition from over 15 countries and 25 US States. While the teams did not need to be current students, they were affiliated with more than 65 universities and business schools.

More than 200 reading judges evaluated the plans. The readers included experts in social ventures and traditional business plans, community activists, Wall Street professionals, academics, and CEOs of national for-profit and not-for-profit organizations. A list of judge backgrounds can be found at www.williamjamesfoundation.org/judgelist09.

In addition to managing our own competition, The William James Foundation provides back end competition services partners who share our goals. We are pleased to announce that the Foundation for a Sustainable Future has announced their Richard Heinberg Sustainability Prize winners -- www.williamjamesfoundation.org/EnviroPrize09 -- for 2009. The DC Affinity Lab-- www.williamjamesfoundation.org/dcprize -- has determined their finalists, and will be making their decision on March 19th.

The William James Foundation congratulates and commends all entrants and winners for their hard work throughout the competition process. The Foundation's mission is to grow replicable models of for-profit businesses that incorporate social and/or environmental goals. The WJF provides competition with resources to move forward in their ventures and goals while maintaining an ongoing network of participants and contacts.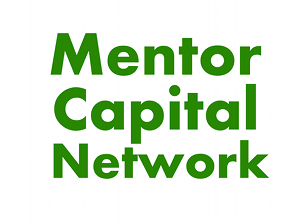 Mentor Capital Network
Mentor Capital Network
Mentor Capital Network, a Washington-DC based 501(c)3, strives to advance the evolution towards a more socially responsible economy. We support new entrepreneurs who are committed to establishing socially responsible businesses and policies that will more equitably benefit all stakeholders -- consumers, employees and their families, and the public-at-large, in addition to investors.
Our main program is the Sustainable Business Plan Collaboration. Over the years, we've supported over 930 ventures with almost $6M worth of mentor capital, giving entrepreneurial teams customized feedback on their business plans and access to a network of over 1,000 of the world's best industry and regional experts who have graciously given their time to support these startup teams. We seek to create and accelerate opportunities for these teams to make a serious, innovative, and scalable difference in the world.
Mentor Capital Network is the trade name of the William James Foundation.
More from Mentor Capital Network