Published 10-03-07
Submitted by Light Years IP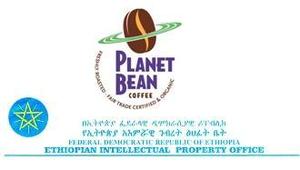 GUELPH, ONTARIO - October 3, 2007 - Planet Bean, a Canadian pioneer fair trade coffee roaster joins the growing network of licensed distributors of Ethiopia's trademarked coffees.
Planet Bean is a company that buys and roasts only 100% certified fair trade coffees. It has been selling, distributing and serving fair trade coffee for a decade in Guelph, Ontario.
The company has been purchasing Ethiopian coffees from the OROMIA Coffee Farmers Union since 2002. The Ethiopian fine coffees it roasts include Yirgachaffe, Harar and Sidamo, which are some of the company's top sellers. It plans to increase its current quantity of these trademarked coffees.
Bill Barrett, one of the Planet Bean cooperative members stated, "The Ethiopians have been growing and drinking coffee longer than anyone on earth. I think they should control the rights to their own coffee origins. This agreement is consistent with our company's ethical approach, and it recognizes the excellence and uniqueness of Ethiopian coffees."
After signing the agreement on behalf of Planet Bean, Byron Cunningham, the company's president, expressed his pleasure that his country, Canada, has registered all the three coffees and that his company has taken the lead in becoming the first one to sign in Canada. He said that he is hopeful that his company's acknowledgement of these trademarks will encourage many others to sign the license agreement.
Mr. Abdurahim Mohammed Ali, Charge' d'Affairs of the Ethiopian Embassy to Canada said, "It is a great occasion to witness the induction of Planet Bean Coffee to the family of the network of Ethiopian trademarked coffees. Ethiopia welcomes this first Canadian licensee and I am quite confident that many more companies will follow its example throughout Canada."
An extensive mobilization and public awareness outreach program is underway across the many coffee growing regions of Ethiopia to heighten interest and participation in the Initiative. At the same time, licensed distribution in Ethiopia's major fine coffee export markets is expanding to include coffee brokers, roasters, and retailers.
Currently there are 23 licensed distributors and about forty five companies in active dialogue with Ethiopia. The long term target is to license 150-200 critical players in the fine coffee industry worldwide. Extensive consumer awareness resulting from the Oxfam campaign last year has been effective in fueling the licensing efforts of Ethiopia, as patrons ask that their coffee companies support Ethiopia in its endeavor to improve the livelihood of millions of farmers across the country.
Ethiopia is posed to have an excellent chance at the 2008 SCAA annual conference to showcase its Fine Coffees Initiative and their brands, as well as its rich heritage, history and culture as it has been selected by the Specialty Coffee Association of America to be the first African Portrait Country during the next conference in Minneapolis, incidentally termed 'Roots', coinciding with Ethiopia as the undisputed origin of coffee.
Notes:
The Ethiopian Intellectual Property Office (EIPO) is spearheading the Ethiopian Trademarking and Licensing Initiative
The Initiative has financial support from the UK's Department for International Development, and advice and training from Washington DC based NGO Light Years IP, but no funding directly from coffee companies.
The EIPO and law firm Arnold and Porter have secured Trademarks in 28+ countries to date. In the US a Trademark for Yirgacheffe has been secured and the two others are still being sought despite opposition. More information on the Initiative and who is supporting it is available on the dedicated website www.ethiopiancoffeenetwork.com. For more insights into Ethiopian coffee farmers' lives and the way the coffee market works see also www.blackgoldmovie.com

Light Years IP
Light Years IP
Light Years IP (LYIP) is a non-profit organization dedicated to alleviating poverty by assisting developing country producers gain ownership of their Intellectual Property (IP) and to use the IP to increase their export income and improve the security of that income. LYIP is pioneering a Poverty Alleviating IP Solutions (PAIPS) approach to help developing world producers identify and own their IP. We believe IP offers a business strategy that can help developing countries increase income, improve the security of their income, and alleviate poverty. We assist producers, exporters, and governments in the developing world to analyze their export potential with respect to identifying the value of intangibles and then using IP tools (i.e. patents, trademarks, licenses) to secure more sustained and higher export income. The ownership of IP is secured in market countries through the existing IP legal frameworks of the developed world.
More from Light Years IP