Published 02-13-07
Submitted by The Conference Board
February 13, 2007- Progressive-thinking world business leaders, CEOs concerned with global warming and other pressing environmental issues, and investors will meet in New York later this month to analyze the opportunities and risks that come with the major changes in corporate citizenship programs brought on by technology and innovation, open markets, and worldwide brands.
The Conference Board 2007 Leadership Conference on Global Corporate Citizenship will be held February 27-28 at the InterContinental The Barclay Hotel in New York.
The conference, which will examine the troubling realities of the pressing issue of climate change, is sponsored by SC Johnson, Boeing, APCO Worldwide, Johnson Controls, Microsoft and Coke.
"The tide turned last year," says Gib Hedstrom, Conference Program Director, The Conference Board. "As always happens when the tide turns, change is not immediately visible, but momentum is building. Leading companies are making a business out of solving the world's toughest problems. Citizenship is establishing itself as the requisite mindset for doing business in the 21st century."
"Testing the Base of the Pyramid Protocol: A Case Study from SC Johnson" will feature Stuart Hart, Samuel C. Johnson Chair of Sustainable Global Enterprise and Professor of Management, Johnson Graduate School of Management, Cornell University, and Scott Johnson, Vice President, Global Environmental & Safety Actions, S.C. Johnson & Son, Inc.
"Profitable Growth: Creating Tomorrow's Winning Brands" will be the topic of a panel featuring: Hannah Jones, Vice President, Corporate Responsibility, Nike, Inc.; Robert L. Mallett, SVP Worldwide Stakeholder Alliance, Philanthropy & Corporate Citizenship, Worldwide Public Affairs & Policy Division, Pfizer, Inc.; and Sandra E. Taylor, Senior Vice President, Starbucks Coffee Company. The moderator will be Peter Senge, Founding Chairperson, Society for Organizational Learning, Senior Lecturer, Massachusetts Institute of Technology.
"Bold Commitments: Actionable Steps" will be the topic of a panel featuring: Ernesta Ballard, Senior Vice President, Corporate Affairs, Weyerhauser Company; Bob Corcoran, Vice President, Corporate Citizenship, General Electric Company; Karen Flanders, Director, Corporate Responsibility, The Coca-Coca Company; and Reginald Layton, Director, Diversity Business Development, Johnson Controls, Inc.
A truly international "C-Suite Dialogue" featuring a discussion about carbon footprints will feature: James E. Press, President, Toyota Motor North America, Inc.; Jonathan Shopley, Chief Executive Officer, The CarbonNeutral Company; and David C. Wang, President, Boeing China, The Boeing Company. The moderator will be David Vidal, Research Director, Global Corporate Citizenship, The Conference Board.
"Philanthropy, Community, Employees: Getting a 10x Return" will be addressed by Mark R. Kramer, co-author (with Michael E. Porter) of "Strategy & Society: The Link Between Competitive Advantage and Corporate Social Responsibility," Harvard Business Review, December 2006; Anna Eleanor Roosevelt, Vice President, Global Corporate Citizenship, The Boeing Company; and Andrea Taylor, Director, U.S. Community Affairs, Microsoft Corporation.
"Reaping Value from New Citizenship Opportunities" will be discussed by Ralph Earle, Managing Director, The Assabet Group, Nicholas Parker, Chairman & Co-Founder, Cleantech Group LLC, and Mark R. Tercek, Managing Director, Goldman Sachs & Co.
"Next Generation Business Models: Blueprints for a Greener Future" will be presented by Craig A. Hart, Vice President, U.S. Power Generating Co. LLC, Terry Kellogg, Executive Director, One Percent for the Planet, and Mike Newman, Vice President, ReCellular.
"Leveraging the Supply Chain for Competitive Advantage" will be explored by John A. Delfausse, Vice President, Global Package Development, Estee Lauder Companies, Donald R. Droppo, Jr., Vice President, Marketing, Curtis Packaging Corporation, and John Frey, Director, Corporate Environmental Strategy, Hewlett-Packard Company.
Members of the press are invited to attend this conference without charge. To register, please call (212) 339-0231 or email f.tortorici@conference-board.org. A full copy of the program is available on The Conference Board's website "" www.tcb.org.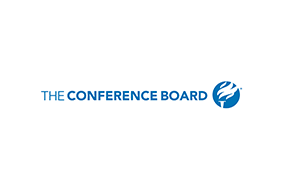 The Conference Board
The Conference Board
The Conference Board is the member-driven think tank that delivers trusted insights for what's ahead. Founded in 1916, we are a non-partisan, not-for-profit entity holding 501 (c) (3) tax-exempt status in the United States. www.conference-board.org
More from The Conference Board