Published 12-20-07
Submitted by PepsiCo
PURCHASE, NY - December 17, 2007 - PepsiCo has released its Performance with Purpose Corporate Sustainability Report for 2006-2007. The online report charts the company's progress in Human, Environment and Talent Sustainability, and it provides an overview of PepsiCo and its economic impacts.
The report is the most robust in PepsiCo history, using the Global Reporting Initiative (GRI) guidelines as a template. The GRI is the world's most commonly used format for sustainability reporting. It is designed to provide an overview of the company's initiatives and areas of focus. PepsiCo's 84-page report can be downloaded as a completed report or in four sections; Corporate Sustainability, Human Sustainability, Environmental Sustainability, and Talent Sustainability.
The report can be viewed and downloaded at http://www.pepsico.com/PEP_Citizenship/sustainability/index.cfm.
About PepsiCo
PepsiCo (NYSE: PEP) is one of the world's largest food and beverage companies, with 2006 annual revenues of more than $35 billion. The company employs approximately 168,000 people worldwide, and its products are sold in approximately 200 countries. Its principal businesses include: Frito-Lay snacks, Pepsi-Cola beverages, Gatorade sports drinks, Tropicana juices and Quaker foods. The PepsiCo portfolio includes 17 brands that generate $1 billion or more each in annual retail sales. PepsiCo's commitment to sustainable growth, defined as Performance with Purpose, is focused on generating healthy financial returns while giving back to communities the company serves. This includes meeting consumer needs for a spectrum of convenient foods and beverages, reducing the company's impact on the environment through water, energy and packaging initiatives, and supporting its employees through a diverse and inclusive culture that recruits and retains world-class talent. PepsiCo is listed on the Dow Jones North America Sustainability Index and Dow Jones World Sustainability Index. For more information, please visit www.pepsico.com.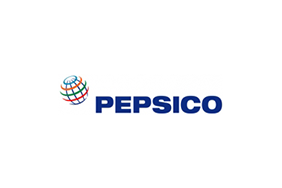 PepsiCo
PepsiCo
PepsiCo products are enjoyed by consumers one billion times a day in more than 200 countries and territories around the world. PepsiCo generated more than $66 billion in net revenue in 2014, driven by a complementary food and beverage portfolio that includes Frito-Lay, Gatorade, Pepsi-Cola, Quaker and Tropicana. PepsiCo's product portfolio includes a wide range of enjoyable foods and beverages, including 22 brands that generate more than $1 billion each in estimated annual retail sales.
At the heart of PepsiCo is Performance with Purpose - our vision to deliver financial performance over the long term by integrating sustainability into its business strategy, leaving a positive imprint on society and the environment. We do this in part by offering a wide range of products; increasing the number of our nutritious foods and beverages; reducing our environmental impacts; and supporting our employees and the communities where we do business; all of which will help position the company for long-term sustainable growth. For more information, visit www.pepsico.com.
More from PepsiCo