Published 09-20-07
Submitted by PepsiCo
PURCHASE, NY - September 20, 2007 - PepsiCo, Inc. has been named a global sustainability leader as it was added to the Dow Jones Sustainability World Index (DJSI World) for the first time this year, as well as retaining its place on the Dow Jones Sustainability North America Index (DJSI North America).
The DJSI World comprises the leading companies in terms of sustainability around the world. It captures the top 10% of the world's 2,500 largest companies based on corporate economic, environmental and social performance. The DJSI North America captures the leading 20% of companies in terms of sustainability out of the largest 600 North American companies of the Dow Jones Global Index.
"PepsiCo's addition to the DJSI World and maintaining our position on the DJSI North America is a prestigious achievement and reflects our commitment to 'Performance with Purpose' by achieving human, environmental and talent sustainability," said Indra Nooyi, Chairman and CEO, PepsiCo.
The Dow Jones Sustainability Indexes were announced by SAM, which was established in Zurich in 1995 as the first investment group focused exclusively on the integration of economic, environmental and social criteria into investing. In 1999, SAM teamed up with Dow Jones Indexes to launch the Dow Jones Sustainability Indexes (DJSI) - the first benchmarks to thoroughly analyze a company's sustainability criteria and impact. The indexes are used by asset managers and investors to manage a variety of financial products and sustainability-driven portfolios.
PepsiCo (NYSE: PEP) is one of the world's largest food and beverage companies, with 2006 annual revenues of more than $35 billion. The Company employs approximately 168,000 people worldwide, and its products are sold in approximately 200 countries. Its principal businesses include: Frito-Lay snacks, Pepsi-Cola beverages, Gatorade sports drinks, Tropicana juices and Quaker foods. The PepsiCo portfolio includes 17 brands that generate $1 billion or more each in annual retail sales. PepsiCo's commitment to sustainable growth, defined as Performance with Purpose, is focused on generating healthy financial returns while giving back to communities the company serves. This includes meeting consumer needs for a spectrum of convenient foods and beverages, reducing the company's impact on the environment through water, energy and packaging initiatives, and supporting its employees through a diverse and inclusive culture that recruits and retains world-class talent. PepsiCo was previously listed on the Dow Jones North America Sustainability Index in 2006. For more information, please visit www.pepsico.com.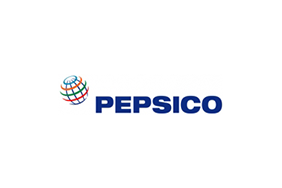 PepsiCo
PepsiCo
PepsiCo products are enjoyed by consumers one billion times a day in more than 200 countries and territories around the world. PepsiCo generated more than $66 billion in net revenue in 2014, driven by a complementary food and beverage portfolio that includes Frito-Lay, Gatorade, Pepsi-Cola, Quaker and Tropicana. PepsiCo's product portfolio includes a wide range of enjoyable foods and beverages, including 22 brands that generate more than $1 billion each in estimated annual retail sales.
At the heart of PepsiCo is Performance with Purpose - our vision to deliver financial performance over the long term by integrating sustainability into its business strategy, leaving a positive imprint on society and the environment. We do this in part by offering a wide range of products; increasing the number of our nutritious foods and beverages; reducing our environmental impacts; and supporting our employees and the communities where we do business; all of which will help position the company for long-term sustainable growth. For more information, visit www.pepsico.com.
More from PepsiCo