Published 07-05-07
Submitted by PepsiCo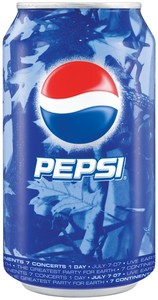 A commemorative Live Earth Pepsi can designed by musical artist and producer Pharrell Williams will be distributed at the Live Earth New York concert at Giants Stadium this Saturday.
PURCHASE, N.Y.- July 5, 2007 "" PepsiCo will shine a spotlight on recycling at the Live Earth New York concert this Saturday at Giants Stadium. The company will make it easy for people to recycle their bottles and cans while offering information about how they can make recycling a part of their everyday lives.
PepsiCo's Live Earth New York concert presence includes:
Tents made from recycled Pepsi billboards will accept bottles and cans from concertgoers, who in turn will receive wristbands, messenger bags and wallets made from recycled materials.


A commemorative Live Earth Pepsi can designed by musical artist and producer Pharrell Williams will be distributed on-site. There are currently 500 million Pepsi Live Earth cans available in stores across the country.
Pepsi will provide more than 800 Live Earth volunteers with T-shirts promoting recycling.
Outside the stadium, the Pepsi Sculpture Garden will feature 10' X 10' figures made from cans, bottles and other recycled materials.
Frito-Lay's SunChips brand will provide concertgoers with free "Live Brightly" T-shirts, which are also available for purchase via www.sunchips.com. The Alliance for Climate Protection, the movement behind Live Earth, will receive 100% of the proceeds from the online sale.

"We support Live Earth because they share our commitment to raise awareness and offer solutions for an eco-friendlier society," said Dawn Hudson, president and CEO, Pepsi-Cola North America. "We'll take this opportunity to educate everyone who attends the concert on the importance of recycling. We're making great strides in eco-friendlier packaging, energy and water conservation and waste reduction. It's all part of PepsiCo's commitment to Performance with Purpose -- to do better by doing better."

PepsiCo has been a leader in packaging reduction and worldwide recycling efforts. While actively looking for opportunities to reduce the impact of its packaging on the environment by using less material and using more recyclable materials, PepsiCo is also making it easier and more fun to recycle with the help of organizations like Keep America Beautiful and the National Recycling Coalition.

Soft drink bottles and cans are the most recycled packages in America. Since 1990, more than 150 billion Pepsi containers have been recycled. According to the Aluminum Association, Can Manufacturers Institute and Institute of Scrap Recycling Industries, recycling 40 aluminum beverage cans has the energy-saving equivalent of one gallon of gasoline. In 2006, Americans recycled enough aluminum cans to conserve the energy equivalent of over 15 million barrels of oil.

About PepsiCo

PepsiCo (NYSE: PEP) is one of the world's largest food and beverage companies, with 2006 annual revenues of more than $35 billion. The company operates in nearly 200 countries, and employs more than 168,000 people worldwide. Its principal businesses include: Frito-Lay snacks, Pepsi-Cola beverages, Gatorade sports drinks, Tropicana juices and Quaker foods. The PepsiCo portfolio includes 17 brands that generate $1 billion or more each in annual retail sales. PepsiCo's commitment to sustainable growth, defined as Performance with Purpose, is focused on generating healthy financial returns while giving back to communities the company serves. This includes meeting consumer needs for a spectrum of convenient foods and beverages, replenishing the environment through water, energy and packaging initiatives, and supporting its employees through a diverse and inclusive environment that recruits and retains world-class talent. The company is listed on the Dow Jones North America Sustainability Index. For more information, please visit www.pepsico.com.

About Live Earth

Live Earth is a monumental music event that will bring together more than 2 billion people on July 7, 2007 to combat the climate crisis. Live Earth will stage concerts in New York, London, Sydney, Tokyo, Shanghai, Rio de Janeiro, Johannesburg, Hamburg, and will feature a mix of both legendary music acts like The Police, Genesis, Bon Jovi and Madonna with the latest headliners like Kanye West, Kelly Clarkson, Black Eyed Peas and Jack Johnson.

Live Earth's 24 hours of music across 7 continents will deliver a worldwide call to action and the solutions necessary to answer that call. Live Earth marks the beginning of a multi-year campaign to drive individuals, corporations and governments to take action to solve the climate crisis. Live Earth is partnering with the Alliance for Climate Protection, The Climate Group, Stop Climate Chaos and other international organizations in this ongoing effort. Live Earth was founded by Kevin Wall, a worldwide executive producer of the Live 8 concert series in 2005, and is supported by former U.S. Vice President Al Gore.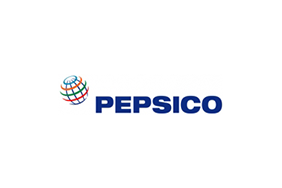 PepsiCo
PepsiCo
PepsiCo products are enjoyed by consumers one billion times a day in more than 200 countries and territories around the world. PepsiCo generated more than $66 billion in net revenue in 2014, driven by a complementary food and beverage portfolio that includes Frito-Lay, Gatorade, Pepsi-Cola, Quaker and Tropicana. PepsiCo's product portfolio includes a wide range of enjoyable foods and beverages, including 22 brands that generate more than $1 billion each in estimated annual retail sales.
At the heart of PepsiCo is Performance with Purpose - our vision to deliver financial performance over the long term by integrating sustainability into its business strategy, leaving a positive imprint on society and the environment. We do this in part by offering a wide range of products; increasing the number of our nutritious foods and beverages; reducing our environmental impacts; and supporting our employees and the communities where we do business; all of which will help position the company for long-term sustainable growth. For more information, visit www.pepsico.com.
More from PepsiCo