Published 02-25-08
Submitted by CECP
NEW YORK - February 25, 2008 "" Today, The PNC Financial Services Group and Moody's Corporation receive prestigious awards for their corporate philanthropy programs in celebration of National Corporate Philanthropy Day. The winners, both financial firms, focus their efforts on critical education initiatives. In addition, nonprofit organization Community Voice Mail (nominated by Cisco Systems) receives the CECP Directors Nonprofit Award, including a $25,000 cash donation, for its integrated corporate partnerships.
PNC is awarded CECP's Large Company Excellence Award. Through the PNC Grow Up Great initiative, the company implemented a 10-year, $100 million investment to provide underserved children with quality preschool opportunities, preparing them for future success in school and throughout life. Through a holistic effort that involves significant public CEO endorsement, advocacy, funding and employee engagement to educate parents, caregivers, and communities on the importance of pre-K education, PNC has successfully created a model that has the potential to achieve national impact.
"It is an honor to be recognized by the Committee Encouraging Corporate Philanthropy for our work in early childhood education," PNC Chairman and CEO Jim Rohr stated. "The advances we are helping to create in this great cause, combined with the potential for additional successes and the Committee's acknowledgment of our commitment, tells us that we made the right decision."
Moody's Corporation wins the Small Company Award (revenues less than $3 billion) for the company's sophisticated giving program which encourages students to develop a passion for mathematics, economics and finance. In partnership with the Society for Industrial and Applied Mathematics (SIAM), Moody's Mega Math Challenge offers an Internet-based applied mathematics competition for high school students, exciting students about applying math to solve real-world problems. Proficiency in mathematics is essential for many careers in the 21st century and this program helps build a future talent pipeline for the company.
According to Moody's Chairman and CEO Ray McDaniel, "We looked at our core competencies and where there was an opportunity for Moody's to contribute to the community. Education, particularly financial and economic literacy, was consistent with our role in the marketplace."
Community Voice Mail, nominated by Cisco Systems, Inc., provides the exceptional service of free, personalized telecommunications access to the poor and homeless across the U.S. By partnering with community-based organizations in over 40 cities nationally, 41,000 people were served last year. The simple concept of providing voice mail service to connect individuals to prospective employers, landlords, case managers and family members is a critical step on the road to stability and self-sufficiency. In 2003, the Cisco Foundation awarded CVM a $2.5 million grant to enhance the organization's service capabilities, centralize the voice mail system, and bring its services to additional cities nationwide. Cisco's investment and the application of its technology and expertise for social good has had a transformative impact on the lives of tens of thousands of people every year.
"The partnership that Community Voice Mail National has with Cisco Systems is one that most nonprofit organizations can only dream of," said CVM Executive Director Jennifer Brandon. "With the depth and breadth of Cisco's contribution, we have been able to thrive instead of just survive. Ours is a situation that I wish more nonprofits could have because the impact would be extraordinary."
The CECP Excellence in Corporate Philanthropy Awards recognize CEO leadership, innovation, measurement practices, and partnerships in philanthropy. Since 2000, the Committee Encouraging Corporate Philanthropy has presented awards annually to companies such as GlaxoSmithKline, GE, Novartis, Cisco Systems, Target, IBM, Pfizer, salesforce.com, Hasbro, Whole Foods Market and Timberland. The Excellence Awards selection committee is composed of experts from the corporate, government, media, nonprofit, social investing, consulting and academic communities.
The Awards are presented on National Corporate Philanthropy Day, February 25th "" celebrating the tremendous opportunity for corporate-community partnerships to advance the social agenda of American communities and inspiring businesses to engage further in philanthropy. The Excellence Awards are presented immediately following CECP's annual CEO roundtable discussion in which 45 top executives debate the timely issue of The CEO's Challenge: Leading the Company, Shaping Society. In addition, the Awards presentation will be followed by a special event at the United Nations on the role of corporate philanthropy in advancing the Millennium Development Goals.
Paul Newman and Ken Derr are the founding co-chairs of the Committee Encouraging Corporate Philanthropy (CECP), the only international forum of CEOs exclusively focused on corporate philanthropy. CECP's mission is to lead the business community in raising the level and quality of corporate philanthropy. Engaging with the public, private, and independent sectors, CECP's 170 members seek and create opportunities to help advance the case for philanthropy and inspire other business leaders to make a lasting commitment to community giving. www.CorporatePhilanthropy.org.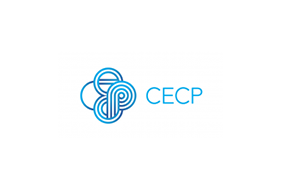 CECP
CECP
The Committee Encouraging Corporate Philanthropy (CECP) is the only international forum of business leaders focused on increasing the level and quality of corporate philanthropy. Membership includes more than 180 global CEOs and chairpersons of companies that collectively account for more than 40% of reported corporate giving in the United States. Membership is by invitation and is renewed annually.
CECP provides member companies with peer-to-peer executive convenings, premier networking events for corporate giving industry professionals, cutting-edge research publications, a proprietary, on-demand benchmarking system of corporate philanthropy data, and exclusive media opportunities.
Founded in 1999 by actor and philanthropist Paul Newman, together with John Whitehead, Peter Malkin, and other business leaders, CECP continues to inspire and challenge leaders in the private sector to find innovative ways to fulfill unmet social needs and to lead the way towards better alignment of business and social strategies.
Join CECP on Facebook, Twitter, Flickr and YouTube.
More from CECP