Published 06-04-07
Submitted by CECP
NEW YORK- June 4, 2007 "" Contrary to expectations, new research finds that corporate philanthropy remained strong in 2006, increasing on average 4.7% for top companies. After a spike in corporate giving in 2005, due in part to beyond-budget disaster-relief funding in the wake of Katrina, the Tsunami, the South Asia earthquake, and other natural disasters, corporate philanthropy could have been expected to decline in 2006. However, according to new research by the Committee Encouraging Corporate Philanthropy (CECP) on $10.6 billion in philanthropy data from 113 companies, including 44 of the Fortune 100, giving continued to climb above 2005 levels.
With closer analysis, CECP found that the 89 matched-set companies were split in their giving "" 56% noted an increase in corporate giving from 2005 to 2006 and 44% identified a decrease. Thirteen percent of companies increased giving by more than 30%, a strong pull that offset the data of the companies for which giving fell.
The companies that gave more in 2006 are mostly service-based businesses. Factors for why giving increased include:
Strong profits in recent years, resulting in larger contributions through philanthropy programs.
Improvements in measurement practices, a growing trend that allows companies, subsidiaries, and nonprofits to better track cash and non-cash giving.

The set of companies for which giving decreased from 2005 to 2006 largely consists of manufacturing companies that noted a drop in non-cash giving (in-kind donations). Causes for this decline include:
The absence of significant contributions to disaster-relief efforts through in-kind gifts.
In some cases, lower overall production levels or a decrease in the value of donated products.
Medicare policy changes which reduced the number of participants enrolled in Patient Assistance Programs that provide in-kind prescription drugs in the U.S., resulting in a decline in pharmaceutical non-cash giving in 2006.

Another trend in the research finds international corporate giving on the rise. Philanthropy to overseas beneficiaries, as a percentage of total giving, increased from 10.0% in 2004 to 13.5% in 2006. In addition, nearly 20% of total corporate giving by manufacturing companies in 2006 was invested internationally, supporting a growing trend of companies giving more globally where their employees and consumers are based and revenue is generated.

The trends revealed in this research show a continual investment by companies to improve and expand giving programs. Companies are paying closer attention to their philanthropic initiatives and are better now than ever before at measuring and capturing their giving data.

According to Charles Moore, Executive Director of CECP, "The data from 2006 are truly eye-opening. Despite the split in terms of increasing and decreasing expenditures, the two groups' medians for total giving are close to equal. Companies continue to set the bar even higher for corporate giving as philanthropy is further accepted as a business imperative. Our members, 160 CEOs representing many of the world's largest companies, recognize the important role of philanthropy in their business strategy and continue to prove their dedication to community investment, as seen in this research."

The above data were compiled in 2007, referencing the 2006 giving year, by CECP's annual Corporate Giving Standard survey of philanthropic initiatives. Findings will be presented on June 5th to senior corporate giving professionals at the CECP Corporate Philanthropy Summit in New York City at the Time Warner Center.

CECP's proprietary philanthropy measurement system is the world's only online, on-demand reporting tool offering individual company results, unprecedented benchmarking against peers, and year-over-year trend reporting opportunities on detailed corporate giving programs. Top-level findings from these data are published annually in CECP's Giving in Numbers report, to be released in the fall of 2007.

Paul Newman and Ken Derr are the founding co-chairs of the Committee Encouraging Corporate Philanthropy (CECP), the only international forum of business CEOs and Chairpersons pursuing a mission exclusively focused on corporate philanthropy. CECP's mission is to lead the business community in raising the level and quality of corporate
philanthropy. Engaging with the public, private, and independent sectors, CECP members seek and create opportunities to serve as corporate giving advocates, practitioners, educators, and spokespersons to advance the case for philanthropy and to inspire other business leaders to make a lasting commitment to community giving.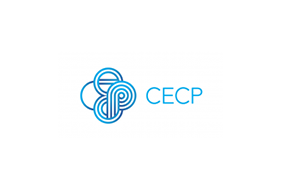 CECP
CECP
The Committee Encouraging Corporate Philanthropy (CECP) is the only international forum of business leaders focused on increasing the level and quality of corporate philanthropy. Membership includes more than 180 global CEOs and chairpersons of companies that collectively account for more than 40% of reported corporate giving in the United States. Membership is by invitation and is renewed annually.
CECP provides member companies with peer-to-peer executive convenings, premier networking events for corporate giving industry professionals, cutting-edge research publications, a proprietary, on-demand benchmarking system of corporate philanthropy data, and exclusive media opportunities.
Founded in 1999 by actor and philanthropist Paul Newman, together with John Whitehead, Peter Malkin, and other business leaders, CECP continues to inspire and challenge leaders in the private sector to find innovative ways to fulfill unmet social needs and to lead the way towards better alignment of business and social strategies.
Join CECP on Facebook, Twitter, Flickr and YouTube.
More from CECP