Published 05-08-08
Submitted by Quantum Shift Media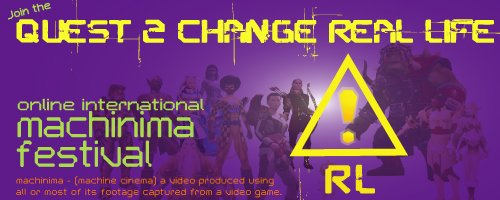 May 8, 2008 - The Quest 2 Change RL online international machinima festival challenges video makers to create stories that address the climate crisis, extinction, and/or environmental justice in an under five-minute machinima video. Machinima (pronounced ma-SHEEN-uh-ma) is video making within a real-time 3D virtual environment like that of many popular online video games (the word machinima is formed from "machine" and "cinema").


Winning video makers to receive two grand prizes!
Contest submissions accepted from May 1st through September 22nd
Contest video trailer: Quest2ChangeRL.com
The Science and Environmental Health Network (SEHN) has joined with SmartMeme Studios, QuantumShift.tv, and other key partners to devise this contest. "Through this contest," says SEHN's Associate Director Katie Silberman, "we're helping to build a community of online media makers and gamers focused on socially conscious, solution-oriented videos and action."
Media makers are invited to submit videos created inside virtual video game worlds (Massively Multiplayer Online Role Playing Games) or from any 3D animation software. Real life footage may be included. SmartMeme Studios change agent James John Bell explains, "The under-five-minute narrative videos will explore ways to take real life action on the climate crisis, loss of biodiversity/extinction, and/or environmental justice and are encouraged to include concepts like the 'guardianship of future generations' and the 'precautionary principle'."
"We're harnessing three powerful cultural forces: social action, Internet gaming and the explosion of online video and digital storytelling," says Leif Utne, VP of Marketing for Quantum Shift TV. "The Quest 2 Change Real Life online international video festival inspires gamers and video makers to take action on important social and environmental issues."
"This contest sounds like a great and timely idea," says Phil Rice ("Overman") of Zarathustra Studios, "I encourage everyone motivated by its cause to participate and mold some minds." Overman has been making machinima since 1998, and Overman's Blog at z-studios.com is the pulse of a creative commons machinima movement.

Overman explains, "Machinima is a movement which puts the tools of filmmaking into the hands of anyone who has the desire to make films; it requires no wallet full of cash and no inside connections; it is oblivious to geographical and political borders. I'm not sure that machinima itself can impact the planet, but it is the ideal vehicle for conveying a grassroots message which could impact the minds of that planet's inhabitants."
Machinima production company WBA Advertising joined the contest because "we have always considered all our machinima to be within the realm of the 'lower carbon footprint,'" explains producer AWM Mars. "We are firm believers that machinima has a place in entertainment and commercials. Using machima, the reduction in the carbon footprint is quite significant."
"I love the social aspect of working with avatar/actors from around the world on a collaborative machinima," explains Second Life machinima producer Cecil Hirvi. "People who use machinima to tell compelling stories can have an impact on the planet. Because machinma offers a very low cost way of telling stories, many more people will have the opportunity to tell stories and reach a larger audience."
You can find out more and sign up for the contest at www.Quest2ChangeRL.com

Quantum Shift Media
Quantum Shift Media
Quantum Shift TV is a Canadian web-based television network with solution oriented news and entertainment. Its editorial board directs its own productions and assures high quality citizen journalism. Quantum Shift Media Inc is an Alberta based corporation with a uniquely designed hybrid social venture structure.
More from Quantum Shift Media