Published 05-06-08
Submitted by Quantum Shift Media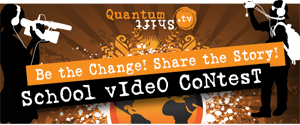 32 schools reach semifinal round in Quantum Shift TV's $50,000 international "Be the Change" Web-documentary competition
Celebrity judges include actress Daryl Hannah, skateboarder Bob Burnquist, author Paul Hawken, green jobs advocate Van Jones


Youth-led projects range from campus recycling to building a school in Sudan; hours of embeddable web videos available
CALGARY - May 5, 2008 - Thirty two schools across Canada and the United States have made it to the semifinal round of Quantum Shift TV's "Be the Change! Share the Story!" contest.
These thirty-two teams of students have made a difference on an environmental or social cause in their community and documented their projects in two short videos posted on the web at http://www.quantumshift.tv/schools. As semifinalists, they have a chance to win up to $50,000 in prizes for their school, including an earth-friendly skateboard park designed and installed by celebrity athletes from the Action Sports Environmental Coalition.
A panel of celebrity judges will rate the teams to pick three finalists. Then, like on American Idol, the public will vote to determine the order, and the grand prize-winner. The winning schools will be announced on June 1, 2008.
"Web video has a powerful ability to engage audiences, particularly youth, around the world. Quantum Shift TV is using this power to inspire students to take action on the social and environmental issues of the day," says Leif Utne, vice president of Marketing at Quantum Shift TV.
The semifinalists include students in grades 1-12 at schools in 12 US states and 4 Canadian provinces, from Florida to British Columbia, and Vermont to California. The projects these students took on represent an impressive range of issues. For example:
Simon Atem, a "lost boy" from Southern Sudan, rallied his high school in Calgary, Alberta, to support his efforts to build a school in his home country that would promote education, environmental awareness, and development. Watch videos.
Students at Vermont Academy rapped about their campaign to get the prep school to install wind turbines on campus. Watch videos.
A team from Garden Hills Elementary school in Atlanta took on the "alien invasion," fighting off the infestation of non-native plants in their neighborhood. Watch videos.
The Social Justice club at La Costa Canyon High School in Carlsbad, California, urged their schoolmates to "break up with bottled water" and switch to re-usable water bottles. Watch videos.
The "Fashion for a Cause" benefit organized by the Global Ambassadors team at Eastview Middle School in White Plains, New York, raised money for clean water projects in Uganda. Watch videos.
The celebrity judges will rate the semifinalists by May 14, based on community involvement, project execution, video quality, student involvement and learning, and overall social and environmental impact.

The judges include actresses Daryl Hannah and Amy Smart, bestselling author and environmentalist Paul Hawken, skateboarder Bob Burnquist, executive-with-a-cause John Wood, and Nigerian women's rights activist Hafsat Abiola, plus two dozen other leaders in business, sports, education and the arts.
To provide project ideas and resources for both students and teachers, Quantum Shift TV partnered with key organizations like UNICEF, Free the Children, Room to Read, TransFair, NAAEE, TakingITGlobal, The Pembina Institute, New Global Citizens, Sierra Youth Coalition, Rainforest Action Network, Care and Oxfam.
Quantum Shift TV is a 21st Century storyteller renewing the cultural values of community, care and interconnectedness through the use of leading edge technology and citizen journalism.

Quantum Shift Media
Quantum Shift Media
Quantum Shift TV is a Canadian web-based television network with solution oriented news and entertainment. Its editorial board directs its own productions and assures high quality citizen journalism. Quantum Shift Media Inc is an Alberta based corporation with a uniquely designed hybrid social venture structure.
More from Quantum Shift Media