Published 04-30-07
Submitted by Urban Partnership Bank
CHICAGO, IL - April 30, 2007 - ShoreBank Corporation, America's first and leading community development and environmental bank holding company, announced today the appointment of Joseph E. Hasten, 55, as president and CEO of ShoreBank. Hasten, a former Vice Chairman and head of its Corporate Banking Business of U.S. Bancorp, will be responsible for all of the activities and operations of ShoreBank and its banking offices in Chicago, Cleveland, and Detroit, effective May 30.
Mr. Hasten succeeds Mary Houghton, President of ShoreBank Corporation, who was named interim president of the bank following Anne Arvia's departure last summer for Nationwide Bank. Mr. Hasten will lead ShoreBank during its highest asset and loan origination growth period in history. ShoreBank, with assets of $2 billion, generated $532 million in total new loan originations in 2006, including a nearly 300 percent increase in community development and conservation loans in Cleveland and Detroit from the previous year. It recently acquired the Greater Chicago Bank which added $78 million in assets and $62 million in deposits and gave ShoreBank its first-ever presence in the west suburbs, Chicago's North Side, and the growing Latino market.
"Joe's experience leading some of the top banks in the Midwest and West makes him the ideal banker to build upon ShoreBank's record of success, and continue to grow the organization and its triple-bottom line," said Ronald Grzywinski, Chairman of ShoreBank Corporation. "He brings the abilities and leadership that will improve services and extend our reach to our customers and communities that we serve, in an efficient and effective manner," added Grzywinski.
After U.S. Bank acquired Firstar in 2000, forming U.S. Bancorp, Mr. Hasten became vice chairman, heading the combined banks' national corporate banking business for the nation's sixth largest commercial bank. As vice chairman, he was also responsible for $70 billion of assets and was also the bank's lead officer in the St. Louis market. He oversaw several lines of businesses, including mortgage banking that generated more than $300 million in revenue. He also helped provide capital to the real estate industry, creating a host of fee-based services and was responsible for the development of financial products, sales, and delivery across several other lines of businesses. He served as vice chairman from 2001 until his departure in 2005.
"ShoreBank has a tremendous legacy in the community development banking industry and in demonstrating how economic opportunities and environmental progress are interdependent," said Mr. Hasten. "I am honored to become part of its history and to be helping to move the bank forward."
In 1995, he was recruited to Mercantile Bancorporation to become president of their $8 billion lead bank and to run the Corporate Banking business center in St. Louis. He assisted the company in several acquisitions, successfully integrating new systems. In 1999, when Firstar Corporation purchased Mercantile, Mr. Hasten was asked to run the entire Wholesale Banking department.
A Chicago native, Mr. Hasten graduated from Fairfield University in CT, and earned his MBA from Northwestern University in 1978. He launched his banking career in commercial lending at American National Bank and Trust Company of Chicago, and then joined First Chicago in 1979. In 1984, Mr. Hasten managed the Chicago branch of Standard Chartered, a British bank and soon became Senior Vice President and Regional Manager. Four years later he was tapped to manage the entire U.S. Corporate Banking Business for Standard Chartered, managing various lending activities where he helped build the business in the middle market lending and offering companies cross-selling opportunities. After just four years in corporate banking, he was promoted to the Country Manager of Korea, and later Indonesia where he opened additional offices along with managing 38 branches, and 3,300 people in the region.
"Joe Hasten brings strong and tested banking skills to ShoreBank and an appreciation and understanding of ShoreBank's commitment to community development that builds places where more people want to live and preserve natural resources," said Robert "Bud" Lifton, a civic activist, and member of the ShoreBank Board of Directors and the company's presidential search committee.
About ShoreBank:
ShoreBank is a subsidiary of ShoreBank Corporation, America's first and leading community development and environmental bank holding company. It was the first financial institution in the country to provide individuals and businesses in underserved urban neighborhoods with access to the resources that stimulate economic development, reduces energy consumption and catalyzes positive social change. Since its inception in 1973, ShoreBank has invested more than $3 billion in Chicago, Cleveland, and Detroit, and created more than 11,000 jobs for residents and financed the renovation and purchase of more than 49,000 affordable housing residences.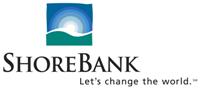 Urban Partnership Bank
Urban Partnership Bank
Urban Partnership Bank is an FDIC-insured, full-service, certified Community Development Financial Institution that was created in August 2010. The certification from the CDFI Fund acknowledges the Urban Partnership Bank mission of serving urban communities, building better lives, vibrant communities, and long term success.
More from Urban Partnership Bank