Published 02-18-09
Submitted by CSRwire Weekly News Alert
Over the past week, Vermont's Green Mountain Coffee Roasters took two steps forward in addressing climate change. First, according to Vice President for CSR Mike Dupee, GMCR is "psyched" to transform the roof of its distribution center into a huge solar photovoltaic array - the state's largest at 530 solar panels producing 100 kilowatts. While this sounds impressive, GMCR readily admits the array will produce only a "small percentage" of the power needed to process its coffee. More important, GMCR is acting as a first-mover, paving the way for other companies to equal or surpass its efforts.
Collaboration also fuels the initiative, with grants from the state's Clean Energy Development Fund helping finance the project. Established in 2005, the fund funnels proceeds from Entergy's Vermont Yankee Nuclear Plant into new clean energy production. The project also sets a very high profile example as part of Green Mountain Power's SolarGMP program, which gives financial incentives for retail customers to follow in GMCR's footsteps by going solar. Rounding out the roster of Green Mountain State partners, groSolar will handle the system design and installation. Talk about home-grown!
GMCR's second step builds capacity in the non-profit sector by granting almost a million dollars to organizations advancing innovative solutions to the climate crisis. Dubbed "Changing Climate Change" the project offers four $200,000 ($40,000 chunks over five years) grants in as many focus areas: transportation-related emissions, threats to coffee-growing communities, building political will, and individual empowerment. "The last two grant categories seem a little amorphous," writes University of Michigan bird ecologist Julie Craves on the Coffee & Conservation blog, "but I'm quite enthusiastic about the potential for development of programs that can help farmers adjust to climate change (for those that can; the solution for many farmers may actually be to transition to other crops, unfortunately)."
The program also harnesses web 2.0 strategies, directing applicants to submit proposal synopses on the Changing Climate Change micro-site established on JustMeans.com, the Facebook of the corporate social responsibility movement. There, folks can shout out their support for proposals. And on GMCR's Twitter account, they can monitor progress of the proposals. Extending this spirit of interactivity and collaboration, winners in each focus area will share their wisdom and perspective with the company on its Changing Climate Change Committee, which will meet at least twice annually to brainstorm climate solutions and assess GMCR's actions. "Good stuff!" Dupee proclaims. Yep!
This article was written by CSRwire contributor Bill Baue.

Multimedia 'Picks of the Week'
What do companies such as Whole Foods, Burt's Bees and Lowe's have that corporate America craves? According to consumers: eco-sensibility. This week a new report from Greenbiz, titled The Corporate Reality of Consumer Perceptions, studies the impact of consumer perception on corporate reality.
Released in tandem with their report, we have a Greenbiz podcast this week from Amy Hebard and Wendy Cobrda, authors of The Corporate Reality Report, in which they discuss the results of their Earthsense Eco-Insights Survey, which asked more than 30,000 respondents about how green they believe some companies to be.
Stewart Parnell, the owner of a U.S. peanut company refused to testify to Congress amid the disclosure that he urged his workers to ship bacteria-tainted products, pleading with employees to at least "turn the raw peanuts on the floor into money." VCR has a CNN report about Parnell refusal available here: http://vcr.csrwire.com/node/13490.
We have a video up this week from GreenMonk, in which GreenMonk interviews Tivoli's David Bartlett & Ricoh's Mark Minshull at Pulse 2009, where they were showing how it is possible to reduce a company's carbon footprint by actively measuring and managing printer usage across organisations, through software!

To read the latest corporate social responsibility news from leading socially responsible organizations, visit http://www.csrwire.com/LastAlert.html.
About CSRwire's Weekly News Alert
CSRwire's free weekly News Alert is a summary of the latest and most important CSR news from the week, put into context with local and global news. The Alert highlights noteworthy initiatives and informs the CSR and Social Responsible Investing communities including professionals, analysts, academics activists, and consumers.
Click Here to subscribe to the CSRwire Weekly News Alert.
Click Here to subscribe to the CSRwire Canada Weekly News Alert.
About CSRwire.com
CSRwire is the leading source of corporate social responsibility and sustainability news, reports and information. CSRwire members are companies and NGOs, agencies and organizations interested in communicating their corporate citizenship, sustainability, and socially responsible initiatives to a global audience through CSRwire's syndication network and weekly News Alerts. CSRwire content covers issues of Diversity, Philanthropy, Socially Responsible Investing (SRI) Environment, Human Rights, Workplace Issues, Business Ethics, Community Development and Corporate Governance.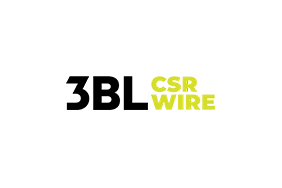 CSRwire Weekly News Alert