Published 02-11-09
Submitted by CSRwire Weekly News Alert
February 10, 2009 - "We can't solve problems by using the same kind of thinking we used when we created them," Albert Einstein famously said, as if specifically referring to current solutions being floated for reversing the economic meltdown. For example, President Obama proposed a $500,000 cap on executive pay at banks receiving TARP (Troubled Asset Relief Program) money. Great! Except that executives can fly Lear jets through the loopholes, according to compensation expert Graef Crystal in a Bloomberg commentary.
And the Congressional Oversight Panel (COP), the federally-appointed watchdogs of TARP spending, noted in its latest report that the US Treasury is getting 66 cents worth of toxic assets for every taxpayer dollar it spends to bailout failing banks. "Treasury got less than it spent," said Elizabeth Warren, COP Chair. In other words, we're throwing taxpayer cash at bad money, like pouring water into a leaking bucket.
And the Senate approved President Obama's $838 billion stimulus package. Yes, we need economic defibrillation. But just as energy guru Amory Lovins characterized revitalizing nukes as "trying to defibrillate a corpse" (indeed, the stimulus includes an additional $50 billion in loan guarantees for nuclear power), so too is the stimulus plan propping up failed economic models (such as nuclear power) while under-funding new-economy models (the stimulus includes $13 billion in extended tax credits for wind, solar, and other renewables).
Back to Einstein: can we solve our current economic woes by patching holes in the bucket? No, according to David Korten, author of The Great Turning, who likens our current strategies to "treating cancer with Band Aids." In his new book, Agenda for a New Economy, Korten exposes that the emperor wore no clothes - that the Wall Street economy created "phantom wealth" through economic bubbles, debt pyramids, and predatory lending that we are now seeing disappear before our very eyes.
The solution? Shift from a Wall Street economy that creates illusory wealth to a Main Street economy that creates real value, says Korten. He proposes "an economic blueprint for the 21st Century" (according to Business Alliance for Local Living Economies Chair Judy Wicks) that prioritizes people and planet over profits, while still tapping the entrepreneurial energy of Main Street business.
This article was written by CSRwire contributor Bill Baue.
Multimedia 'Picks of the Week'
VCR has a video up this week from The CarbonNeutral Company's Jonathan Shopley. In this video he outlines the best steps firms can take when seeking to effectively offset their corporate travel emissions.

Another video this week is from the European Academy of Business in Society, promoting their Ashridge Sustainable Innovation Award, "Creating value from the shift to a low carbon economy." This award is a running competition to find the best ideas from management and other post-graduate students on how organizations can innovate to create value from the shift to a low carbon economy.
A final video from the Jimmy Fund details how the men and women of Boston Iron Workers Union Local 7 got to know the children of the Jimmy fund: By sending signs and smiles to each other across Jimmy Fund Way as the iron workers were building the Richard A. and Susan F. Smith Research Laboratories at Dana-Farber Cancer Institute and the children were waiting in the Jimmy Fund Clinic playroom for their cancer treatments.

As companies cut costs to get through the current global economic slowdown, there is often a temptation to abandon recent forays into sustainability. Yet "Green Winnders," the new A.T. Kearney analysis finds that companies committed to corporate sustainability practices during this slowdown are achieving above-average performance in the financial markets.

Another report up this week "" this one from Dewar Sloan - outlines the key issues that shape the strategic agenda of growth, performance and change in corporations and middle-market organizations in this new era of environmental practice and business sustainability.

To read the latest corporate social responsibility news from leading socially responsible organizations, visit http://www.csrwire.com/LastAlert.html.
About CSRwire's Weekly News Alert
CSRwire's free weekly News Alert is a summary of the latest and most important CSR news from the week, put into context with local and global news. The Alert highlights noteworthy initiatives and informs the CSR and Social Responsible Investing communities including professionals, analysts, academics activists, and consumers.
Click Here to subscribe to the CSRwire Weekly News Alert.
Click Here to subscribe to the CSRwire Canada Weekly News Alert.
About CSRwire.com
CSRwire is the leading source of corporate social responsibility and sustainability news, reports and information. CSRwire members are companies and NGOs, agencies and organizations interested in communicating their corporate citizenship, sustainability, and socially responsible initiatives to a global audience through CSRwire's syndication network and weekly News Alerts. CSRwire content covers issues of Diversity, Philanthropy, Socially Responsible Investing (SRI) Environment, Human Rights, Workplace Issues, Business Ethics, Community Development and Corporate Governance.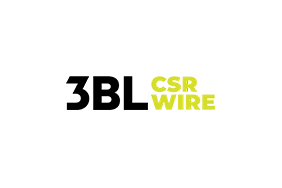 CSRwire Weekly News Alert