Published 08-13-07
Submitted by SiMPACT Strategy Group
CALGARY, AB - August 13, 2007 - A group of Canadian companies will meet in London, England, September 26-28, for a study tour to investigate the latest techniques in maximizing returns from corporate community investment (CI). Organized by the facilitators of the London Benchmarking Group (LBG) Canada, the three-day dialogue will showcase the leadership and expertise for which British companies are internationally renowned. This study tour has been designed as a catalyst to advance the Canadian approach to maximizing return on community investment - for community partners and for companies, as the investors.
Participants include CI professionals from Enbridge, EnCana, EPCOR, First Calgary Savings, ConocoPhillips (Canada) and Envision Financial, in addition to counterparts from the LBG international network in the Czech Republic and Spain.
"The UK study tour has been created for companies that are committed to maximizing ROI from their community investments", said Stephanie Robertson, facilitator of LBG Canada and President of the SiMPACT Strategy Group. "We can learn from the British approach to investing in the community as the flagship of a CSR and sustainability strategy. These experts are extremely effective at designing CI programs that differentiate their companies from competitors and positively impact the bottom line."
The study tour will cover key topics such as maximizing employee engagement, building essential skills and competencies through CI, matching community and business needs through superior program design, improving corporate governance, increasing the credibility of public reporting, and much more. Experts from the BBC, Deloittes LLP, Zurich Financial, National Grid, and the youth volunteering initiative, V, are among those who have offered to share their expertise.
"This dialogue is an opportunity for EPCOR to maximize the value we create through our community investment. As a founding member of LBG Canada we are aware of the leadership that exists in the UK and will benefit from the opportunity to learn from it first-hand," said Joanne McDonald, Manager of Community Investment at EPCOR. "We strive for continuous improvement in program design, the return we generate, and our communications with stakeholders."
The Canadian High Commission to London will host the LBG Canada Study Tour September 26-28, 2007. Additional information regarding the study tour agenda or participation can be found at www.lbg-canada.ca.
About LBG Canada
London Benchmarking Group (LBG) Canada is a community of Canadian companies committed to maximizing the value of their corporate community involvement. Participants of LBG Canada join a growing international network of companies using the LBG Model, a management framework to value inputs, assess outputs, and measure the impact of corporate investments into community programs. The LBG Canada community uses a peer-to-peer approach to benchmark information that provides critical insights to the community investment (CI) management process.
Participating in LBG Canada enables companies to access best practice in CI program design and develop internal performance measurement systems. The LBG Model uses a set of standardized accounting principles which improve the overall approach to corporate governance and public reporting to all key stakeholders.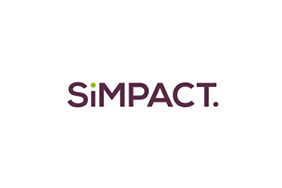 SiMPACT Strategy Group
SiMPACT Strategy Group
The SiMPACT Strategy Group is a specialist agency in social impact management, measurement and valuation. We seek to build capacity and to transfer knowledge in every aspect of our work. One of SiMPACT's core activities is facilitating LBG (London Benchmarking Group) Canada - a network of companies striving to maximize the value of corporate investment for their community partners and for their own businesses. The SiMPACT Strategy Group is an expert in social return on investment (SROI). We work to build capacity in the use of the SROI methodology as a planning, program management and evaluation framework. SiMPACT's work in SROI enables investors, organizational leadership and program management to structure planning and program investment such that achieving maximum value is the result.
More from SiMPACT Strategy Group