Published 08-10-07
Submitted by Good Capital LLC
SAN FRANCISCO, CA - August 10, 2007 - Good Capital, LLC (www.goodcap.net), a San Francisco-based investment company, has appointed Marie Trexler as Chief Investment Officer. Ms. Trexler is an accomplished venture investor with more than a dozen years of domestic and international experience. She will lead Good Capital's investment activities, including the Social Enterprise Expansion Fund LP targeted for $30 million.
Trexler comes to Good Capital from Intel Corp where she most recently ran business development for the Digital Enterprise Group. The core of her experience, however, comes from 7 years at Intel Capital, Intel's multi-billion dollar strategic investment arm, where she ran investment teams in both the US and Europe focused on making venture capital investments in high tech startups. With more than 60 venture investments under her belt, Marie was also responsible for starting up Intel Capital's investment program in Eastern Europe where she identified and consummated Intel's first equity investment, as well as first acquisition, in Russia. Prior to Intel, Trexler built her emerging markets private equity and banking experience at the International Finance Corporation (World Bank), a Czech SME fund, ING Barings and EurAmerica Capital. She graduated from Dartmouth College and received an MBA from the University of Virginia.
"What makes Marie's experience so unique is that for more than a decade she's been evaluating investment opportunities with two sets of lenses simultaneously; for example, both an investment's fit with Intel's chip strategy and the financial return of the deal, or the IFC's economic development goals and the risk/return of the enterprise," said Tim Freundlich, Co-founding and Managing Principal of Good Capital. "At Good Cap we also evaluate potential investments using two criteria: positive social impact for our world, coupled with financial return. Traditional venture capitalists, focused on a single bottom line, generally wouldn't have what Marie brings to us."
"I'm thrilled to find in Good Capital a way to turn my professional experience into something that will have a positive impact in the world; making money for investors while they do good and support the next generation of hybrid social enterprises" said Trexler.
Russ Hall, a co-founder of Legacy Venture, a venture fund of funds with a philanthropic sister organization, Legacy Works, an early advisory board member and investor in Good Capital, added,"Completing the investment team at Good Capital is a major milestone in the development of this groundbreaking fund. Ms. Trexler brings a great and applicable mix of experience to the table."
Good Capital's projected $30 million fund is the first that proposes to provide expansion capital by investing into for profit and nonprofit companies that have a social mission and a scalable, sustainable business model. Good Capital expects not only to return capital to investors but also to provide a financial return.
About Good Capital
Good Capital is an investment firm that accelerates the flow of capital to innovative ventures and initiatives that harness the power of the market to create sustainable solutions to some of society's most challenging problems. Their initiatives address a wide range of social issues ranging from social enterprise financing, community and economic development, brown field redevelopment and healthcare financing. The company actively engages investors, entrepreneurs, and a network to build the social capital market and create a better society in the process. Launched in 2006 by a team with a mix of financial acuity, entrepreneurial drive and philanthropic experience, Good Capital also enjoys the support of Calvert Social Investment Foundation, Criterion Ventures and others. For additional information visit the firm's website: www.goodcap.net or contact Deb Parsons, 415-285-5601, deb@goodcap.net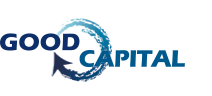 Good Capital LLC
Good Capital LLC
Good Capital is an investment firm that increases the flow of capital to innovative ventures creating market-based solutions to inequality and poverty. Using a high engagement model, it invests in the most promising social enterprises and gives them the tools and guidance they need to succeed. In addition, Good Capital actively leads the development of the emerging social capital market. It shares a deep commitment to the creation of a new, informed, and passionate world of investing that strategically moves more capital to good.
More from Good Capital LLC