Published 12-10-07
Submitted by Environmental Leader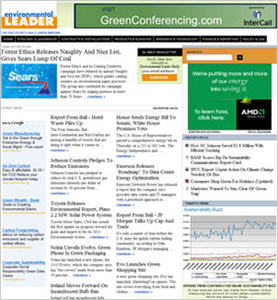 FORT COLLINS, CO - December 11, 2007 - Environmental Leader, the daily online trade publication that reports on corporate environmental initiatives, today announced a major re-launch of its Website and daily newsletter. The launch is intended to give Environmental Leader readers the most comprehensive resource for tracking environment-related business news.
Coming on the occasion of its first anniversary, Environmental Leader has (www.environmentalleader.com) broadened its coverage of the impact the green wave is having on business. With the site's enhancements and redesign, users can access the news of the day through a variety of media including text, images, video, and cutting-edge research.
New categories such as Finance & Reporting, Strategy & Leadership, Today's Video and Today's Trend, a daily chart that details the latest industry data, make it easy for executives to quickly find the information they need to successfully improve energy efficiency, market green products, and run sustainable organizations.

"The extraordinary success we've enjoyed over the last year is due to an unmatched team of editors using their time-tested judgment to uncover and put into perspective the most significant stories, which are updated throughout the day," says Paul Nastu, Publisher and Managing Editor. "They focus on the stories that impact our specific readers, thousands of environmental and sustainability executives at companies like GE, Wells Fargo, Wal-Mart, SC Johnson, Yum Brands, JC Penney, and HP, who need vastly different news than clean tech investors and consumers. Reaching these executives is usually a difficult proposition for advertisers. Environmental Leader makes it easy."

According to a recent Environmental Leader reader survey:
- More than 75% of respondents have complete control, significant control or recommendation authority over energy efficiency and sustainability spending.
- 75% of respondents visit Environmental Leader at least once-per-day, making it the go-to source for daily news on corporate environmental initiatives.
- 30% of respondents work for companies with annual revenues of more than $1 billion
- 70% of respondents have a leadership position in their companies.
- More than 30% of respondents control budgets of more than $1 million
Read today's news:www.environmentalleader.com
Advertising information: www.environmentalleader.com/advertise-on-environmental-leader/
About Environmental Leader
Founded in 2006, Environmental Leader (www.environmentalleader.com) delivers targeted daily green business news to corporate executives through its Website and free, daily email newsletter. The publication is headquartered in Fort Collins, Colorado.

Environmental Leader
Environmental Leader
Environmental Leader is the daily online news journal and email newsletter that corporate environmental and sustainability executives trust to be comprehensive yet succinct. The site doesn't just summarize the news - it provides timely and original insight on the most important things that environmental decision-makers need to know.
More from Environmental Leader