Published 06-25-08
Submitted by Blackbaud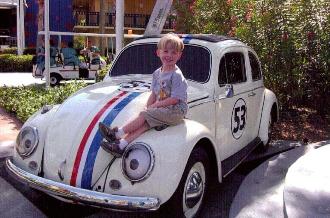 5-year-old Keegan™s wish came true when he met The Love Bug
CHARLESTON, S.C. - June 25, 2008 - Blackbaud, Inc. (NASDAQ: BLKB) announced today a donation of more than one million miles to the Make-A-Wish Foundation(R). The gift is the second largest corporate mileage contribution to the Make-A-Wish Foundation so far this year.
"We cannot thank the incredible team at Blackbaud enough for this gift, which will fund more than 20 airline tickets for children and families served by our chapter and others across the country," said Russell Smith, president and CEO of Make-A-Wish Foundation of South Carolina, which partnered with the company on the national campaign. "The spirit and enthusiasm of Blackbaud employees led to the success of this campaign." The campaign, which was conducted over six weeks, collected 1,067,720 miles from Blackbaud employees located throughout the country.
Blackbaud's corporate relations and philanthropy team collaborated with employee "champions" to spread the word and generate excitement. The Make-A-Wish Foundation of South Carolina has submitted the miles to the national headquarters where they will be distributed to chapters to help fund wishes.
"We truly believe that service to others makes the world a better place and try to live this value both through our corporate campaigns and by serving as a catalyst for employee action," said Rachel Hutchisson, Blackbaud's director of corporate relations and philanthropy. "Our donation of more than a million miles is an example of how, together, we can make a big difference for children who are facing difficult odds." According to the Make-A-Wish Foundation, the donation of airline miles and travel vouchers enables the organization to grant travel wishes that require an estimated 2.5 billion airline miles yearly. For more information, or to donate miles, visit www.wish.org/help/donate_airline_miles.
For more information on Blackbaud's philanthropic efforts, visit www.blackbaud.com/philanthropy.

About Make-A-Wish Foundation of America
Since 1980, the Make-A-Wish Foundation has enriched the lives of children with life-threatening medical conditions through its wish-granting work. The Foundation's mission reflects the life-changing impact that a Make-A-Wish experience has on children, families, referral sources, donors, sponsors, and entire communities. For more information, visit www.wish.org.

About Blackbaud
Blackbaud is the leading global provider of software and services designed specifically for nonprofit organizations, enabling them to improve operational efficiency, build strong relationships, and raise more money to support their missions. Approximately 19,000 organizations - including the American Red Cross, Dartmouth College, the WGBH Educational Foundation, Episcopal High School, Lincoln Center, Cancer Research UK, Special Olympics, and Arthritis Foundation - use one or more of Blackbaud products and services for fundraising, constituent relationship management, financial management, direct marketing, school administration, ticketing, business intelligence, website management, prospect research, consulting, and analytics. Since 1981, Blackbaud's sole focus and expertise has been partnering with nonprofits and providing them the solutions they need to make a difference in their local communities and worldwide. Headquartered in the United States, Blackbaud also has operations in Canada, the United Kingdom, and Australia. For more information, visit www.blackbaud.com.

Blackbaud