Published 11-06-07
Submitted by Blackbaud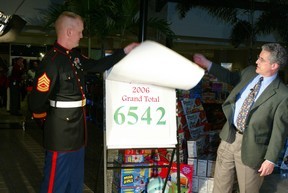 Above: U.S. Marines Gunnery Sergeant Michael Kirby and Marc Chardon, Blackbaud™s chief executive officer, unveil a record-setting donation of 6,542 during the 2006 Toys for Tots drive.
CHARLESTON, S.C. - November 6, 2007 "" Blackbaud, Inc. (Nasdaq: BLKB), announced today that the South Carolina Lowcountry Chapter of Association of Fundraising Professionals (AFP) has selected the company as the winner of the AFP Outstanding Business Award for 2007.
This award, given to a business that demonstrates outstanding commitment to philanthropy and community involvement, will be presented at an AFP luncheon on National Philanthropy Day, November 15.
"We are incredibly fortunate to have such an outstanding community partner in Blackbaud," said Joy Simpson, South Carolina Lowcountry AFP's president. "It is our chapter's distinct pleasure to be able to recognize them and their employees for all that they do in our region."
Blackbaud received the nomination and many letters of support from nonprofit organizations and businesses located in the communities surrounding its Charleston, S.C.-based headquarters, highlighting the impact of the company's local philanthropy:
"Last year, a total of 39,686 toys were collected and distributed to children right here in the Lowcountry. Blackbaud, as a company, donated 6,500 of those toys...That means that one out of every six toys given out came from a Blackbaud employee." - Rob Fowler, NBC Storm Team 2's Chief Meteorologist, on behalf of Toys for Tots
"Gifts of time by Blackbaud's workforce are legendary in the community...Blackbaud's presence in this community is this community's good fortune." "" Richard Hendry, Vice President of Programs, Coastal Community Foundation
"Through one Blackbaud employee who took our Good Cheer Fund to heart, Blackbaud employees with a company match have contributed over $370,000 since 1992 to our annual holiday giving program." "" Susan Sanders, Director of Community Development, The Post and Courier

Marc Chardon, Blackbaud's chief executive officer, will accept the award. "We are extremely honored to be chosen as this year's recipient of AFP's Outstanding Business Award," he said. "Each day, Blackbaud's 1600 employees work towards our mission of making positive change in the world by collaborating with the nonprofit community, both in providing software and services designed specifically for nonprofit organizations, and in our philanthropic commitment to our local communities."

The AFP award is also based on a business's financial support and the encouragement and motivation of others to take on leadership roles. Much of the financial support that Blackbaud gives is through The Blackbaud Fund at the Coastal Community Foundation. The Fund, with charitable focus areas of education, the disadvantaged, and the disabled, reached a $1 million milestone this year.

About Association of Fundraising Professionals

The Association of Fundraising Professionals (AFP) represents 26,000 members in 169 chapters throughout the United States, Canada, and Mexico, working to advance philanthropy through advocacy, research, education, and certification programs. The Association fosters development and growth of fundraising professionals and promotes high ethical standards in the fundraising profession. For more information or to join the world's largest organization of development professionals, go to AFP's website at www.afpnet.org.

About Blackbaud

Blackbaud is the leading global provider of software and services designed specifically for nonprofit organizations, enabling them to improve operational efficiency, build strong relationships, and raise more money to support their missions. Approximately 19,000 organizations - including the American Red Cross, Dartmouth College, the WGBH Educational Foundation, Episcopal High School, Lincoln Center, Cancer Research UK, Special Olympics, and Arthritis Foundation - use one or more of Blackbaud products and services for fundraising, constituent relationship management, financial management, direct marketing, school administration, ticketing, business intelligence, website management, prospect research, consulting, and analytics. Since 1981, Blackbaud's sole focus and expertise has been partnering with nonprofits and providing them the solutions they need to make a difference in their local communities and worldwide. Headquartered in the United States, Blackbaud also has operations in Canada, the United Kingdom, and Australia. For more information, visit www.blackbaud.com.

Forward-looking Statements

Except for historical information, all of the statements, expectations, and assumptions contained in this news release are forward-looking statements that involve a number of risks and uncertainties. Although Blackbaud attempts to be accurate in making these forward-looking statements, it is possible that future circumstances might differ from the assumptions on which such statements are based. In addition, other important factors that could cause results to differ materially include the following: management of integration of recently acquired companies and other risks associated with acquisitions; risk associated with successful implementation of multiple integrated software products; lengthy sales and implementation cycles, particularly in larger organizations; uncertainty regarding increased business and renewals from existing customers; continued success in sales growth; the ability to attract and retain key personnel; risks related to our dividend policy and share repurchase program, including potential limitations on our ability to grow and the possibility that we might discontinue payment of dividends; risks relating to restrictions imposed by the credit facility; risks associated with management of growth; technological changes that make our products and services less competitive; and the other risk factors set forth from time to time in the SEC filings for Blackbaud, copies of which are available free of charge at the SEC's websites at www.sec.gov or upon request from Blackbaud's investor relations department.

All Blackbaud product names appearing herein are trademarks or registered trademarks of Blackbaud, Inc.

Blackbaud