Published 02-05-08
Submitted by Earth Advertising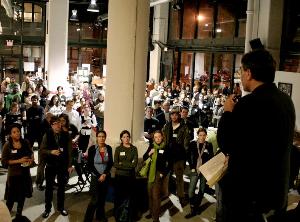 Photo by John Hagan- Peter Strugatz of Ice Stone in Brooklyn welcomes local businesses to join the Sustainable Business Network, a member of the Business Alliance for Local Living Economies (BALLE).
February 5, 2007 - Over 130 local business leaders and supporters gathered at powerHouse Arena in Brooklyn on January 31 to create the Sustainable Business Network of NYC. The objective of this network is to connect, support and promote NYC owned and operated businesses.
A local network to support a community-based economy in New York is long overdue, according to many of the attendees who represented companies of all kinds. What they agreed upon was the importance of environmental and social responsibility where they live and do business.

Organizing the event were several of the early founders of Business Alliance for Local Living Economies (BALLE), an international alliance of more than 50 independently operated local business networks with more than 15,000 entrepreneurs worldwide.(www.livingeconomies.org) The alliance envisions a sustainable global economy that builds long-term economic empowerment and prosperity through local business ownership, economic justice, cultural diversity, and environmental stewardship.
Included at the launch of the New York network were Brooklyn Brewery, Ice Stone, Green Apple Cleaners, Just Food, Kopali Organics, New York Industrial Retention Network, Bettencourt Green Building Supplies, Green Depot, Go Green, EcoSystems Brand, Solar Energy Systems, Nativo, R&E Brooklyn, PDS Development Corporation, Own Energy, Full Spectrum, Gnarley Vines, The Grocery, Wearable Collections, Earth Advertising, and others.
For more information about the Sustainable Business Network of New York, contact: Vanessa Knight, Coordinator of Social Ventures at the Brooklyn Center for the Urban Environment (718) 788-8500, vknight.bcue.org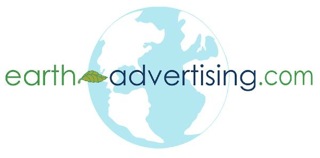 Earth Advertising
Earth Advertising
Earth Advertising's parent company, eFlicks Media, was founded in 1999 to deploy the power of the media to serve an emerging socially and environmentally responsible business community.

We are an interdisciplinary media company focused on creating a global communications platform upon which environmental sustainability can grow and prosper. We promote the growth of products, services and ideas that are genuinely committed to a healthier planet.

Our strategic partnerships with the scientific community, media leaders, research institutes, public officials, and news sources, assure that our campaigns are authentic.

The mission is to create marketing programs and content that inspire and enable businesses, governments and consumers alike to embrace sustainable technologies and practices.

Earth Advertising strives to expand the market share of environmentally safe products, services and habits. Through a vital role in environmental communications around the world, we hope to improve the health of the planet for all living things.
More from Earth Advertising