Published 12-12-07
Submitted by Back 40 Films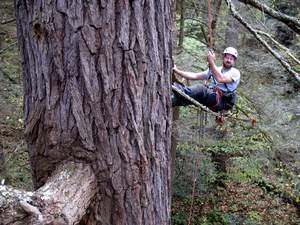 CHARLOTTE, NC -- (MARKET WIRE) -- 12/12/07 -- In the southeastern United States stands one of the most spectacular sites in the world, the ancient hemlock forests. These magnificent old growth trees, towering at times over 170 feet and living as long as 600 years,
provide some of the most diverse eco-system habitats in the southeast. Yet, deep in the heart of their pristine tranquility a terror is mounting that, left unchecked, will destroy what small clasp of ancient ecological history remains in this country.
The soaring and majestic native eastern and Carolina hemlocks have been infested by a human-introduced insect pest, the hemlock woolly adelgid (HWA). Few of the remaining ancient hemlock forests are free of this devastating infestation, and without financial and human resources allocated to save them, this precious slice of ecological history will be destroyed forever.
Filmmaker David Huff is raising the alarm through an inspiring and challenging feature documentary, "The Vanishing Hemlock: A Race Against Time." In the film, Huff will follow arborist and champion tree finder Will Blozan (recently featured in The New Yorker in an article on the plight of the hemlock) deep into the hemlock forests of the southern Appalachian Mountains. There he will document the devastating impact the loss of these ancient trees is having on the rich diversity of southern wild forests. Shot on location in the Great Smoky Mountains National Park, this film will reveal the devastating loss, which has already occurred, and challenge audiences to take up the cause to protect what remains.
"The Vanishing Hemlock: A Race Against Time" has been heartily endorsed by the Southern Documentary Fund and has been awarded a tax-deductible status so that much needed funds may be raised, hopefully, in time to bring awareness to this rapidly progressing biological crisis. "This is part of our legacy," said Huff. "We must do all that we can to save these forests, for the rich diversity of life within them, for ourselves and for our children."
"The Vanishing Hemlock" is a production of Back 40 Films in association with Musk Entertainment.
Back 40 Films is an independent film production company based in Charlotte, NC. Rooted in the American South, the company draws on its cultural and geographical surroundings for inspiration. Working with both regional and Hollywood based casts and crews, Back 40 Films pulls together some of the most sought after talent in the industry to make its films. In doing so, Back 40 Films strives to produce the best in high quality films. www.back40films.com
For more information on how you can participate in the groundbreaking documentary, "The Vanishing Hemlock," visit the Southern Documentary Fund's project page at http://southerndocumentaryfund.org/works-in-progress/the-vanishing-hemlock or contact producer/writer David Huff, Back 40 Films at david@back40films.com.
Back 40 Films