Published 04-22-08
Submitted by Compassion International
COLORADO SPRINGS, CO -- (MARKET WIRE) -- 04/22/08 --
WHAT:
A webcast spotlighting Compassion International's work fighting malaria
WHO:
-- Rebecca St. James, internationally known Christian recording artist and advocate for children in developing countries
-- Dr. Scott Todd, Compassion's Director of Special Operations and an expert on children's health-related concerns
-- Emily Kagiri, Director of Compassion's Child Survival Program and a registered nurse
-- Mark Hanlon, Senior Vice President for U.S. Sponsor & Donor Development and the moderator of the webcast

WHEN:
10-11 a.m. MT Friday, April 25, World Malaria Day
ADDRESS: Register Now! Once you are registered, you will receive e-mail instructions to long on and participate in the webcast. You can also call (800) 336-7539, ext. 6673, to register for phone-only participation.
DETAILS:
The statistics according to UNICEF:
-- Each year, 350 million to 500 million people get malaria.
-- Nearly everyone in tropical Africa has a malaria episode each year.
-- Malaria kills more than one million people every year.
-- African children under five account for 75 percent of the deaths.

Compassion works with more than 65 denominations, 4,500 indigenous church partners and 1 million children in Africa, Asia, Central and South America and the Caribbean. Since 1952, Compassion has touched the lives of more than 1.6 million children and has been recognized for its financial integrity with top ratings and recommendations by several of the nation's leading not-for-profit "watchdog"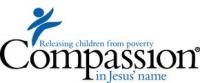 Compassion International