Published 05-01-08
Submitted by Harvard Business Press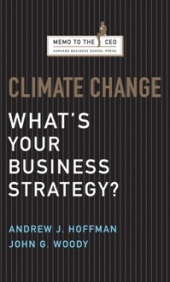 Climate Change: What's Your Business Strategy?
By Andrew Hoffman and John Woody
". . .tackles climate change as the business issue that it has fast become."
-Green Business, May 2008
BOSTON, MA - May 1, 2008 - The managing editor of TIME magazine, Richard Stengel, recently revealed that TIME Inc. is the first U.S. publisher to measure the carbon footprint of its entire supply-and-disposal chain. In efforts to combat climate change, Stengel said TIME has "increased the percentage of our paper that comes from sustainably managed forests, from 25% to 69%" and has "asked our paper companies to reduce CO2 emissions at least 20% by the year 2012" ("Why We're Going Green" TIME, April 2008).
This public proclamation by such an influential voice shows that climate change has become a market issue that will affect every business. On the horizon are regulations that will alter the price of carbon at all levels of local and global economies with reverberations through financial and consumer markets. So how will companies respond to this crucial business issue?
In CLIMATE CHANGE: What's Your Business Strategy? (Harvard Business Press; May 1, 2008), Andrew Hoffman and John Woody fold their comprehensive analysis of the intersection of business strategy and environmental issues into a succinct memo designed to help executives prepare for, manage, and capitalize on this market transition. "If you're a business, this is a business issue," asserts Andrew Hoffman in a recent Reuters article about the book ("Time for CEOs to Face Climate Change", April 2008).
Three key steps provide the framework for executives to strategically assess their business in the face of current and forthcoming climate change regulations:

1. Understand your company's level of exposure to the issue and determine your "carbon footprint" and the ways in which potential changes in policy and markets will affect how you position your products and services.
2. Take action (now) to reduce your business' carbon footprint in ways that create new strategic advantages.
3. Earn legitimate expertise through credible action that will allow you to gain a seat at the policy-development table so you can influence policy decisions that will affect your company.
What some call constraints, others see as opportunities in new worldwide markets in carbon, capital, advanced technologies, and products and services that emit lower amounts of greenhouse gases. Through a wide-range of examples, managers will learn what companies such as Morgan Stanley, DuPont, IBM, and others are doing to address climate change as a business issue.
The frameworks and glossary in the book provide executives with the understanding and literacy necessary to deal effectively with the climate change market issue and be conversant in the myriad issues that surround it. CLIMATE CHANGE is the playbook for strategically addressing a complex problem that no company can afford to ignore.
EXCERPT: Climate Change: What's Your Business Strategy?
The book is new in the Memo to the CEO collection-solutions-focused advice from today's leading practitioners. To learn more about the ideas in this book and others in the series, visit the Memo to the CEO blog, where Andrew Hoffman and John Woody are discussion leaders.
About the Authors:
Andrew J. Hoffman holds multiple appointments at the University of Michigan, including Associate Director of the Erb Institute for Global Sustainable Enterprise.

John G. Woody is Deal Associate at MMA Renewable Ventures, a renewable-energy firm in San Francisco, California.
Climate Change: What's Your Business Strategy? (Harvard Business Press; 128 pages; $18.00; 978-1-4221-2105-4) is available now at major booksellers. For more information about the book, please visit Amazon.com.
About Harvard Business Press
Headquartered in Boston, Massachusetts, Harvard Business Press is a division of Harvard Business School Publishing, a wholly-owned, not for profit subsidiary of Harvard University. Harvard Business publishes for the general, professional, and academic markets on the topics of management, technology, marketing, strategy, and leadership. Recent national bestselling titles include Blue Ocean Strategy, The First 90 Days and The Ultimate Question. For more information, please visit HarvardBusiness.org.
Keywords: climate change; green business; sustainability; global warming; strategy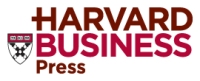 Harvard Business Press