Published 01-23-08
Submitted by Harvard Business Press
BOSTON, MA "" January 22, 2008 - Revealing the intriguing mindsets and winning strategies of some of the world's most unconventional entrepreneurs, The Power of Unreasonable People: How Social Entrepreneurs Create Markets that Change the World, a new book by Harvard Business Press (February 5, 2008), shows how these pioneers are solving some of the world's most pressing economic, social, and environmental problems -- and in the process are creating fast-growing markets across the globe.
Offering a first-hand look at a new--and increasingly important--breed of entrepreneur, authors John Elkington, of SustainAbility, and Pamela Hartigan, of the Schwab Foundation for Social Entrepreneurship, reveal how apparently unreasonable innovators have built their enterprises, seemingly against all odds. The authors reveal that successful social entrepreneurs bring a new point of view to the market by focusing on "blended value"--the result of creating value in multiple dimensions--namely economic, social, and environmental. The book reveals how the work of these leaders will help shape market opportunities--and risks--in the coming years, and what tomorrow's leaders can learn from them. Cited as an influential book by Klaus Schwab, who wrote the book's foreword, leaders at the World Economic Forum's annual meeting in Davos are getting a first-hand look as the book is distributed there.
The Power of Unreasonable People illustrates how businesses and non-profits can generate social return on their investments. These entrepreneurial success stories span finance, healthcare, technology, environmental industry, engineering, and education. Citing future opportunities in key markets, Elkington and Hartigan provide the context for the intersection of business, social investing, corporate social responsibility, sustainable practices, and entrepreneurial ventures.
VIDEO: John Elkington on Corporate Responsibility
Click here to read an excerpt from The Power of Unreasonable People
About the Authors
John Elkington is the Founder, Chief Entrepreneur, and Non-Executive Director of the international consultancy SustainAbility (winner of a 2007 Fast Company/Monitor Group Social Capitalist Award). He is a leading authority on sustainable development and on 'triple bottom line' business strategy. BusinessWeek described him as "a dean of the corporate responsibility movement for three decades." The Power of Unreasonable People is his seventeenth book. He was co-author of 1988's The Green Consumer Guide, which sold nearly one million copies. In 1989, he was elected to the UN Global 500 Roll of Honor for his 'outstanding environmental achievements.' His 1997 book, Cannibals with Forks: The Triple Bottom Line of 21st Century Business, was a finalist in the Financial Times Global Business Book of the Year Award. Visit www.JohnElkington.com.
Pamela Hartigan is the Managing Director of the Schwab Foundation, a Swiss-based organization founded by Klaus and Hilde Schwab in 1998, which focuses on building and supporting its community of practitioners whose efforts have achieved transformational change. Dr. Hartigan is the Foundation's first Managing Director and has been responsible for shaping the strategy and operations pursued by the Foundation to achieve its mission. She is on the Board of a number of entrepreneurial start-ups and more established ventures and is an Adjunct Professor at the Columbia Business School.
THE POWER OF UNREASONABLE PEOPLE (Harvard Business Press; $27.50; 978-1-4221-0406-4) will be in stores on February 5, 2008. For more information about the book, please visit Amazon.com.
About Harvard Business Press
Headquartered in Boston, Massachusetts, Harvard Business Press is a division of Harvard Business School Publishing, a wholly-owned, not for profit subsidiary of Harvard University. Harvard Business publishes for the general, professional, and academic markets on the topics of management, technology, marketing, strategy, and leadership. Recent national bestselling titles include Blue Ocean Strategy, The First 90 Days and The Ultimate Question. For more information, please visit HarvardBusiness.org.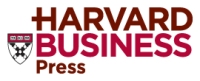 Harvard Business Press