Published 06-10-08
Submitted by Green Apple Cleaners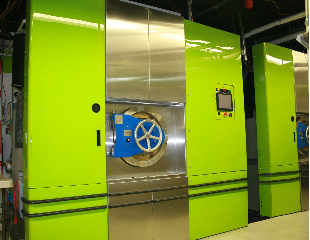 Solvair cleaning systems, using CO2: the "green revolution" in dry cleaning.
NEW YORK, NY,. - JUNE 10, 2008 - It was good news for Manhattan this week when Green Apple Cleaners bought its second state-of-the-art Solvair Cleaning System. Dry cleaning's "green revolution," the Solvair technology uses liquid CO2 and is the only technology designed from start to finish to achieve better cleaning while minimizing impact on the environment.
Solvair Cleaning Systems use a closed loop system designed to eliminate emissions to the atmosphere and ensure maximum reclamation of recyclable materials. A biodegradable cleaning formula helps remove dirt and stains. One element of this formula, chosen for its safe profile and cleaning ability, is a propylene glycol ether that is completely and readily biodegradable into water and CO2. These propylene glycol ethers should not to be confused with ethylene glycol ethers, the variety found in products like anti-freeze.

"As dry cleaners struggle to meet environmental regulations that require costly new equipment, misleading "organic" and "natural" claims by some traditional cleaners keep customers guessing about what is really green," says David Kistner, the CEO of Green Apple Cleaners. "Solvair is the real deal."
Liquid CO2 in a pressurized machine is used to wash the cleaning formula from the clothes. This CO2 has been captured from other emission sources, thus avoiding green house gas release. The eco-safe formula is attracted to and thoroughly removed by the liquid CO2, and continually recovered, recycled and reused within the machine for maximum efficiency. Clothes float in liquid and CO2 vapor, cushioned from tumbling damage. The pressure in the machine is then reduced until the liquid CO2 evaporates. Clothes dry completely and instantly leaving clothes free of stains, dirt and residue from other dry cleaners. This gentle process noticeably helps prolong the life of the garment.

According to David Kistner, reduction in energy consumption is a welcome side effect. "We've seen a 52% reduction in our utility costs since we started using Solvair."

CO2 technology is just the tip of the iceberg for Green Apple Cleaners.

The only two Solvair Cleaning Systems in the New York Metro area are both owned and operated by Green Apple Cleaners, founded by eco-entrepreneurs David Kistner and Christopher Skelley. This New Jersey based company has served Manhattan and select areas of New Jersey with environmentally friendly CO2 and Wet Cleaning services since 2006. The two new Solvair Cleaning Systems cost more than $150K each, but Green Apple Cleaners thinks they are well worth it. "We set out to offer our customers premium care and cleaning of garments and other items they entrust to us. Customers trust us to treat the world around them carefully as well. We chose Solvair machinery not just because it gets clothes cleaner, but because it is the only process to integrate environmental stewardship into its design."

Green Apple Cleaners as a company is eco-conscious throughout its entire operation. Their fleet of bio-diesel ready trucks and smart cars is a welcome sight in Manhattan, where they pick up and deliver garments in their signature garment totes to over 450 residential and commercial buildings, and 10,000 clients. Though the bulk of their business is pickup and delivery, they have already opened two storefront locations in NYC and two in New Jersey with seven more planned this year. For more information or to sign up for services, visit www.greenapplecleaners.com or call 1-888-I-LUV-CO2 (1-888-458-8262).

Green Apple Cleaners
Green Apple Cleaners
What we stand for We at Green Apple Cleaners care about you. We care about your clothes. We care about our employees and the communities in which we liveand work. We care deeply about the environment. We promise to treat each customer as a friend and treat every one of your garments as if it were one of our own. And we promise to take the hassle out of dry cleaning, focusing on your convenience in every way possible. What is CO2 Dry Cleaning? CO2 dry cleaning uses liquid CO2, the same ingredient that makes sparkling water "fizzy". It has been lauded by Consumer Reports, NYC.gov and Greenpeace as a more effective and environmentally safer cleaning method than current dry cleaning processes. How does CO2 dry cleaning work? CO2 dry cleaning uses natural liquid carbon dioxide. The entire cleaning process is done at a cool, room temperature. Other dry cleaning methods like perchloroethylene (or "perc", the most common dry cleaning method) hydrocarbon and Green Earth (silicone) are toxic chemicals that are known carcinogens and ground water contaminants. Additionally, most other dry cleaners require heat to dry your clothing. Heat degrades fabrics, causing them to wear out, fade and pill, and can actually cause stains to set permanently. CO2 clean: better for your clothes Our CO2 dry cleaning technology gets clothes cleaner than any other dry cleaning method. With CO2, there's no fading, shrinking, pilling or stain setting. And there's never a "dry cleaning" smell or residue left on your clothes. Garments cleaned with CO2 feel softer Your clothes feel better than when they're cleaned with other methods. Garments cleaned with CO2 actually last longer Fabrics keep their color, shape and finish, looking newer longer. CO2 cleaned garments have been shown to last 20% to 40% longer than those using traditional dry cleaning. Green Apple Cleaners full range of eco-friendly services: • Hassle free pick up and delivery • Stain removal expertise • Non-toxic dry cleaning • Specialized shirt laundry • Hypo-allergenic wash and fold • Fine linen cleaning • Premium hand finishing • Wedding and formal wear cleaning • Leather and suede cleaning • Shoe and accessory care • Fur care and storage • Off-season storage • Fire damage restoration • On-site drape and carpet cleaning • On-site upholstery cleaning • In-home tailoring
More from Green Apple Cleaners