Published 02-28-08
Submitted by Engineers Without Borders-USA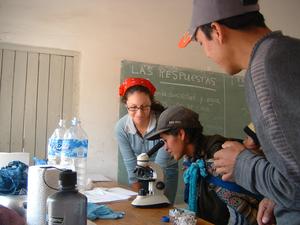 SEATTLE, WA - (MARKET WIRE) - 02/28/08 -- Every 15 seconds a child dies due to lack of basic sanitation and access to clean drinking water. Engineers are at the forefront of combating these issues by developing sustainable solutions to improve the quality of life for people worldwide.
March 27 through 30, Engineers Without Borders-USA (EWB-USA) will host its annual international conference at the University of Washington campus in Seattle. Focused on the theme "Sustainable Engineering, Global Health," more than 500 attendees will discuss how Engineers Without Borders-USA volunteers are creating solutions that help affect the reality that one in six people do not have access to clean, safe drinking water and two in five people lack basic sanitation worldwide.
"As one of the fastest growing professional organizations in the engineering community, EWB-USA is attracting passionate and dedicated members who are committed to bettering our world by using their skills and compassion to improve quality of life in communities around the world," said Cathy Leslie, executive director of Engineers Without Borders-USA. "This conference provides a forum to share lessons learned, address challenges and put our heads together to develop sustainable solutions that will improve global health and improve basic infrastructure."
For example, the University of Washington chapter of EWB-USA is working in Yanayo, Bolivia to install new cook stoves that will greatly improve indoor air quality and reduce the number of people afflicted with acute lower respiratory infections, chronic obstructive pulmonary disease, blindness and tuberculosis. In Terreitos, Honduras, a lack of latrines and an inadequate water supply lead to disease, which is being reduced through the efforts of the University of Pennsylvania EWB-USA chapter, which is installing pit latrines and constructing a gravity-fed water distribution system.
The three-day conference in Seattle brings together engineering experts from all over the world to share stories, insight and expertise.
Highlights of the conference include:
-- The opening keynote address by William H. Gates Senior, co-chair of the Bill & Melinda Gates Foundation
-- An award ceremony hosted by former NASA astronaut Dr. Bonnie Dunbar at the Museum of Flight will recognize innovative Engineers Without Borders-USA projects and passionate volunteers
-- Twenty-four student and professional chapters will deliver project presentations that demonstrate the future of sustainable engineering and practical solutions for relief efforts
-- Workshops will equip members with the skills to successfully build effective local partnerships, manage projects that meet the needs of the community, and address global health in rural communities
-- Panel discussions with academia, non-profits, corporations and the Center for Disease Control on Engineering Solutions for Public Health Needs and Applying Technology to Achieve Sustainable Community Projects
-- Engineers Without Borders-USA founder Dr. Bernard Amadei's speech "Engineering with Soul" will end the conference on an inspirational high note by addressing the future of engineering

Additional details on the conference can be found at www.ewb-usa.org/ConferenceInfo.php. Media passes are available. Visit the online conference press room at www.ewb-usa.org/Confpress.php.
Established in 2002, Engineers Without Borders-USA is a non-profit humanitarian organization established to partner with developing communities worldwide in order to improve their quality of life. This partnership involves the implementation of sustainable engineering projects, while involving and training internationally responsible engineers and engineering students. The organization has more than 250 student and professional chapters across the county and more than 9,000 members working to build a better world one community at a time. Learn more at www.ewb-usa.org.
Engineers Without Borders-USA