Published 03-31-08
Submitted by Brand Xperience, LLC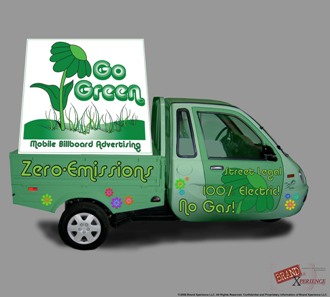 Go Green Mobile Billboard Advertising's exclusive eco-friendly mobile billboard. (PRNewsFoto/Brand Xperience, LLC)
CHICAGO, March 31 /PRNewswire/ -- Brand Xperience, the Chicago-based, award winning experiential marketing company has launched Go Green Mobile Billboard Advertising as its eco-friendly marketing vehicle division. Go Green is the only mobile billboard advertising company dedicated to the sole use of all-electric, zero emissions vehicles for special events, street sampling and mobile billboards.
(Photo: http://www.newscom.com/cgi-bin/prnh/20080331/CLM121 )
The company's exclusive line of electric vehicles can be driven on city streets, at shopping centers and at special events -- even indoors, without the worry of harmful exhaust. The unique styles grab consumers' attention and all can be designed with colorful signage.
"Advertising with our electric vehicles not only allows a company to send its message in a unique and cost-effective way, but also communicates that the company cares about the environment," said Go Green Advertising Senior Vice President, Bob Kopach.
With gasoline at more than $3.50 per gallon, Go Green also sees using its electric vehicles as a substantial cost savings for advertisers. The vehicles are available through daily, weekly and monthly programs. Go Green provides the vehicle, driver, route planning, engineering, design and graphics production.
Brand Xperience has been designing and building experiential marketing and mobile marketing exhibits for more than 75 years. Most recently, the company received accolades for its design engineering and production work on "StudioMoto," the 2007 Event Marketer Magazine Grand Ex Award Winner. The Ex Awards are the event industry's greatest symbol of recognition.
"Brand Xperience has always looked for the latest in technology for its clients," said Brand Xperience President, Jim Maksymiu. "We are very excited about bringing Go Green's vehicles to existing and new clients who have made a commitment to eco-friendly marketing."
From simple mobile billboards to three-dimensional designs, the versatility of Go Green's vehicles allows Brand Xperience's designers and engineers to develop unique and ownable branded vehicles. They are currently developing lighted billboards and wireless technology for integrated mobile phone marketing programs.
Headquartered just outside of Chicago in Itasca, Illinois, Brand Xperience is currently looking to open Go Green Advertising sales offices in various major markets in the U.S.
For more information you can visit http://www.bxperience.com.
Brand Xperience, LLC