Published 03-18-09
Submitted by Allianz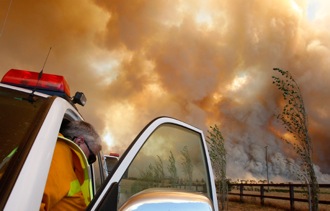 Bushfires in Australia: Did climate change fan the flames of Australia's disastrous bushfires?
Dear Reader,
This month we profile a number of devastating diseases that threaten a globalized world, discuss the impacts of climate change on public health with the WHO, and suggest ways in which we can all improve our health.
Enjoy our newsletter, and don't miss next month's issue on saving energy.
Your Allianz Knowledge Team
Der Link zu diesem Newsletter:
http://knowledge.allianz.com/en/newsletter/archive/212.html

Allianz
Allianz
Our world is facing unprecedented challenges ranging from climate change to rapidly growing populations in some parts of the planet, and rapidly aging societies in others.
The Allianz Knowledge Partnersite focuses on these "mega-trends" and tries to create an open forum for debate. Drawing on the knowledge of countless Allianz experts, academic scholars, and NGOs, the Knowledge Site offers articles, interviews, multimedia tools and interactive features.
Why? Because we believe that through the spreading of knowledge, we can find sustainable answers to some of the problems we face today. It helps to create innovation, nurture ideas and develop the solutions we need to move forward.
You want to make a difference? Visit knowledge.allianz.com
More from Allianz