Published 12-08-08
Submitted by Allianz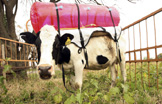 The Top Ten Sources for Greenhouse Gases: Find out more about the sources of the anthropogenic greenhouse gases that heat up our world.
- December 8, 2008 -
Dear Reader,
President-elect Barack Obama will take office on January 20. Delegates at the UN Climate Summit that is currently taking place in Poland, however, will have to do without him. Can the world's governments advance without the new political superstar? Find out more in our lead article.
With the financial crisis developing into a global recession, many are calling for smaller cuts in greenhouse gas emissions. Time to take a fresh look at the greenhouse gases that threaten our future. Our greenhouse gas profiles explain why CO2, methane, and nitrous oxide can be lifesavers and lifetakers.
Enjoy our newsletter, and don't miss next month's issue on deforestation and the outcome of the crucial UN climate summit.
Your Allianz Knowledge Team
http://knowledge.allianz.com/en/newsletter/archive/209.html

Allianz
Allianz
Our world is facing unprecedented challenges ranging from climate change to rapidly growing populations in some parts of the planet, and rapidly aging societies in others.
The Allianz Knowledge Partnersite focuses on these "mega-trends" and tries to create an open forum for debate. Drawing on the knowledge of countless Allianz experts, academic scholars, and NGOs, the Knowledge Site offers articles, interviews, multimedia tools and interactive features.
Why? Because we believe that through the spreading of knowledge, we can find sustainable answers to some of the problems we face today. It helps to create innovation, nurture ideas and develop the solutions we need to move forward.
You want to make a difference? Visit knowledge.allianz.com
More from Allianz