Published 11-11-08
Submitted by Allianz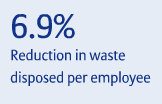 November 11, 2008 - Allianz SE announced the release of its 7th annual Sustainability Report, which describes its work to build value for customers, employees, shareholders and the community. The 2007/08 Report, entitled "Building a sustainable future", is available at: www.allianz.com/sustainability.
As a global risk manager, employing over 180.000 people, operating in 70 countries and serving more than 80 million customers, it is business thinking that drives our sustainable approach.
As Michael Diekmann, CEO of Allianz, says "demographic change, climate change, overstrained social security systems as well as the opportunities provided by economic development in every region of the world are affecting our business today and will do even more so tomorrow. Providing innovative product solutions that support our clients in meeting today's global challenges is an integral part of our strategy."
The Allianz Sustainability Report 2007/08 aims to provide a balanced account of our performance. For the first time, we have included a materiality assessment, identifying those issues with greatest relevance to our stakeholders and our business. This assessment allows us to further focus our efforts and generate the greatest long-term value for all of us.
Some highlights of the Allianz performance include:

- Over 70% of our employees now covered by our Environmental Management System.
- Set up of the Centre of Competence on Climate Change to develop and transfer global best practice.
- Inclusion as one of the sector leaders in the Carbon Dislcosure Leadership Index
- First Cat Bond on European Windstorms that allows the risks of windstorms in seven European states to be transferred to investors.
- Offering microinsurance products in five developing countries with the aim to reach 1 million clients by the end of 2009.
- Over €350million invested in renewable energy to date and more to come.

Take a look at our Sustainable Development Report (www.allianz.com/sustainability) and form your own view on our sustainable performance and how we interact with external stakeholders and communities. We highly appreciate your feedback.

About Allianz:

Allianz SE is one of the leading international financial services providers. With over 180,000 employees worldwide, Allianz serves more than 80 million customers in about 70 countries.

Allianz SE is a member of Transparency International and supports the Principles of the United Nations Global Compact and the OECD Guidelines for Multinationals through its Code of Conduct. Allianz SE is listed in the Dow Jones Sustainability Index World, in FTSE4GOOD and in the Climate Disclosure Leadership Index (CDP6).

Allianz
Allianz
Our world is facing unprecedented challenges ranging from climate change to rapidly growing populations in some parts of the planet, and rapidly aging societies in others.
The Allianz Knowledge Partnersite focuses on these "mega-trends" and tries to create an open forum for debate. Drawing on the knowledge of countless Allianz experts, academic scholars, and NGOs, the Knowledge Site offers articles, interviews, multimedia tools and interactive features.
Why? Because we believe that through the spreading of knowledge, we can find sustainable answers to some of the problems we face today. It helps to create innovation, nurture ideas and develop the solutions we need to move forward.
You want to make a difference? Visit knowledge.allianz.com
More from Allianz