Published 09-16-08
Submitted by Allianz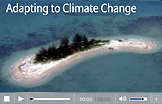 Achim Steiner, executive director of the UN Environment Programme, talks about "perhaps the greatest challenge we have faced in the history of humankind."
Dear Reader,
It may not be front-page news right now, but climate change is still here to stay. Whatever we do now, a certain degree of warming is inevitable. The damage is already done.
For many vulnerable societies, the priority must be adaptation.Our top story looks at how this can be done. WWF climate expert Kit Vaughan talks about the limits of adaptation, and why it could shake the foundations of our society.
Furthermore we have a close look at China after the Olympics have closed. Beijing cleaned up its act for the Olympics. After the party, will it go back to business as usual or consolidate environmental gains? For those who want to know more about the country's real challenges, our demographic profile looks at how population growth, urbanization, and migration are transforming the world's most populous nation. David Phillips, professor of social policy in Hong Kong, tells us whether China's one-child policy is a success or burden, while Du Peng from Beijing's Institute of Gerontology explains why aging - not population growth - might be China's biggest demographic problem.
Enjoy reading our full newsletter (http://knowledge.allianz.com/en/newsletter/archive/206.html).
Your Allianz Knowledge Team

Allianz
Allianz
Our world is facing unprecedented challenges ranging from climate change to rapidly growing populations in some parts of the planet, and rapidly aging societies in others.
The Allianz Knowledge Partnersite focuses on these "mega-trends" and tries to create an open forum for debate. Drawing on the knowledge of countless Allianz experts, academic scholars, and NGOs, the Knowledge Site offers articles, interviews, multimedia tools and interactive features.
Why? Because we believe that through the spreading of knowledge, we can find sustainable answers to some of the problems we face today. It helps to create innovation, nurture ideas and develop the solutions we need to move forward.
You want to make a difference? Visit knowledge.allianz.com
More from Allianz